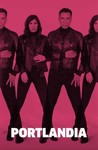 Starring:

Fred Armisen

,

Carrie Brownstein

Summary:

The comedy set in Portland, Oregon stars Fred Armisen and Sleater-Kinney's Carrie Brownstein.

Genre(s):

Comedy
Season 1 premiere date:

Jan 21, 2011

Episode Length:

30
Please enter your birth date to watch this video:
You are not allowed to view this material at this time.
Brownstein and Armisen move so effortlessly between characters, then execute their riffs, tics, styles and voices with such skilled abandon that before long this doesn't seem like satire any longer but a fun house mirror reflection of intensely real people.

Knowing but not pretentious, snarky but not sneering, Portlandia succeeds both as farce and as faithful representation of a population for whom the dream--of the '90s or anything else, for that matter--is still alive.

The series is a better-heeled, better-paced and, within the bounds of its own Portland-ish modesty, a more ambitious extension of the occasional videos that Armisen and Portland resident Brownstein have posted online over the past few years under the name ThunderAnt.

Like any sketch comedy show, IFC's Portlandia has hit-and-miss sketches, but when they hit, they do so with a laughter-inducing amount of comedic force.

While the first two episodes of Portlandia are hit-and-miss, its good-natured satire generally hits, as they say, pretty close to home.

Often Ms. Brownstein, wide-eyed and sincere, gets the best of Mr. Armisen, who's been exaggerating characters for so long on "Saturday Night Live" that it's tough for him to capture the understatement of these caricatures.

Portlandia, a vanity project from "Saturday Night Live's" Fred Armisen that plays like an awful night at the Groundlings, or worse, a collection of the most uninspired sketches from "SNL's" final half-hour.
Absolutely hilarious. If you are a fan of Two and Half Men or most CBS sitcoms, you probably won't care for this show. I have a new respect

Absolutely hilarious. If you are a fan of Two and Half Men or most CBS sitcoms, you probably won't care for this show. I have a new respect for Fred Armisen. One of the best shows since The Upright Citizens Brigade.

…

Expand

This show isn't the funniest show, but the reason I give this show a 10 out of 10 is because of the great cast and the great humor of this

This show isn't the funniest show, but the reason I give this show a 10 out of 10 is because of the great cast and the great humor of this show. Fred Armisen and Carrie Brownstein are a great duo! The first episode wasn't the best, but ever since, it's been building up steam.This Show is a definite must watch for indie comedy and any kind of comedy lovers out their!

…

Expand

My 13 year old son and I came across Portlandia on Netflix and I told him that I bet he would like it (having seen a clip of it myself). He

My 13 year old son and I came across Portlandia on Netflix and I told him that I bet he would like it (having seen a clip of it myself). He was not enthused at first, but I said, come on, give the first episode like10 minutes. Just 10 minutes! He loved it and so did I. Then we watched a few more episodes and thought they were great. We were a little unsure of what was happening at first but then realized Portlandia is kind of in the same vein as Little Britain in terms of sketch flow. Not to say that it's identical or even made to be like that - it's just recurring characters that are revisited throughout the show. Fred Armisen has been a favorite of mine since I first saw him on SNL and it's nice to more of him, as there isn't enough of him on SNL these days. Carrie Brownstein (whom I was not familiar with, nor her music) is equally brilliant in her characterizations and is a great together with Armisen. Having never been to Portland, you'd think I'd be out of the loop comedically in regards to the satire, but alas I lived in Vancouver, BC and from what I can tell, it's Portland's spiritual sister/brother. As with any sketch comedy shows, it's going to be hit and miss. Not everything can be hilarious to everyone, but there is comedy gold here and more than enough to keep me interested to continue watching. Thanks to Netlix and Youtube, these shows are given a chance to catch an audience and become favorites even if we don't watch them when they air (as I don't get IFC). Special mention goes out to theme song, Feel it All Around by Ernest Greene which hits me on a level so deep, I enjoy it almost psychically, which makes me as much of a flake as the Portlandians stereotypes skewered in this biting satire - but the theme song is hauntingly fantastic. It's like I've heard it all my life and yet never - try and explain that one. Anyway, watch this show. As someone already stated in their reviews, Portlandia isn't for the Two and Half Men or Big Bang Theory crowd, so if you have an adverse reaction to those shows, you might just love this.

…

Expand

Portlandia is a very charming show. It's consistently more socially interesting than it is funny, and that's a good thing. The supporting

Portlandia is a very charming show. It's consistently more socially interesting than it is funny, and that's a good thing. The supporting cast, and indeed the leads give it their all. Having seen every single episode so far, I think it's getting even better at the halfway mark of season 2. I look forward to more visits to Portlandia.(Portland, Oregon is a great America City. The show really isn't that far off...which is funny unto itself).

…

Expand

I really like this show, but it just isn't funny sometimes. It's one of those shows that I put on netflix while I eat and watch a few

I really like this show, but it just isn't funny sometimes. It's one of those shows that I put on netflix while I eat and watch a few episodes. Some parts are pretty funny. Some really hit the nail on the head when making fun of things (Buying a cell phone to track the mayor hahah). Sometimes it just doesn't make me laugh at all and I want to fast forward. I'd say check it out, but don't expect to be in stitches nonstop.

…

Expand

If you are from Portland or have spent much time there, definitely watch this show. If you have no connection with Portland, eh, you can

If you are from Portland or have spent much time there, definitely watch this show. If you have no connection with Portland, eh, you can probably just skip it. By far the funniest thing for me are the myriad references to Portland culture, since I used to live there, this show is very nostalgic for me. But besides that, the laughs are sporadic. I love the fact a show was made based around Portland though, that makes me happy.

…

Expand

I was really looking forward to this series. I love Fred Armisen. However, the first of six episodes ended with a thud and not much promise.

I was really looking forward to this series. I love Fred Armisen. However, the first of six episodes ended with a thud and not much promise. I shouldn't watch this much comedic talent in one show and not even crack a smile.

…

Expand