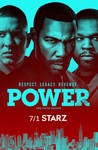 Summary:

James "Ghost" St. Patrick (Omari Hardwick) finds leaving his drug dealing business is hard when his nightclub is struggling. And on top of his business troubles, he continues to juggle his relationship with his wife (Naturi Naughton) and his first love (and now) Assistant US Attorney Angela

James "Ghost" St. Patrick (Omari Hardwick) finds leaving his drug dealing business is hard when his nightclub is struggling. And on top of his business troubles, he continues to juggle his relationship with his wife (Naturi Naughton) and his first love (and now) Assistant US Attorney Angela Valdes (Lela Loren).

…

Expand

Genre(s):

Drama
Season 2 premiere date:

Jun 6, 2015

Episode Length:

60
Please enter your birth date to watch this video:
You are not allowed to view this material at this time.
Power is a frightening but easy-to-get-sucked-into fable about those last two paths to financial success [drug dealing and nightclubs].

Power hits on all cylinders as it returns for its second season.

Over the top, utterly crazy, but always fun, the second season follows James and Angela as they awaken to each other's secrets.

A series that can still be occasionally talky and turgid.... Hardwick's the better and smoother actor, and certainly the more appealing one. But it's Jackson who gives this show bite and--to a considerable degree--life, too.
One of the best shows I've ever watched. Love the chess theme, music, acting, writing. Everything about it is awesome . "Go 50 cent it's your

One of the best shows I've ever watched. Love the chess theme, music, acting, writing. Everything about it is awesome . "Go 50 cent it's your birthday, we gon' party like it's yo birthday"

…

Expand

Hardwick is exceptional, he has deserved the lead in a quality show for a while now and this series has been a pleasant suprise. Sikora,

Hardwick is exceptional, he has deserved the lead in a quality show for a while now and this series has been a pleasant suprise. Sikora, Naugton and Loren as well in the main supporting roles are great (excellent casting).

Entertaining, over the top, great music, more ish cliff hangers. Very stylish and well written, this deserves a wider mainstream audience.

I hope this continues for many seasons!

…

Expand

If you would like to see a series based on GTA i think this is the closest thing you ll get to. It has got great perfomances, fast paced

If you would like to see a series based on GTA i think this is the closest thing you ll get to. It has got great perfomances, fast paced rythm, nice music, and an interesting story that gets more involving in this second season.

…

Expand

50 cent desperately trying to live out some kind of street thug fantasy. First season wasn't so bad but now that Mr. Jackson has taken on a

50 cent desperately trying to live out some kind of street thug fantasy. First season wasn't so bad but now that Mr. Jackson has taken on a larger role the overall all quality of this show has taken a nose dive.

…

Expand