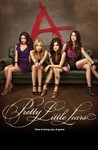 Starring:

Nia Peeples

,

Ashley Benson

,

Holly Marie Combs

Summary:

The series based on Sara Shepard's popular teen novels focuses on four teenaged girls who made a pact not to talk about what happened the night their friend disappeared a year ago.

Genre(s):

Drama
Please enter your birth date to watch this video:
You are not allowed to view this material at this time.
A new ABC Family series built around four teenage friends and an ominous hint of supernatural forces that mean no good, makes most popular vampire romances look anemic.

The ridiculously expensive wardrobes, the fabulous hair and makeup, plus a high school with not a single fatty is well, yes, the stuff of teen fantasy. And that is exactly what Pretty Little Liars is: a glamorous, spooky, adolescent fantasy.

What the show lacks in this kind of irreverence it makes up for in plain old addictive soapiness.

Sure, there's a lot here that sustains more eye-rolling than interested stares, but a little patience might be warranted. Only with future episodes can Liars prove whether it's "Desperate Housewives" for tweens or just another trashy, pretty little error.

Pretty Little Liars doesn't have the sense of humor -- or the wardrobe -- of "Gossip Girl." In fact, a surprising number of scenes call for bikinis. But the ongoing mystery (not to mention a secret referred only to "the Jenna thing") may prove irresistible to young people.

Pretty Little Liars is entitled to its version. If only it could have resisted some of the other cliches.

It hits every ''racy'' teentertainment mark so hard (everyone's hair is so full - of secrets!) that it feels like the only thing missing is a visit from the ghosts of Jennifer Love Hewitt and Freddie Prinze Jr.
GODS! My favorite serie, and has reasons for this.

Not a ReMaker Gossip Girl, is even better. It is a well of secrets every episode, itGODS! My favorite serie, and has reasons for this.

Not a ReMaker Gossip Girl, is even better. It is a well of secrets every episode, it makes me very nervous.

-A Is the biggest secret of my life, this is clear.

It's a good drama, definitely, and phrases of the girls are the best, oh God!

We won't leave you alone you, ****

…

Expand

I would have been missing out if it weren't for my friend. She told me to watch it because it's a good show. I thought the show has a recipe

I would have been missing out if it weren't for my friend. She told me to watch it because it's a good show. I thought the show has a recipe to be something completely trashy or something great. It takes great writing in order for a show to be watchable. Pretty Little Liars is not just another ABC Family show, it actually has some factors in every episode that would leave your mouth opens for the whole scene. Once you watch it, you'd never be able to stop. Guilty Pleasure!

…

Expand

As a teenager, I find it catchy and interesting. I think the fact that it has a mix of genres makes it different. Sure, it can be a little

As a teenager, I find it catchy and interesting. I think the fact that it has a mix of genres makes it different. Sure, it can be a little cliche and generally predictable but the subplots are basically unique. Let`s take the relationships as an example. I mean, most High school drama series nowadays make us believe that our relationships in high school are the "real" ones. It may not be for an adult crowd but a lot of us teenagers enjoy watching this show.

…

Expand

Even though this show can lose its believability at some times I still can't take my eyes off of it. The romances are unparalleled and this

Even though this show can lose its believability at some times I still can't take my eyes off of it. The romances are unparalleled and this show actually has extremely good acting given its demographic and general nature. This show will keep you guessing and wanting more the entire time.

…

Expand

This review contains spoilers

, click expand to view

.

Pretty Little Liars is actually a surprisingly good show... as long as you can appreciate the camp of it. It follows four teenagers as they attempt to discover who murdered their friend, as well as who is stalking them and sending them threatening messages. The show can be borderline disturbing at some points but only if you actually think about what's happening to these girls. It's much better than the book series that it's based on and the characters are likable and relatable. One of the surprising gems of the show is the character of Toby who starts out as a creepy, and somewhat unlikable force, but ends up being one of the most interesting, and sympathetic characters. The show is very campy and there are a lot of unintentionally hilarious moments, but that's part of the appeal. This show isn't House M.D or Dexter and it doesn't try to be. It's a fun show, that goes beyond the average summer programming to be surprisingly good. It's easy to get hooked on. The one aspect of this show that is actually not entertaining is the student/teacher relationship between Ezra and Aria. I watched the show online and found myself skipping their scene halfway through the season because they were so unbearable. Thankfully the writers show that they are able to write a decent romance plot when they bring to the forefront any one of Spencer's relationships but in particular her relationship with Toby which deserves recognition for being the most real on the show. All in all Pretty Little Liars is a show that I'd recommend to anybody for some unintentionally hilarious moments, but also for some surprisingly well written, and touching moments which bring this show out of guilty pleasure range to make it simply a good show

…

Expand

This review contains spoilers

, click expand to view

.

I've watched 7 of the first 10 episodes of PLL, and I must say, they are riveting and provocative, but too much is going on. There are usually four storylines in one episode, a long with Aria's parental drama, taunting from "A", and trying to keep their lives from unraveling. However, some of the storylines that are meant to be realistic just...arent. Like why is Spencer in a rivalry with her twenty something sister over a boy neither one of them wants anymore and a paper written 6 years ago? Why is Aria so critical of her father's affair with a student, when she is also messing around with her teacher? Why does Hannah steal something every other episode and is unwilling to handle some of the consequences? And is the whole lesbian thingy just a ratings gamble or a true character trait of Emily? And I've got to ask - who CARES about Toby and Jenna? Their roles are given a little too much prominence. All in all, PLL is the summer's guiltiest pleasure, and the serial format has treated the show well. The show has given ABC Family its strongest ratings across all demos. I want to see how it will perform in the Winter against vets that will surely cut this little teenage whodunnit down.

…

Expand

I'm a 23 year old woman who enjoys this show greatly. When i choose a show to watch i look for qualities that i like. This show has those

I'm a 23 year old woman who enjoys this show greatly. When i choose a show to watch i look for qualities that i like. This show has those qualities. Mystery, sadness, secrets and good looking cast I'm not predigest against heavy people I'm not skinny but i like that they have a good looking cast. Honestly I'm not looking at this show by the are they hot factor but as a mystery you think you have it all figured out then they put a twist in it and they keep you guessing. I think that's the best part of the show they just have curve ball after curve ball and are able to play it out very well. I have a lot of friends that love this show ranging from 16 to 40 i got them hooked a lot of my friends are just starting this show on Netflix and they cant wait to see what happens. My last final words are just watch the show if you love a great mystery look past the drama if its not your things (personally i love it. ) but some don"t like drama but the mystery is worth it for sure.

…

Expand