Network:

Cinemax

Series Premiere Date:

Sep 9, 2016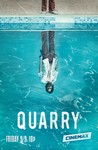 Starring:

Logan Marshall-Green

,

Nikki Amuka Bird

,

Peter Mullan

Summary:

Based on the series of novels by Max Allan Collins, Mac Conway (Logan Marshall-Green) returns from Vietnam to Memphis in 1972 only to struggle with acceptance and his experiences as a Marine sniper. He is recruited by The Broker (Stellan Skarsgård) to join a group of contract killers who

Based on the series of novels by Max Allan Collins, Mac Conway (Logan Marshall-Green) returns from Vietnam to Memphis in 1972 only to struggle with acceptance and his experiences as a Marine sniper. He is recruited by The Broker (Stellan Skarsgård) to join a group of contract killers who work along the Mississippi River.

…

Expand

Genre(s):

Drama

,

Action & Adventure

,

Suspense
Quarry's knack for conveying moral ambiguity and its mastery of setting reminds me of another very good show that took forever to catch on; it was about a cancer-stricken chemistry teacher in Albuquerque who started cooking meth to make money.

Quarry is a startlingly good, absorbing new show to sink down into, deeply.

There's a lot of raw material for Quarry to draw from. Mixing Rectify patience with Banshee action is a tall order for any program, and while Quarry isn't there yet, it gives the feeling that it won't take too long to reach that point.

Shows like this only click when you're having some nasty fun, and fortunately we get some from Peter Mullan as a gentlemanly baddie and The Leftovers' great Ann Dowd as a gay gangster's mama. [9 Sep 2016, p.55]

All together, Quarry feels like it would be a solid ensemble series if it chose to be, but even then Mac would feel like the weak link. As a lead, he's a nearly fatal flaw.

Some viewers may find Quarry's atmosphere oppressive and unrelenting, like Memphis in August, and a few more moments of levity would be welcome, but just as many are likely to be seduced.

The show strikes a particular note with great variety, but there are 87 other notes on a keyboard and you start to miss hearing them.
The best thing to fill the void after Banshee and Justified. Excellent storytelling, action, fist- and gunfights, boobs... you name it. And

The best thing to fill the void after Banshee and Justified. Excellent storytelling, action, fist- and gunfights, boobs... you name it. And moustaches.

…

Expand

If you're a premium TV native that owns and adores HBO's sister network Cinemax, you're in for a terrific treat for your viewing pleasure

If you're a premium TV native that owns and adores HBO's sister network Cinemax, you're in for a terrific treat for your viewing pleasure tonight! This new show by Banshee director Greg Yaitanes is one helluva show that you seriously have to check out. Trust me, it's like you're watching True Detective and Banshee combined but set in the 1970s and trust me you'll definitely feel the burn
Fun fact: Did you know that Oscar Winning Producer Steve Golin did True Detective, The Revenant, Babel, and Spotlight is also involved making Quarry so gripping that this show feels like we're watching an HBO show!

…

Expand

Wow! First episode of new Cinemax series Quarry is every bit as top-notch as I intuited from the trailer and then some. First things first,

Wow! First episode of new Cinemax series Quarry is every bit as top-notch as I intuited from the trailer and then some. First things first, the creators of the series have both written for Rectify and one has written for HBO's eagerly anticipated Westworld in October. We know we are in good hands. Then, add in a fantastic lead who will surely rake in some nominations if he maintains his ace game as he has in the first episode. Logan Marshall-Green is one incredible new-er actor on the scene in a league with Tom Hardy (See The Invitation Asap). He's mind-blowingly talented and is extremely sexy, as well. The story is excellent, the camera work is beautiful, there are a handful of incredible non-verbal encounters/moments that speak volumes, the violence is startling, the issues go deep into well-developed character psychology, most of the other lesser known cast are excellent, and the guy playing "Buddy" is just the right amount of quirky and levity the show needs to keep itself from getting too serious....because it really, really is a gritty, serious drama at the core. Riveting, well-crafted and it hooked me in from the first few moments.

First episode is A++++++ I sense a new obsession here. Here's hoping each week builds brilliantly from the extraordinary foundation laid here. Two enthusiastic thumbs up! I am betting this is going to be a series to keep on your radar.

…

Expand

(Based on episode 1) Looks promissing... Great direction; The plot seems interesting, i'm curious to see where this is going. The acting is

(Based on episode 1) Looks promissing... Great direction; The plot seems interesting, i'm curious to see where this is going. The acting is good but there's 2 guys who were pretty bad, i just hope they get better.

…

Expand

In today's TV landscape it's really hard to stand out and be different and new, Quarry is fresh but familiar with great actors and brilliant

In today's TV landscape it's really hard to stand out and be different and new, Quarry is fresh but familiar with great actors and brilliant talent driving the series with a wealth of Hard Crime books to mine from. The show feels like a Quarry hollow on the inside and hard on the outside as one of the characters names the lead.

…

Expand

so. much. good. tv. coming. out. now. This was a great first Episode, smart, funny, weird, engaging. Just put it on my schedule for watching

so. much. good. tv. coming. out. now. This was a great first Episode, smart, funny, weird, engaging. Just put it on my schedule for watching on the reg.

…

Expand

This series is like watching paint dry, and the finish is not the picture that you wanted to see, or had ever imagined. It labels a premise,

This series is like watching paint dry, and the finish is not the picture that you wanted to see, or had ever imagined. It labels a premise, that it simply is not.

How many people in this show's intended demographic sit there watching Crime with the GF. None of us do, we open up a brew, switch on an action film, or the sports, and that's the entertainment that we want to watch here. So at which point did we want an earful of something else constantly moaning and murmuring all throughout this series, it takes its clothes off, but it didn't shut up, taking away from all of the settings and turning this series into a complete and utter drag. They also added something else for all the other demographics as well, and this series might as well have been your family soap opera. It was utterly pathetic.

…

Expand