Network:

FOX

Series Premiere Date:

May 13, 2014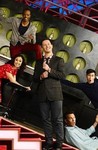 Starring:

Rove McManus

Summary:

Hosted by Australian comedian Rove McManus, celebrity guests such as Jason Alexander, Mayim Bialik, Steve Carell, Tom Green, and D.L. Hughley compete in a variety of games with a set that can tilt on this reality show based on the Australian show called Slide Show.

Genre(s):

Comedy

,

Reality

,

Game Show
Season 1 premiere date:

May 13, 2014

Episode Length:

60
Please enter your birth date to watch this video:
You are not allowed to view this material at this time.
The main reason to watch is for its signature gimmick, a set tilted at 22 degrees, where, several times per episode, performers are imprisoned and told to improvise a scene.... There's no describing how hysterical this is; you have to see it.

An expectation of failure is built into the comedy, so that at times the contestants are funny only in the attempt to be funny. At other times, given the circumstances, it may seem miraculous that they can be funny at all.

Segments like "Slide Show" and "A Bunch Of Jerks" (in which performers are attached to harnesses and yanked into the air whenever they break the rules of the game) bring some visual engagement to short-form improv. But the rest of the premiere throws up barriers to engagement, moving too quickly or too confusingly to make the viewer feel like they're in on the roast McManus is emceeing.

Ultimately, improv is always going to be a hit-miss proposition. But despite being inordinately literal about its hits, Riot proves too liberal with its misses.
" Riot is the best game show in american ".

" Riot is the best game show in american ". !!!!!!!!!!!!!!!!!!!!!!!!!!!!!!!!!!!!!!!!!!!!!!!!!!!!!!!!!!!!!!!!!!!!!!!!!!!!!!!!!!!!!!!!!!!!!!!!!!!!!!!!!!!!!!!!!!!!!!!!!!!!!!!!!!!!!!!!!!!!!!!!!!!!!!!!!!!!!!!!!!!

…

Expand

I watch a lot of TV and i rarely see a show that bores me so in the first episode. I love Whose Line, but Riot seems like it is trying too

I watch a lot of TV and i rarely see a show that bores me so in the first episode. I love Whose Line, but Riot seems like it is trying too hard to be entertaining and failing miserably. Also, this new formula of using Aussie hosts... not getting it. One and done.

…

Expand