Network:

Netflix

Series Premiere Date:

May 10, 2018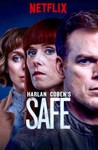 Summary:

The disappearance of one of the daughters of surgeon Tom Delaney (Michael C. Hall) leads him to the discover dark secrets about the people around him in this drama series created by Harlan Coben.

Genre(s):

Drama

,

Suspense
Season 1 premiere date:

May 10, 2018
With committed performances (some of which are clearly aware of the ludicrous story they're in) and a brisk pace, Safe earns its status as a soapy pleasure and should entertain Netflix viewers craving engaging distraction.

Safe is one of those series, like HBO's "Big Little Lies," that focuses on the lives of the beautiful and the well-to-do. It doesn't suggest the rich are just like us. It suggests they are even more miserable, and in the case of Safe, probably quite monstrous. That's a story that translates just about everywhere, apparently.

"Safe" takes itself a bit too seriously now and then ... But overall, it tends to avoid the sloppy, meandering tendencies of its more prestige-driven TV brethren. It's a highly watchable, semi-pulpy serial loaded with reveals, clues and cliffhangers, and the core cast is generally quite good.

Safe stays largely on the surface, as each of the parties chases down the next piece of evidence. Hall is fine, as the script moves him around the chessboard feverishly.

It's not overwhelmingly shocking, perceptive or funny. What keeps it watchable is the sense of unease or maybe inconsistency. Hall's performance is slightly off.
A bit like an adult version of "13 Reasons Why". Some twists and turns make little sense, and a bit soap opry, but the pace is so fast it's

A bit like an adult version of "13 Reasons Why". Some twists and turns make little sense, and a bit soap opry, but the pace is so fast it's compelling.

…

Expand

I dunno why people are crusty with this one. I made an account to review this show. I loved Broadchurch, this show has a little in common but

I dunno why people are crusty with this one. I made an account to review this show. I loved Broadchurch, this show has a little in common but either then that it it's own twisted story with six degrees of separation. The show pulled me in and reminded me of how people are so connected in their own creepy/mysterious ways. It's basically one man figuring out how shadowed his life was to this reality going on around him. Now why it's not a 10.. There is one group of actors I can't stand but they are supposed to be stupid and you calling them stupid does get acknowledged as the show goes on. It is a great series.

…

Expand

Looks like people were expecting a little too much from this one -- friends and I found it pretty entertaining. I think the key is: Don't

Looks like people were expecting a little too much from this one -- friends and I found it pretty entertaining. I think the key is: Don't expect "Broadchurch" or "Hinterland" just because it's British. It's more like "Desperate Housewives" or "Twin Peaks" -- with oh-so-soapy plot twists and rollicking red herrings. If you like Michael C. Hall -- and can be amused by the lead actress's worst-of-all-time wig -- you might enjoy it.

…

Expand

This review contains spoilers

, click expand to view

.

Most characters were there to be red herrings, and not very convincing ones. As an example DC Emma Castle is shown surreptitiously taking photos of Peter who turns out to be her father. Why is she taking photos, she knows who he is? Very cheap tricks to try and add suspense. Barely watchable.

…

Expand

Michael C. Hall carries this rather mediocre and predictable murder mystery, He honestly does. The characters are so weak, The subplots

Michael C. Hall carries this rather mediocre and predictable murder mystery, He honestly does. The characters are so weak, The subplots generic and the red herrings are way too obviously red herrings. Especially when it's obvious from pretty much episode 3 who is behind it all.

…

Expand

Middle-class British-style murder mystery meets Netflix. Result, another "Netflix Original" dud. Unlike similar BBC or Channel 4 equivalents,

Middle-class British-style murder mystery meets Netflix. Result, another "Netflix Original" dud. Unlike similar BBC or Channel 4 equivalents, the production quality is really sub-par. The characters are stretched to such simplistic extremes that the show feels more like a farce than an attempt at psychological realism (as was the case with Dexter). Therefore any delight we had in delving into the recesses of the pathologically criminal mind of, say, a Dexter or a Hannibal is totally negated here. Michael C. Hall is obviously in there for the dough, I mean the quids, sorry.

…

Expand

Tired formulaic nonsense stretched out over 8 hour-long episodes. I don't know which is more painful -- to listen to Michael C. Hall's British

Tired formulaic nonsense stretched out over 8 hour-long episodes. I don't know which is more painful -- to listen to Michael C. Hall's British accent or watch his acting.

…

Expand