Network:

CBS

Series Premiere Date:

Jul 12, 2017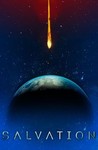 Summary:

Self-made tech billionaire Darius Tanz (Santiago Cabrera) and MIT grad student Liam Cole (Charlie Rowe) contact Pentagon Press Secretary Grace Barrows (Jennifer Finnigan) about the fact an asteroid will crash into Earth in six months.

Genre(s):

Drama

,

Action & Adventure

,

Suspense

,

Science Fiction
Season 1 premiere date:

Jul 12, 2017

Episode Length:

60
Happily, in spite of the plot labyrinth that any conspiracy theory naturally creates, Salvation keeps its story understandable and makes us keep wanting to know what happens next.

A summer series that begins pretty much just as you'd expect, but it seems to be relatively well done. The first couple of hours are OK, at least.

The conspiracy element is easily the weakest part of the show and seems present only to drum up some modicum of suspense. The tech babble, however, is a delightful callback to "Star Trek: The Next Generation.

I'm keeping an open mind about the extinction-event melodrama of Salvation, which plays it very straight. [10-23 Jul 2017, p.13]

Salvation is a summertime network drama that's not asking anything of you but to give up an hour of your time and lose it forever. In return you get a low-grade familiar sensation that means nothing but dulls your life a little bit.

In truth, the bi-ped hamsters of Big Brother offer a more realistic view of humanity than this unbelievable new disaster-drama series.
The show's premise and the main characters in the show are compelling. The science and technology aspects are also very intriguing.

The show's premise and the main characters in the show are compelling. The science and technology aspects are also very intriguing. Salvation hooked us in, similar to the way that Star Trek did, but Salvation seems to be more firmly tethered to 21st century reality. There are so few good "sciencey" type shows available right now, and this fills that need quite nicely.

We thought that the acting was very good, and the writers had the good sense to keep the characters mostly true to their definitions. It made for very good TV-- we binge watched both seasons in about a week.

We did, however, find some of the second season plot twists to be tedious, particularly the COPE stuff. Really? Wasn't there enough material to explore, particularly the impeding extinction of the human race, or the omnipresent political intrigue? Even with these plot distractions, my family and I thought this was great entertainment. We found ourselves discussing the characters well after we finished watching all of the episodes.

We're looking forward to seeing what happens in Season 3-- particularly after the cliffhanger ending to season 2!

…

Expand

Funny, thrilling and edgy. I was hooked from the beginning. I just watched the last episode of this season and I am very hopeful for season 2!

Funny, thrilling and edgy. I was hooked from the beginning. I just watched the last episode of this season and I am very hopeful for season 2! Great in between season series!!

…

Expand

I just liked it. It is not big on plausibility but it has great characters (which I usually find to be the most important aspect of any show).

I just liked it. It is not big on plausibility but it has great characters (which I usually find to be the most important aspect of any show). It's fun and different and I looked forward to it every week.

…

Expand

I would say this show is best described as the illegitimate love child of a John Grisham novel, 24, and Star Trek. It is cheesy and

I would say this show is best described as the illegitimate love child of a John Grisham novel, 24, and Star Trek. It is cheesy and implausible --- but I kind of like it! I've only watched the pilot - so my opinion could change - the show's schtick might get old fast.....but I'm willing to give it some time to see if it becomes one of my summer time, "never gonna be nominated for an Emmy", comfort food shows. Time will tell.......I've got at least 186 days to make up my mind!

…

Expand

La serie está bien. El desarrollo de la trama es bueno, aunque un poco lento. Los actores son poco creíbles en momentos, sobre todo los dos

La serie está bien. El desarrollo de la trama es bueno, aunque un poco lento. Los actores son poco creíbles en momentos, sobre todo los dos protagonistas. También es un pelín lenta y se van de la trama principal con facilidad.
Se opuede ver.

…

Expand

The plot line sounded like it had potential as I enjoyed similar stories like Melancholia in the past. However, I could only watch 15 minutes

The plot line sounded like it had potential as I enjoyed similar stories like Melancholia in the past. However, I could only watch 15 minutes of the first episode of Salvation as it was so cheesy with a soap-opera like dialogue. After seeing the critics reviews, I see I'm not alone in my reaction.

…

Expand

There is nothing special about this show to warrant me to continue watching it.

The story line is so predictable and this program remindsThere is nothing special about this show to warrant me to continue watching it.

The story line is so predictable and this program reminds me of the numerous 'disaster movies' that Hollywood has been churning out for years.

As for the show's characters, one could care less if the meteor landed on top of them or in their backyards.

…

Expand