Network:

ABC

Series Premiere Date:

Mar 1, 2015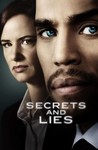 Starring:

Ryan Phillippe

,

Juliette Lewis

,

Natalie Martinez

Summary:

Ben Garner (Ryan Phillippe) becomes a murder suspect after he discovers the dead body of his neighbor's son in the woods as Detective Andrea Cornell (Juliette Lewis) investigates in this adaptation of the Australian series of the same name.

Genre(s):

Drama
Creator:

Stephen M. Irwin

Season 1 premiere date:

Mar 1, 2015

Episode Length:

60
Please enter your birth date to watch this video:
You are not allowed to view this material at this time.
Those tired of murder mysteries will find little here to pique their interest, but for fans of the genre (or Phillippe), there's plenty to like, making for engaging, if not appointment, viewing.

Secrets and Lies is a solid, twisty version of the increasingly popular murdered-kid-sets-series-in-motion formula.

With a strong cast (Lewis and Phillippe in particular), the buy-in here is easy. Whether it can reach the creative heights of, say, Broadchurch, which has a similar story, remains to be seen.

Secrets and Lies isn't sloppy, based on the first two hours; it's well-organized enough, and decently shot. But it promises to be a hollow exercise signifying nothing much.

Anyone hoping for a "Desperate Housewives" vibe (ABC's last big Sunday hit) will be disappointed. This story unfolds as if it were told by someone overdosing on Ambien.

The writing is clunky, Phillippe is stiff and Lewis overacts like a cop in some parody of cop shows.

Secrets and Lies starts out stale and predictable, which really does save so much time, especially for viewers who should immediately find something else to watch.
Twisting plot! I like it! Love Ryan Phillipe in this role and Juliette Lewis plays the detective in such a solemn manner, makes me dislike her

Twisting plot! I like it! Love Ryan Phillipe in this role and Juliette Lewis plays the detective in such a solemn manner, makes me dislike her character, but she perfect for the role. Hoping to see all the episodes!

…

Expand

This is show is actually pretty good tv. It's entertaining and engaging and the characters are believable and likeable, with the exception of

This is show is actually pretty good tv. It's entertaining and engaging and the characters are believable and likeable, with the exception of Juliette Lewis who plays here character a bit too over-the-top. Like most crime/mystery shows, sometimes you have to suspend your belief, but that doesn't happen too often.
Had I not seen the reviews that were skewed too low, I would have given this show a solid 8, but decided to give it a 10 to balance things out. Ryan Phillipe is actually pretty good.

…

Expand

I love it. Although Juliette Lewis is kinda too annoying. She's a great actress, i guess I just don't like how aggressive the character is.

I love it. Although Juliette Lewis is kinda too annoying. She's a great actress, i guess I just don't like how aggressive the character is. I watched a 'marathon' and i just wanted more episodes. Waiting for the rest..

…

Expand

We love the show and think Ryan Phillipe has become a really good actor and very convincing in the role. Juliette Lewis plays the cold,

We love the show and think Ryan Phillipe has become a really good actor and very convincing in the role. Juliette Lewis plays the cold, determined and relentless detective perfectly. We are hoping for a second season! I usually do not like murder mysteries but in this case I have my popcorn in hand when the show starts. Thanks ABC for another good show.

…

Expand

"Secrets & Lies" season 1 is a 10 episode mini series appearing on ABC. It is based on an Australian series that I have not seen but is

"Secrets & Lies" season 1 is a 10 episode mini series appearing on ABC. It is based on an Australian series that I have not seen but is currently available on Netflix. I guessed the killer in the first episode so it's not much of a mystery. It is still entertaining to watch Ben, the accused main character played by Ryan Phillippe, run (literally) around the neighborhood and accuse a different person each week. He is relentlessly pursued by Detective Crawford (Juliette Lewis). I initially made fun of Juliette's performance and wondered why her face looked all weird. After seeing the entire season though I enjoyed Crawford the most. I also liked Ben but his constantly making the worse decisions possible made him hard to sympathize with. Some times I just wanted to shake him. There apparently will be a season 2 with Juliette reprising the character of Crawford but everything else (the story and the other characters) will be new. Cant say that I will be watching next year. It just depends on the story.

…

Expand

There isn't much good to say about this show. The characters all repel you from watching, the plot is predictable, and it's really just a

There isn't much good to say about this show. The characters all repel you from watching, the plot is predictable, and it's really just a poverty version of Broadchurch. Lewis has to be the worst actor on this show, as she just fails at her role as a whole. Not far behind is Phillippe which has to be the worst written character on TV right now, maybe the writers wanted him to look and act completely oblivious to everything. Overall, this may be the worst show of 2015.

…

Expand