Network:

WE

Series Premiere Date:

Feb 27, 2015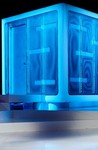 Summary:

Three experts: Chris Donaghue, Fran Walfish, and Yvonne Capehart discuss relationship and sex issues with three different couples before and after they have sex in the on-stage (private) cube in the reality show based on a British series.

Genre(s):

Reality
Season 1 premiere date:

Feb 27, 2015

Episode Length:

60
By what standard do we judge Sex box? Whether it's titling? Or whether it gives useful advice? It just barely manages a little of both. [27 Feb 2015, p.65]

Sex Box is not dull despite being a talky show, but it's also unclear how many times viewers can watch this before the relationship issues gets repetitive. As for the "therapy," it's pretty shallow and fleeting.

Sex Box breaks no meaningful boundaries in its first two episodes. The average music video is more titillating.

WE and the producers might try to couch all this as helping couples enjoy better and more fulfilling sex lives, but the segments are too brief and disjointed to be educational, and the show is predictably scored as if this were a "Friday the 13th" movie.

What we end up seeing is neither wholesome nor scandalous, but just enough of each to permit both as excuses for watching.

Watching it is kind of like bad sex--the clock watching, the profound embarrassment, the desire to check your email. Engage in too much of it, and you'll have to repair your relationship with your TV.

A ridiculous and desperate effort to generate some buzz about its carrier, the wee little WE tv network.