Network:

Showtime

Series Premiere Date:

Jan 9, 2011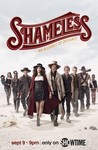 Starring:

William H. Macy

,

Cameron Monaghan

,

Joan Cusack

Summary:

William H. Macy is the often-drunk father of six kids who scheme and take care of one another in this remake of the highly regarded British show.

Genre(s):

Comedy

,

Drama
Creator:

Paul Abbott

Season 1 premiere date:

Jan 9, 2011

Episode Length:

50
Please enter your birth date to watch this video:
You are not allowed to view this material at this time.
Shameless is excellent, compelling television from the first moment. As long as it stays true to the roots of the original, it's going to be essential viewing.

[The] sentimental streak in the show is compensated by Frank's coldness and the scrappy urban realism, translated so effectively from the British original.

Don't let all this make the show sound complicated. Based on opening night, it looks like Shameless fun.

Now and then Shameless sloughs off its mostly self-imposed constraints and fires on all cylinders, observing economic hardship, drunken tomfoolery and sexual shenanigans with a keen eye for class specifics.

Shameless instead is about as uplifting as rectal cancer, even though it's hard not to at least respect the gumption and resilience of Fiona. Rossum's performance in this role is all together pretty terrific.

For all the show's flaws, you can see the attraction for an actor of Macy's quality, with the kind of showy, outsized role that wins awards. But as fine an actor as he is, Frank just comes across as loud and empty. Much like Shameless.

Shameless lives up to its title. What's left for the rest of the season? Cannibalism? Macy is a good sport about being dragged around the kitchen like dead weight.
If you want drama, if you want sex scenes, if you want comedy, you are at the right place. They are all shameless and they will take it to the

If you want drama, if you want sex scenes, if you want comedy, you are at the right place. They are all shameless and they will take it to the next level any time.

…

Expand

The Best show of the year by far.i would like to spend a year in Gallagher household and experience the hardships and toughen my character but

The Best show of the year by far.i would like to spend a year in Gallagher household and experience the hardships and toughen my character but overall improve my sense of humor.Im following...

…

Expand

You will love this show, every character is his own world, from crazy, spaced out kids, to troublesome teenagers, to drunk and sexually

You will love this show, every character is his own world, from crazy, spaced out kids, to troublesome teenagers, to drunk and sexually twisted adults. Highly recommended, can't wait for season 2.

…

Expand

Shameless never seems to amaze me. Just when I thought I saw the best episode yet, the next sunday it would be outdone. I give this a 9 and

Shameless never seems to amaze me. Just when I thought I saw the best episode yet, the next sunday it would be outdone. I give this a 9 and recommend it to all of my friends, no-one is yet to say they dont like it.

…

Expand

I never saw the original, so I have nothing to compare it to, so this will not be a part of my review. The first episode was ok - as with most

I never saw the original, so I have nothing to compare it to, so this will not be a part of my review. The first episode was ok - as with most pilots, you first have to get a feeling for the pace of the story and the characters, before you can really appreciate a show. It had some slow moment, had some great moments, but after 3 episodes I can say, that it is getting better and better and represents an good mixture of amusement and "shock" (well for me no real shock, but for some ppl the sexual themes might be shocking). All in all a definitely above average drama show with likable characters and much potential to become really good!

…

Expand

A very unique TV Show that makes you laugh and cry (sometimes at the same time). If you like Family Drama and Comedy, this is for you. The

A very unique TV Show that makes you laugh and cry (sometimes at the same time). If you like Family Drama and Comedy, this is for you. The cast is simply amazing.

…

Expand

Sad show. They stay using the LORDS name in vain which is so wack. If you can't entertain an audience without disrespecting JESUS then you

Sad show. They stay using the LORDS name in vain which is so wack. If you can't entertain an audience without disrespecting JESUS then you clearly have no talent!

…

Expand