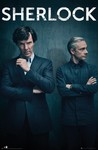 Starring:

Martin Freeman

,

Benedict Cumberbatch

Summary:

Part of PBS's Masterpiece Mystery, the three Sherlock Holmes stories set in modern-day London were created and written by Stephen Moffatt and Mark Gatiss. Benedict Cumberbatch and Martin Freeman play the detective and Dr. John Watson.

Genre(s):

Drama

,

Suspense
Please enter your birth date to watch this video:
You are not allowed to view this material at this time.
Tremendously clever fun, Masterpiece Mystery! presents the first of three modernizations of the Sherlock Holmes tales.

The result is a sharp, funny, clever series that remains faithful to the spirit of Doyle's stories while infusing them with a vibrant spirit of modernity.

The stories are complex and contemporary, with references to a remembered past. But it's easy to forget the past--the present Sherlock, droll yet naive, is so wonderfully weird.

The appeal is elementary: good, unpretentious fun, something that's in short supply around here.

It is cinematic in the sense that nothing in it looks quite real. But it works: This is not the London known as jolly and old, but the new chilly city of glass, a place of missed connections, of aliens and alienation. And the smart dialogue and warm performances--even Holmes has a discernible beating heart, or perhaps two--keep ice from forming on the production.

A viewer who knew nothing of the earlier incarnations could come to this one and find it immediately engaging, like a good modern police buddy-team drama.

The major flaw of "The Great Game" is not allowing Sherlock and Watson to work enough as a team. This flaw makes clearer what the other episodes do well, which is to emphasize the most interesting and important aspect of the original stories, Holmes and Watson's complicated and entertaining relationship.
UTTERLY intriguing, excellent dialogue. plots: They are elaborate, yet, totally spectacular. Sherlock will compel you to the edge of your seat

UTTERLY intriguing, excellent dialogue. plots: They are elaborate, yet, totally spectacular. Sherlock will compel you to the edge of your seat and captivate you with this twenty-first century adaptation. Benedict does a good job as Sherlock Holmes .

…

Expand

A Study of Sherlock
Episode one of Sherlock "A Study In Pink" is directed by Paul McGuigan and written by Steven Moffat. Sherlock Holmes wasA Study of Sherlock
Episode one of Sherlock "A Study In Pink" is directed by Paul McGuigan and written by Steven Moffat. Sherlock Holmes was played by a british actor Benedict Cumberbatch and his side kick Watson by Martin Freeman. These two work very well together and when one of them doesn't know the answer the other one does. This episode turns on a rash of supposed suicides in London, which Holmes quickly determines to be murders. But the question being asked is who could be making people commit suicide? This series appeals to those who love a good mystery and it keeps you on the edge of your seat.

In the episode the London police and Sherlock Holmes' skills are put to the test while trying to hunt down the mastermind behind the murders staged as suicides. Although some murderers are easy to find this one cleans up and doesn't slip up, but eventually Holmes found something that leads one thing to another and everything starts to come together.

Watching this episode is like watching your favorite sports team, it's all tied up in the last minute and it's a nail biter. Some of the best parts in the episode was when Sherlock Holmes and the others were trying to figure out the meaning of the word the woman scratched into the floor before dying because there are many different meanings that one word has but one sticks out. Another good part in the episode was when Sherlock Holmes would flaunt his brilliance in front of others who questioned his smarts and capabilities because he showed them up every time which made it quite humorous. These parts really stuck out and caused suspense and questioning while throwing in some humor. There were really no scenes throughout the episode that were bad but some did not have to be included such as the car scene with Watson when he goes to meet Sherlock Holmes' enemy.

This series is very good and was brilliantly thought out and written. It keeps viewers on edge and makes them want to watch more. Almost all of the scenes in the episode meshed very well together and all of the characters worked together and played their role beyond expectation. This series is recommended to those who enjoy mysterious crimes such as the ones portrayed in NCIS or SVU. This series gets a five star rating and should be more advertised.

…

Expand

Sherlock is one of the best British series now, if not the best. The actors are not only great, quite correspond to the characters of the

Sherlock is one of the best British series now, if not the best. The actors are not only great, quite correspond to the characters of the original work, but the episodes are also very well written. The replicas are striking, humor is not bad, the rate remains constant ... Totally different from the recent American version / UK, there are still weakly adventures inspired by the original work (despite the recovery of numerous aftershocks and elements of the books) but who do not need to maximize the stunts and special effects for Do I Market. Putting aside the excellent Doctor Who (also created by Steven Moffat) is a series of very rare quality that deserves an audience just as wide as the great American hits. If you do not already know, it's time to discover this gem!

…

Expand

This show is a main part of The Golden Age Of Television. It is Character driven and the duo here is one of THE BEST ever to appear on T.V.

This show is a main part of The Golden Age Of Television. It is Character driven and the duo here is one of THE BEST ever to appear on T.V. (along with Luther and Alice in LUTHER and Rust and Marty in TRUE DETECTIVE). Never should this series end! SUPERB.

…

Expand

I never thought I would say that a three-episode TV season would be the greatest bargain I've ever received. Sherlock is an unbelievable

I never thought I would say that a three-episode TV season would be the greatest bargain I've ever received. Sherlock is an unbelievable experience, taking every recent iteration of the iconic sleuth and overshadowing each one with its witty dialogue and incredible lead acting. Cumberbatch, who flawlessly portrays the lovably heartless sociopath, and Freeman, the humane war veteran Watson, come together as one of the best on-screen duos quite possibly in any medium. Their banter both in and outside the crime scenes, ranging from deductions to social conflicts, give the series an unquenchable spirit that keeps the audience begging for more. The mysteries are also cleverly adapted from the source material, taking Doyle's masterpieces and reinventing them with a modern twist that adds a sense of relevance to the episodes. Even the supporting cast is memorable, featuring performances that make me seriously rethink my opinions of the Robert Downey films. Lestrade is not a bumbling idiot but a useful ally. Mrs. Hudson isn't an irritable landlady, but a sweet, naive mother figure. Everything feels better and allows me to invest in the story even more.
In short, it says a lot about a series to produce three episodes a season. They need to uphold a strong level of quality to make up for the lack of content they provide. However, Sherlock needn't worry about all this. The characters, mysteries, and dialogue not only come together like cogs in a machine, perfectly working off one another to produce an exceptional final product, but also go above and beyond the source material with a modern spin that truly shines. It is my sincere hope that Sherlock lasts forever, because its undeniable charm has forever been implanted into my mind, taking root and, like a good mystery, will never escape until the case is closed.
Elementary.

9.5/10

…

Expand

Шерлок 1 сезон- отличный детективный сериал. С отличными персонажами (Шерлок, Ватсон, Майкрасофт, Мориарти). Больше всего в сериале

Шерлок 1 сезон- отличный детективный сериал. С отличными персонажами (Шерлок, Ватсон, Майкрасофт, Мориарти). Больше всего в сериале запоминается дух Лондона с детективом и взаимодействие персонажей. Такого юмора давно не видел просто с каждой шутки в голос смеялся. Сериал умеет заинтриговывать и позволяет зрителю думать с Шерлоком. поставлю 9 из-за слабенькой второй серии. В целом первый сезон сериала можно назвать шедевром детектива.

…

Expand

Sir Arthur Conan Doyle's most famous series turns to the screens in the new BBC One drama Sherlock. In the first episode of the series, "A

Sir Arthur Conan Doyle's most famous series turns to the screens in the new BBC One drama Sherlock. In the first episode of the series, "A Study in Pink" the big mystery is whether the string of suicides are actually murders or not. The series opener begins Watson being introduced to Holmes, and becoming flatmates. The show starts off slow, but picks up when the lady in pink is found dead. Watson and Holmes work together to solve the mystery of the 'unrelated' deaths that keep occurring. The show was developed and written by Steven Moffat and Mark Gatiss, and stars Benedict Cumberbatch and Martin Freeman as the lead roles.
The show being set in modern times, doesn't take away from what Conan wanted. The episode takes off when Holmes begins singing and dancing, after he finds out the fourth suicide left a note. Holmes brings Watson along because he knows of Watson's past military service. This is the first time we see Watson and Holmes work together. The two are brought together by a mutual friend and soon become friends themselves. Watson is taken, and meets a strange man, who calls himself Sherlock's archenemy. Holmes and Watson begin working together to solve the strange series of deaths, that look like suicides. Sherlock and Watson are at the last crime scene, which is a lady dressed in pink. Sherlock's deductions help lead him to the killer. Sherlock comes face to face with the serial killer, who is determined to murder Sherlock.
The first episode of Sherlock was intriguing from the moment we met Sherlock. The shows atmosphere and plot line, were very similar to how Conan originally wrote it. The show itself had a slow start, but soon picked up when another suicide occurred. Sherlock's deduction of people, really helped move the show along. The show had a lot of great moments, and some strange ones too, like Watson meeting an unidentified man who referred to himself as Sherlock's Archenemy. The modernization of the show was a hit. There's even a minor character who never gets off of her phone, and Watson has a blog and Sherlock has a website. The show really comes together as a whole and the characters really adjust to the 21st century. The only negative is Watson returning from Afghanistan, and becoming roommates with a consulting detective, whom he barely knows. The show was definitely a success though, Cumberbatch as Sherlock was a great choice. He suits the role, and plays a believable modern Holmes. Freeman who plays Watson, underplays Holmes brilliance, and gives the show some balance between a brilliant detective and an Army doctor. Sherlock has all the characteristics of a good detective story. Significant crime, brilliant detective, worthy opponent, characters are introduced at the beginning, all the clues were given to us, and the solution was logical. The show Sherlock does a good job of incorporating these characteristics and keeping the watcher entertained.
The first episode had a lot of good parts, and overall was pretty good. The only negative is how Sherlock met Holmes and began solving crimes together. It was rushed, and they barely knew each other and became flatmates the day after they met. Overall the show was well written, and something to watch. The series is definitely something to recommend to others, especially those who like mystery and crime shows. It was very entertaining and it played along with Conan's stories very well. The show would get a 9.5/10, because of how the two met, and the slow beginning.

…

Expand