Network:

Netflix

Series Premiere Date:

Nov 23, 2017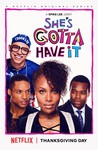 Summary:

Spike Lee's 1986 film is updated into a 10-episodes series where Brooklyn artist Nola Darling (DeWanda Wise) struggles to balance work, friends and her three lovers: model Greer Childs (Cleo Anthony), investment banker Jamie Overstreet (Lyriq Bent) and "Da Original B-Boy Sneakerhead" Mars

Spike Lee's 1986 film is updated into a 10-episodes series where Brooklyn artist Nola Darling (DeWanda Wise) struggles to balance work, friends and her three lovers: model Greer Childs (Cleo Anthony), investment banker Jamie Overstreet (Lyriq Bent) and "Da Original B-Boy Sneakerhead" Mars Blackmon (Anthony Ramos).

…

Expand

Genre(s):

Comedy

,

Drama
Season 1 premiere date:

Nov 23, 2017

Episode Length:

30
The Netflix series is stunning in its visuals, performances, soundtrack, and voice. ... The show is unlike anything previously seen on the platform, and it feels like a high-water mark that may define an age of prestige Netflix television.

Lee has successfully expanded and altered the original film for a series format. Episodes have arcs. The season does as well. And while the men may steal focus from time to time, the update makes sure no one will forget Nola Darling anytime soon.

She's Gotta Have It is a sumptuous character portrait, a deep and rewarding study of a black woman in our current era, this time portrayed by the dazzling DeWanda Wise. ... It manages, most importantly, not to feel dated. Its examination of topics including street harassment and gentrification feels vital.

Lee, who hasn't committed to scripted TV this extensively before, gains confidence as he goes. The closing three episodes move the furthest from the movie's storyline and feel the most free and experimental. She's Gotta Have It is already a very good show and maybe a second season could rewrite some rules the way the movie did.

One of the virtues of getting to make a TV show out of a movie is the opportunity to expand the world of that movie, to give each character his or her due. In She's Gotta Have It, Lee does that, giving time not only to Nola but her lovers, her friends, her family, and her neighbors—ultimately giving us a sense not only of a woman but a community in flux.

The series changes tone and genre so often that it's hard to keep track of all the different iterations that it passes through as you watch it. ... That's Spike Lee for you: He does his thing, and you can take it or leave it, and it's the take-it-or-leave-it attitude that inclines me to take it.

The series is co-created and executive produced by Lee's spouse, Tonya Lewis Lee, and the majority of the episodes were written by women such as Radha Blank and Lee's sister, Joie Lee, who also plays Nola's mother. Despite their input, Nola feels like a projection from the male perspective rather than a character created and informed by women.
this she gotta have it. this she had it. this she recommends this to other shes. I live my life by taking what i feel i have a right to

this she gotta have it. this she had it. this she recommends this to other shes. I live my life by taking what i feel i have a right to and so should you #andreamonet ftw

…

Expand

The first season of "She's Gotta Have It" is neither "must see TV" or unwatchable dreck. It's stuck somewhere in between with glimpses of

The first season of "She's Gotta Have It" is neither "must see TV" or unwatchable dreck. It's stuck somewhere in between with glimpses of brilliance and a lot of filler. The problem is that showrunner Spike Lee can't seem to decide if he wants to do a light comedy about a sexually free woman (like his 1986 film on which the series is based) or a more somber exploration of modern day sexuality, racism, sexism, and gentrification. Most of the episodes are at least mildly entertaining, but flash by without leaving much of an impact. Here lies the second problem which runs through most of Spike Lee's extensive catalog -- lack of structure and insufficiently developed story-lines. What the series does have are humorous bits and a much needed examination of contemporary social issues. The attractive cast led by DeWanda Wise takes a while to find its rhythm, but shows promise if both Netflix and Spike Lee agree to continue the series. Many of the elements are already in place for a great show, if Lee and his cadre of writers can figure out what to do with them.

…

Expand

Pretty awful show. We are supposed to root for some 'free spirited artist' who bangs three different guys at once? The protagonist is vapid,

Pretty awful show. We are supposed to root for some 'free spirited artist' who bangs three different guys at once? The protagonist is vapid, pretentious and a narcissist. The three different guys? Just cartoonish caricatures. Its shot well and has some nice musical cuts throughout, but that's the only positives I can give it. Not worth your time folks.

…

Expand

I tried to watch the movie She's Gotta Have It years ago and gave up on it, but I still thought I'd give the TV series a chance. After all,

I tried to watch the movie She's Gotta Have It years ago and gave up on it, but I still thought I'd give the TV series a chance. After all, Spike has learned a few things since then. But you can't tell from the pilot, which is pretty close to inept. There is a sledgehammer quality to what I saw (maybe 15 minutes). The lead character complains about characters hitting on her and then there's a pretty endless series of people talking to the camera. Everything is blunt and obvious.

It's hard to understand how the guy who made Summer of Sam and Do the Right Thing can make something so awful. But he has.

…

Expand

The original movie was absolute rubbish, so the bar was set pretty low going into this, but even my low expectations proved impossible to

The original movie was absolute rubbish, so the bar was set pretty low going into this, but even my low expectations proved impossible to reach. Spike Lee is a useless director and he seems to owe his entire career to white critics who are wracked with guilt and feel unable to criticize him.

…

Expand

Basically I found it unwatchable. So she's gotta have it . . . and that's it. Actually in the situation the show depected, she rather likes it

Basically I found it unwatchable. So she's gotta have it . . . and that's it. Actually in the situation the show depected, she rather likes it and has a couple different incredibly hunky guys she likes to get it from . . . and that's the show.
That's all? Unfortunately, as long as I watched it, yes, that was it. She had conversations with her girlfriends, of course, in the hackneyed drinkery, and she had conversations with the goofy delivery guy, sort of Spike Lee's character, but that was pretty much it. She's gotta get it and have it. And that's the show? Yes, unfortunately that's the show. Will it find favor with the Black audience sufficient to justify the production costs, etc.? This I do not know, and at this stage it probably remains to be seen. So Spike Lee had to have it and I guess Netflix did as well. And now they've got it. Personally, I've had it.

…

Expand