Network:

FOX

Series Premiere Date:

Mar 22, 2017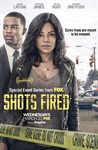 Summary:

An small town in North Carolina is in turmoil after an unarmed white college student is killed by a African-American police officer and another unsolved murder of an African-American teenager leads to an investigation by the Department of Justice led by investigator Ashe Akino (Sanaa Lathan)

An small town in North Carolina is in turmoil after an unarmed white college student is killed by a African-American police officer and another unsolved murder of an African-American teenager leads to an investigation by the Department of Justice led by investigator Ashe Akino (Sanaa Lathan) and Special Prosecutor Preston Terry (Stephan James).

…

Expand

Genre(s):

Drama

,

Movie/Mini-Series
Season 1 premiere date:

Mar 22, 2017

Episode Length:

60
Please enter your birth date to watch this video:
You are not allowed to view this material at this time.
Shots Fired has melded commercial and artistic impulses to create a highly entertaining series about entrenched racism.

Shots Fired tends to get preachy--watch for James' speech in front of news TV cameras in the pilot that really sets the show in motion--but it sheds a bright light on what's been playing across newspaper pages.

The focus just widens as the story goes on, which works in the short term because it gives us more of intriguing characters like Aisha Hinds' Pastor Janae--but it also has the potential to end up with too many disparate storylines or just a tangled mess. Still, it'll be worth sticking it out, because when it does manage to stay on course, Shots Fired is a pertinent and riveting drama.

The political story lines are weaker and a lot of the exposition is ham-handed. As racial tensions build in the town halfway through the season, the story becomes grand in scale but teeters with some of its provocative twists. Still, this is a drama with a broad curiosity, one that hears every character out but doesn't confuse empathy with excuse-making.

[Powerful] moments are diminished by the mechanics of the plot, and by a few too many performances that seem to have wandered over from In the Heat of the Night. In the end, you can't help feeling that what you're really watching is a good, small movie idea that got buried under the avalanche of a major TV project.

James and Lathan are appealing--you could build a decent episodic series around his by-the-book rookie and her hard-as-nails veteran quite easily--and while Shots Fired lumbers as an issue drama, it's diverting enough as a cop show.

The intentions of those who made Shots Fired are stridently righteous and good but in attempting to see the whole picture of race and police accountability in America, they've seemingly forgotten two a cardinal rule of visual storytelling: less is more.
The cast of this show I liked probably the most but I am not sure if this show will make it for another season. I don't believe the script of

The cast of this show I liked probably the most but I am not sure if this show will make it for another season. I don't believe the script of the show is that great and I feel there are too many loopholes in this show that people will not like.

…

Expand