Please enter your birth date to watch this video:

You are not allowed to view this material at this time.

Now Playing: Speechless: A-C-ACTION!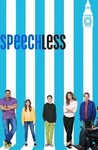 Series Details & Credits
ABC |
Release Date:
September 21, 2016
Summary:
Maya DiMeo (Minnie Driver) takes charge of her family that includes her husband Jimmy (John Ross Bowie) and their three sons: Ray (Mason Cook), Dylan (Kyla Kenedy) and JJ (Micah Fowler), who has special needs.
Genre(s):
Comedy

,

Drama

,

Variety Shows
Seasons & Episodes
Season 3

Season 3 Overview

Air Date: October 5, 2018

S3:E22. U-N-R-- Unrealistic

Air Date: April 12, 2019

S3:E21. The S-T-A-- staircase

Air Date: April 5, 2019

S3:E20. On the R-O-- Road A-G-- Again

Air Date: March 29, 2019

S3:E19. P-R-O-M-P--Promposal

Air Date: March 22, 2019

S3:E18. S-E-Seoul B-R--Brothers

Air Date: March 15, 2019

S3:E17. S-P-- Special B-- Boy T-I-- Time

Air Date: March 8, 2019

S3:E16. W-H-- Wheelchair P-L-- Planet

Air Date: March 1, 2019

S3:E15. G-a--Gamen-I--Night

Air Date: February 22, 2019

S3:E14. J-I-- JIMMY V-A-L-- VALENTINE

Air Date: February 15, 2019

S3:E13. F-a-- Fashion 4 a--All

Air Date: February 1, 2019

S3:E12. O-Our M-a-G-Mageddon

Air Date: January 25, 2019

S3:E11. H-- Hey, You

Air Date: January 18, 2019

S3:E10. R-O-- ROLL M-O-- MODEL

Air Date: January 11, 2019

S3:E9. J-A-- JAVIER'S P-A-- PANTS

Air Date: January 4, 2019

S3:E8. J-I--JINGLE T-H--THON

Air Date: December 14, 2018

S3:E7. F-O-- FOLLOW T-H-R- THROUGH

Air Date: December 7, 2018

S3:E5. C-E-- CELEBRITY S-U-- SUITE

Air Date: November 16, 2018

S3:E5. S-T-- STAGE MOM

Air Date: November 9, 2018

S3:E4. N-E-- NEW JJ

Air Date: November 2, 2018

S3:E3. I-N-- INTO THE W-O-- WOODS

Air Date: October 19, 2018

S3:E2. L-O-N-- LONDON (Part 2)

Air Date: October 12, 2018

S3:E1. L-O-N-- LONDON (Part 1)

Air Date: October 5, 2018

Season 2

Season 1