Network:

Esquire

Series Premiere Date:

Nov 14, 2015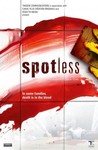 Summary:

Co-created by Ed McCardie and Corinne Marrinan, Jean Bastiere (Marc-André Grondin) runs a crime scene cleaning business in London when his estranged brother, Martin (Denis Ménochet), returns with secrets from Jean's past and a dead body that brings mob boss Nelson Clay (Brendan Coyle) into

Co-created by Ed McCardie and Corinne Marrinan, Jean Bastiere (Marc-André Grondin) runs a crime scene cleaning business in London when his estranged brother, Martin (Denis Ménochet), returns with secrets from Jean's past and a dead body that brings mob boss Nelson Clay (Brendan Coyle) into their lives.

…

Expand

Genre(s):

Drama
Season 1 premiere date:

Nov 14, 2015

Episode Length:

60
Spotless is messy, and Grondin is a bit of a blank, but the pilot promises gruesome-funny delights. [13 Nov 2015, p.57]

Spotless is great fun. Intelligent, well-written, and beautifully photographed, it has a remarkably sharp satirical edge.

There's a lot of dark humor in Spotless--another "Breaking Bad" hallmark--and while the twists may not be quite as twisty, many are still surprising enough to make Spotless one of TV's better thrillers.

You could call it a formula, but it works. The jokes actually land and they deftly cut the tension in scenes that would be otherwise dour.

Creators Ed McCardie (the British "Shameless") and Corinne Marrinan ("CSI") understand that characters are what make memorable television, though the shifting moods of the cinematography certainly doesn't hurt either.

Its origins [British-French co-production] make Spotless more thoughtful and more deliberately paced than a comparable U.S. show might be. There is dark humor along with the drama, and entertaining action as well.

Defined from the outset as a cheater, [Jean] comes across as pensive brat whose hot, supportive wife isn't enough to keep him satisfied. Aside from his skills with bleach and a Q-tip, there's very little so far that compels one to root for this hero to succeed. But that's hardly a reason to dismiss the show entirely. There are some inventive twists and well-placed comic moments.
Fun and fresh, rapid, well-conceived. One of my most favorite shows this year. Execution is smooth and development better paced than

Fun and fresh, rapid, well-conceived. One of my most favorite shows this year. Execution is smooth and development better paced than Blacklist, which I also like, though it has fallen off a bit. Most of my preferred programming is off network but this is an exception. I am perplexed by some of the reviews.

…

Expand

Fantastic, really pleased there will be a second series. Make a welcome change from all the procedural med/police dramas which seem to be an

Fantastic, really pleased there will be a second series. Make a welcome change from all the procedural med/police dramas which seem to be an easy route for all the major networks.

I only found the show as I was looking through Renewed/Cancelled on metacritic.

…

Expand

It's a European Breaking Bad, which is a great thing indeed. A touch silly in places, but otherwise I'm loving it so far. The pacing is

It's a European Breaking Bad, which is a great thing indeed. A touch silly in places, but otherwise I'm loving it so far. The pacing is excellent and the fall into crime is totally believable.

…

Expand