Network:

IFC

Series Premiere Date:

Nov 2, 2016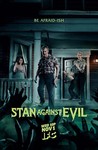 Summary:

Former sheriff Stan Miller (John C. McGinley), who was forced into retirement, must work with his replacement Evie Barret (Janet Varney) after they discover demons in their small New England town in this horror comedy series from Dana Gould.

Genre(s):

Comedy

,

Horror

,

Suspense
Season 1 premiere date:

Oct 31, 2016

Episode Length:

30
Please enter your birth date to watch this video:
You are not allowed to view this material at this time.
Stan Against Evil is a slight and silly horror comedy that knows what its limitations are and does its best to be amusing despite them.

[Stan] and his partner, played by Janet Varney, offer some amusing moments, but there's a snag: Stan is just barely funnier than the thing he's parodying. [4 Nov 2016, p.56]

Stan Against Evil toys with horror cliches and assures you that whatever you fear, something worse--or funnier--is right around the corner.

Stan Against Evil isn't quite there yet, and it's early installments are still working out the finer points of its monster-of-the-week structure.

An inconsistent, but sporadically effective horror-comedy that often rises to the level of "just fine" and periodically even hits "pretty good," thanks in huge part to the central star turn by John C. McGinley.

It's silly fun without breaking any new ground, although the show's title is unfortunate because it unnecessarily evokes the funnier, bloodier "Ash vs Evil Dead" on Starz.

Whereas The Evil Dead's Ash was capable of change, Stan's nothing more than an insufferably sexist and homophobic throwback, willing to risk everyone's life in order to prove that Starsky and Hutch were secretly gay.
....................................................Good show, like ash vs evil dead, comedy and horror...............................................

So we have a gruff anti-hero. A small town ravaged by evil/undead/supernatural type things. A small cast to support and provide exposition.

So we have a gruff anti-hero. A small town ravaged by evil/undead/supernatural type things. A small cast to support and provide exposition. Lots of blood and gore.

Is it Ash Vs Evil Dead? Well...no actually, while it might draw parallels, the show feels very different. The hero is brusque in a different way (and not as selfish as Ash) but it's great fun just the same.

The humour works for the most part (as tired as sexist anti-heroes can be, John C makes it work well in a very sympathetic way). The plots are good and there are enough elements of horror and comedy without the over the top direction Ash Vs. Evil dead has gone in.

Long may thing continue (though if producers want to make a Stan Vs Ash show, I would not complain at all.

…

Expand

This show rewards careful, repeated viewing. The characters are all nuts in their own special ways. Stan's daughter is particularly awesome

This show rewards careful, repeated viewing. The characters are all nuts in their own special ways. Stan's daughter is particularly awesome to watch. This is just good, old-fashion episodic fun.

…

Expand

Not as bad as some would have you believe. Yes, the hero is a sexist d-bag, but sometimes heroes don't fit perfectly in boxes of virtue and

Not as bad as some would have you believe. Yes, the hero is a sexist d-bag, but sometimes heroes don't fit perfectly in boxes of virtue and political correctness. If your problem with the show is Stan's character flaws, then piss off, you are taking that social justice warrior thing WAY too seriously.

…

Expand

Stan Against Evilis smart, stupid, mean and ultimately funny as hell. I don't know where they dug his "daughter" up from, but John C. Mcginley

Stan Against Evilis smart, stupid, mean and ultimately funny as hell. I don't know where they dug his "daughter" up from, but John C. Mcginley and her are the reasons to watch. The back story is a bit dated but they make it work. The best way to watch this show is the way you watch any "B-horror movie": laugh at how dumb and cheesy it is. Anybody who likes to have "bad movie" nights should adore this series. It might be done quite a bit better than Freddy or Jason, but that only adds to the watch-ability.

…

Expand

I know Bruce Campbell. I've enjoyed Bruce Campbell for decades. You, John C McGinley sir, are no Bruce Campbell. And I've enjoyed McGinley in

I know Bruce Campbell. I've enjoyed Bruce Campbell for decades. You, John C McGinley sir, are no Bruce Campbell. And I've enjoyed McGinley in all his Oliver Stone supporting roles, and, of course Scrubs. But Stan Against Evil (a nice play on words of Stand Against Evil) is such a carbon copy of Evil Dead, and sp. Ash Vs Evil Dead, it barely "stans" a chance. The ghouls look like the Evil Dead ghouls. The skewed camera angles look like The Evil Dead. Even Stan's character, with his insults and attitude, is Ash-lite. So why even watch when Ash season 2 is currently on Starz? John C McGinley. Any good will I have for this show is entirely due to him. I'd say a definite watch if you don't have Starz. If you do, then why bother?

…

Expand

A parody on a parody. Nothing great to expect from the very beginning. But maybe? A big no!

Not a good comedy, not a good horror, not aA parody on a parody. Nothing great to expect from the very beginning. But maybe? A big no!

Not a good comedy, not a good horror, not a good parody, nothing good. "Stan Against Evil" doesn't have an interesting plot, doesn't have new ideas for this mix of genres and most jokes are dumb. You don't want to spend time on it. If you're eager to watch a nice horror comedy, you should search for something else.

Here we don't have anything, except the main hero, played by a good comedy actor, but with too rare not bad one-liner jokes. One person could have save it all only in a movie like that, not in real life. So there is no hero that can save these series.

…

Expand