Network:

FOX

Series Premiere Date:

Dec 14, 2016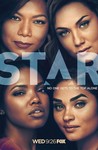 Summary:

Star (Jude Demorest), her sister Simone (Brittany O'Grady) and her friend Alexandra (Ryan Destiny) move to Atlanta to try their hand at making it in the music industry in this Lee Daniels series.
Season 1 premiere date:

Dec 14, 2016

Episode Length:

60
Please enter your birth date to watch this video:
You are not allowed to view this material at this time.
While the Daniels drama does have some bounce to its step, at least early on, it isn't as instantly appealing and distinctive as Empire" was.

It's all very gritty and unglamorous. Well, as unglamorous as a show interspersed with musical numbers can be. And the musical numbers are very entertaining. But Star is filled with lowest-common denominator dialogue.

The musical numbers are the best part of Star, and all three of the young leads seem to have singing talent as well as fresh faces. ... The negative to that is that none of the three is much of an actress, and their weak performances can't give the show the weight or momentum it needs. Awkward dialogue and cliched plots are additional problems.

If Daniels had put more emphasis on the polish of his artifice and gave the show's aesthetic the same bombast that it's tawdry, openly cheesy dialogue gives the story, Star might have proven to be a subversive, infuriated series. It's overall look, however, is more chintzy than anything else, wrecked with soft focus and lazy, unconvincing you-are-there camerawork.

It lacks any character as vital and vivid as Taraji P. Henson's Cookie. The dialogue is overwrought, and frequently tells us the very things we're seeing on screen. The trio of aspiring stars are plucky, but they're not very interesting, and neither is the music they sing.

Almost as if they can tell that the scripts for the three episodes of Star screened for press are just no good, these young stars try to overcompensate by going into overacting mode.

Rather than honestly represent the storyline's treacherous scenarios--which include parental, drug, and alcohol abuse, as well as more outrageous extremes like murder--Daniels' drama exploits the perilous conditions it portrays, grounding its fantasy in a false reality.
The Pilot of STAR is insane. One of the best surprises of the end of 2016. Hope the series stay great with audience, Jude DeMorest stole the

The Pilot of STAR is insane. One of the best surprises of the end of 2016. Hope the series stay great with audience, Jude DeMorest stole the series attention to her good act.

…

Expand

O piloto de "Star" é incrivelmente insano. Uma das melhores surpresas do final de 2016! Espero que a série continue no ar por muitos mais anos

O piloto de "Star" é incrivelmente insano. Uma das melhores surpresas do final de 2016! Espero que a série continue no ar por muitos mais anos (se bem que isso depende bastante do público)... A série está repleta de personagens bem trabalhadas e interessantes, de histórias cativantes e de performances musicais excelentes.

…

Expand

The acting is mostly terrible with the exception of Queen Latifah. The music is not memorable but the girls do have pretty decent voices. I

The acting is mostly terrible with the exception of Queen Latifah. The music is not memorable but the girls do have pretty decent voices. I just wish they were likable. They all have such terrible attitudes it's hard to want them to succeed.

…

Expand

Incredibly dull and boring TV show. Musical insertion did not save this series, the plot is half-baked without depth and reality. It is better

Incredibly dull and boring TV show. Musical insertion did not save this series, the plot is half-baked without depth and reality. It is better to see once more Glee

…

Expand