Network:

The CW

Series Premiere Date:

Feb 17, 2014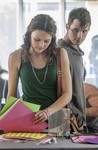 Starring:

Natalie Hall

,

Matt Lanter

,

Aimee Teegarden

Summary:

Ten years ago, a spaceship crashed just outside of Baton Rouge and the surviving aliens called Atrians are now being integrated into Earth society including seven Atrians into Marshall High School. 16-year-old Emery "Em" Whitehill (Aimee Teegarden) is drawn to the Atrian Roman (Matt Lanter),

Ten years ago, a spaceship crashed just outside of Baton Rouge and the surviving aliens called Atrians are now being integrated into Earth society including seven Atrians into Marshall High School. 16-year-old Emery "Em" Whitehill (Aimee Teegarden) is drawn to the Atrian Roman (Matt Lanter), much to the dismay of their families and friends.

…

Expand

Genre(s):

Drama

,

Science Fiction
Season 1 premiere date:

Feb 17, 2014

Episode Length:

60
Some of Star-Crossed falls into the CW's well-trod comfort zone: young-adult romantic drama with a sci-fi twist. It shows extra ambition, though, by putting its outsiders so constantly and viscerally close to those who suspect and fear them. Add forbidden love, which can never escape the shadow of potential doom, and Star-Crossed could become both provocative and entertaining.

The politics are surprisingly complex ... That's a lot of heavy lifting for a fluffy teen sci-fi romance, but so far the show acquits itself well, sticking the landing with its romantic moments and politically minded scenes in equal measure.

Teen romance does play a major role in [Star-Crossed]... but there's a serious story of prejudice hiding underneath. That serious side--a look into the good and bad of humanity when faced with the "other"--is as compelling as it gets.

The tone is mostly dreary and the plot with few exceptions goes precisely where you expect.

With a premise that's at least 20 years past its "fresh until" date, the issues in Star-Crossed get handled with mostly predictable, rote exploration to the point that one has to wonder, does this show matter? Probably not.

The show, which goes, in its small parts and large arcs, where so many have gone before, is easy to mock. Yet within its bounds and even its baldly obvious analogies and soft political points, it is effective enough.

The dialogue is so awful, it probably doesn't matter that most of the performances are inauthentic.
I loved this series. It may have alot of the same romantic and science fiction feel to it, but this story pulls you in and makes you want to

I loved this series. It may have alot of the same romantic and science fiction feel to it, but this story pulls you in and makes you want to figure out whats going to happen. I love both Matt and Aimee they work together very well (even thought they are not currently on talking terms). I see a bright future for this story line and can officially call this my new obsession.

…

Expand

I am in love with this TV series!! The alien-human star-crossed lovers is a little cliché, but what makes it so much better is that they don't

I am in love with this TV series!! The alien-human star-crossed lovers is a little cliché, but what makes it so much better is that they don't immediately get together, they keep their distance, even though its killing me waiting for their first kiss!!! All I have to say is: I think I'm addicted.

…

Expand

A fresh new series that really keeps you wanting more! It really makes you ask yourself how will humans react if they came across alien life.

A fresh new series that really keeps you wanting more! It really makes you ask yourself how will humans react if they came across alien life. I highly recommend it!

…

Expand

I just started watching Star Crossed last week and liked it so much I went back and watched all the other episodes that I missed. I wish Star

I just started watching Star Crossed last week and liked it so much I went back and watched all the other episodes that I missed. I wish Star Crossed was promoted better. They barely promoted it, and when they did, it was mostly shown as a typical teenaged love story. But there's so much more going on, double agents, traitors, political issues, etc. I love the sci-fi aspect of it among other things. I hope the show gets renewed. It reminds me of Dark Angel with Jessica Alba from back in the day which unfortunately got cancelled after being moved to the dreaded Fri night time slot. Star Crossed also has good music. I discovered some new bands and music because of the show. It's not all teeny-bopper stuff. Wish more people would give it a chance. Poor promoting does not help. The show is good and still has lots of potential so I hope it does not get cancelled.

…

Expand

Watched the pilot remind me of a cross between V and Romeo &juliet . I love it ,can't wait to see more .i have high hopes for this new series.

Watched the pilot remind me of a cross between V and Romeo &juliet . I love it ,can't wait to see more .i have high hopes for this new series. Watch it I recommend it

…

Expand

With the basic idea and its sci fi element could have been so much more. However, the dialogue is quite poor. Characters and relationships

With the basic idea and its sci fi element could have been so much more. However, the dialogue is quite poor. Characters and relationships with each other are not profoundly explored.

…

Expand

So 1st contact, dont land in USA (they shoot first and ask questions later, maybe). Lots of hatred between 2 races in this series, but no

So 1st contact, dont land in USA (they shoot first and ask questions later, maybe). Lots of hatred between 2 races in this series, but no explanation why.

…

Expand