Network:

Netflix

Series Premiere Date:

Jul 15, 2016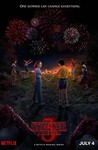 Starring:

Cara Buono

,

Matthew Modine

,

David Harbour

Summary:

Set in Indiana, a young boy named Will (Noah Schnapp) disappears into thin air in 1983 and the search for him that includes Will's best friend Mike (Finn Wolfhard), leads to top secret experiments and a strange little girl (Millie Brown) in the woods.

Genre(s):

Drama

,

Horror

,

Suspense

,

Science Fiction
Please enter your birth date to watch this video:
You are not allowed to view this material at this time.
Stranger Things reminds us of a time marked by a kind of no-strings escapism. And as it does so, we find ourselves yearning for it because the Duffers have made it so irresistibly appealing. There may be other equally great shows to watch this summer, but I guarantee you won't have more fun watching any of them than you will watching Stranger Things.

Balancing style and substance is always challenging for a series like Stranger Things, but the show is perfectly calibrated. It feels like watching a show produced during the era in which it's set, but with the craft of today's prestige television.

This promising drama often has ambiguous and even sad things on its mind, and the familiar contours of its plot are most effective when they serve as a cover for somewhat deeper explorations.

Thanks to Ryder and her ability to make you tear up over rainbow Christmas lights, the show's ultimate resolution resonates far more emotionally than it does cerebrally.

This is astoundingly efficient storytelling, eight hours that pass in a blink, with even minor characters getting sharp dialogue, dark humor, or moments of pathos.

As with J.J. Abrams' ode to Spielberg, Super 8, Stranger Things is extremely watchable and a little empty, a paean to the Duffer brothers' own youth masquerading as a compliment to a master.

Things spends too much repetitious time trying to convince us that Mike, Dustin, and Lucas are cute kids, and the show's sense of foreshadowing when it comes to revealing something that's supposed to scare the daylights out of us becomes an exercise in tedium.
A spectacular mix of E.T., Super 8, X-Files, and more mystery supernatural Sci-Fi shows and movies. Stranger Things is powerful, stunning, and

A spectacular mix of E.T., Super 8, X-Files, and more mystery supernatural Sci-Fi shows and movies. Stranger Things is powerful, stunning, and thrilling throughout the entire series.

…

Expand

I remember watching the first few episodes of this show a few days after it came out while I was trying to find something to watch on netflix.

I remember watching the first few episodes of this show a few days after it came out while I was trying to find something to watch on netflix. When i first saw this show, I will admit that I did not care for it. I stopped watching at episode 3 and felt that it did not live up to its hype.

Fast forward to over a year when the second season of ST is released, I decided to give it another chance and watch it from episode 1 again. I can proudly say that I am so grateful that I chose to rewatch the series. I absolutely love this show now, even though I've only been a fan of it for about a month now. The characters, especially Eleven, are amazing. It is full of heartwarming, tear-jerking, and shocking moments that will leave your eyes glued to the TV. Stranger Things has definitely lived up to its hype, and it also renewed my faith in child actors.

If anybody who hasn't seen the show has an off day coming up with no plans, reward yourself by watching this 8 episode masterpiece. You won't regret it, I promise.

…

Expand

We've reached peak television. This show is mostly perfect.

It is a nostalgia fest of synthesized soundtrack and Spielberg kids on a Sci-FiWe've reached peak television. This show is mostly perfect.

It is a nostalgia fest of synthesized soundtrack and Spielberg kids on a Sci-Fi adventure in their backyard.

Unlike other recent attempts to emulate the period ('Turbo Kid' comes to mind), 'Stranger Things' Season 1 never gives into the urge to do an 80's parody. This IS an 80's movie and these same characters and performances would be at home in 'Poltergeist' or 'ET.'

There are a few slow bits but, in 8 hours of content, a few slow bits don't amount to much when there's this much to enjoy.

…

Expand

If you are looking for horror, monsters, great 80s homages, amazing acting, directing and writing be sure to watch The Duffer brothers' TV

If you are looking for horror, monsters, great 80s homages, amazing acting, directing and writing be sure to watch The Duffer brothers' TV series debut, Stranger Things. Due to great internet popularity(and overall greatness!), we can already call it an instant cult classic.

The series, which gets its inspiration from 80s fantasy and horror film(and book) hitmakers like John Carpenter, George Lucas, Steven Spielberg and Stephen King is set in a fictional town of Hawkins, Indiana. On the surface, the premise seems simple(ish) and quite familiar. A group of young friends battle a big monster, which is a result of conspiracy-like military experiments. But the show is much much more.

Stranger Things starts immediately, with the cold open. It features series' main plot device - mysterious disappearance of Will Byers. Ever since then, the story has been fast moving, interesting, but at the same time just enough careful to explore the characters(and their development). It follows different people, whose storylines become combined in the end.

The show benefits from great performances. On the one hand, we have an experienced, older cast members(Winona Ryder's performance as a single mother who is trying(despite everyone and everything against her) her best to find her missing son is deep and equally amusing, David Harbour is there as a anti-pole to Ryder's character, as a warm, but calm police chief) and on the other, we have less-experienced cast, who all gave a moving and original performances(especially Millie Bobby Brown and Finn Wolfhard, whose chemistry is special, to say the least)
.
Though not renewed(yet)-I wonder what would the show do for its sophomore season. It left itself an open door to continue the same story, on the other hand, the Hawkins storyline seems to be(at least for now) concluded.

However, that does not really matter. Stranger Things is more than just a great refreshing summer watch, its a deep and meaningful series, which deserves wide(r) recognition

…

Expand

I went into this show with quite low expectation but was very presently surprised. It manages to be taut, dark and scary whilst also being

I went into this show with quite low expectation but was very presently surprised. It manages to be taut, dark and scary whilst also being real, goofy and funny, which is no small achievement. The young cast are a true credit, indicating some excellent direction. I would recommend this without hesitation.

…

Expand

With one of the best soundtracks of all tv series, Stranger Things is a great and tense show, even though there are some script errors and

With one of the best soundtracks of all tv series, Stranger Things is a great and tense show, even though there are some script errors and unclear characters, the series besides all, is one of the top 10 best shows of 2016-2017.

…

Expand

Stranger Things is an excellent production with exceptional actors. In fact, it's good to see Winona Ryder back. The script and photography

Stranger Things is an excellent production with exceptional actors. In fact, it's good to see Winona Ryder back. The script and photography are also outstanding. Watching the first season on Apple TV, I noted similarities with other movies and television shows. The foundation of the piece involving four friends has the familiarity of the friends in Stephen King's book and movie, It. There are overlays of the X-Files, Jeepers Creepers, and Buffy the Vampire Slayer. The monster is reminiscent of the space creature from the Alien franchise. Aside from those comparisons, there are several things that would prevent me from recommending it for children: product placement (of junk food, no less), which I realize is inevitable, and the fact that numerous actors smoke while several of the main characters are chain-smokers. I'm not quite sure if that's a spoof of the "smoking man" from the X-Files or another product placement. The tobacco companies can't advertise on television, so television shows take place decades previously when far more people smoked. Now, to me, that is creepy and disgusting. Oh, yes, and there's the gratuitous teen sex.

…

Expand