Network:

CBS

Series Premiere Date:

Feb 2, 2017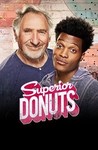 Starring:

Judd Hirsch

,

Darien Sills-Evans

,

Katey Sagal

Summary:

The comedy from Bob Daily, Neil Goldman and Garrett Donovan based on the Tracy Letts' play of the same name is about the relationship a Chicago donut shop owner (Judd Hirsch) has with his new younger employee (Jermaine Fowler) and his customers.

Genre(s):

Comedy
Season 1 premiere date:

Feb 2, 2017

Episode Length:

30
Please enter your birth date to watch this video:
You are not allowed to view this material at this time.
The flavor of Superior Donuts might be old-fashioned--but a baker's dozen of the sitcom might do the trick.

The writing is nicely peppered with contemporary references, but, more to the point, effective character-based humor. In other words, this show is funny.

The Superior Donuts recipe is as old as doughnuts--or Cheers, to which it's far from ready to be compared, but it's also just topical enough to feel fresh.

Superior Donuts may well get stale in a hurry. But it's on a network that somehow has kept the idiotic and likewise eatery-themed 2 Broke Girls on the air for an astonishing six seasons. And this one is better than that.

The staging is suffocatingly old-school: Stand up, deliver laugh line, walk to other side of shop for no reason other than to make room for the next character to stand and deliver. That's not to say that the material isn't moderately amusing.

Reminiscent of "Chico and the Man" (the mid-'70s NBC sitcom about a cranky garage owner and his Chicano employee), but it also aspires to a contemporary relevance--but manages only a weary crustiness.

This is a formulaic, laugh-track comedy that wastes the talents of its actors--Katey Sagal is a sharp-tongued Chicago cop--who deliver inane, see-them-coming-from-a-mile-away one-liners.
It's no Seinfeld, M.A.S.H., or Cheers, but it's pretty funny and is keeping me entertained. I'm hoping the stories and characters develop.

It's no Seinfeld, M.A.S.H., or Cheers, but it's pretty funny and is keeping me entertained. I'm hoping the stories and characters develop. I'll keep watching for a while, anyway.

…

Expand

'Superior Donuts' has some funny jokes and a very talented cast. However, everything seems so rushed that it falls to gain momentum. Despite

'Superior Donuts' has some funny jokes and a very talented cast. However, everything seems so rushed that it falls to gain momentum. Despite this, it is still worth taking a look.

…

Expand

While there are some amusing comedic moments, the overall show is just another situation comedy aided by a laugh track and standard

While there are some amusing comedic moments, the overall show is just another situation comedy aided by a laugh track and standard one-liners. Judd Hirsch can be funny, as he proved in Taxi, when surrounded by a talented cast. Unfortunately Hirsch doesn't have the "Sunshine Cab Company" ensemble with this show. Instead of "Superior Donuts" the donuts are a bit stale.

…

Expand

I like Judd Hirsch and I tuned in just to see him.
Sadly, this show is not nearly good enough to give it a pass.
It feels too calculated andI like Judd Hirsch and I tuned in just to see him.
Sadly, this show is not nearly good enough to give it a pass.
It feels too calculated and uninspired. An old white guy with a young fast talking black guy.
Felt a little too stereotypical.
If it just were funny enough, I could have accepted all that, but it isn't.
It's run of the mill, a couple of oneliners and that's it.
Katey Sagal is in it, but she doesn't get good lines or a lot to do.
David Koechner is a bit more lucky, getting better lines.
I liked Maz Jobrani, though.
Still, the main characters and the supporting cast can't pull the show out of its mediocrity, to say it kindly.
Next!

…

Expand

Corporate laugh track production. Bland and not very funny. Providing work for 2nd stream comedy (sic) actors. A reminder that actors will do

Corporate laugh track production. Bland and not very funny. Providing work for 2nd stream comedy (sic) actors. A reminder that actors will do anything for money..

…

Expand