Network:

CBS

Series Premiere Date:

Nov 2, 2017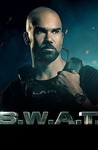 Summary:

Former Marine Daniel "Hondo" Harrelson (Shemar Moore) is a S.W.A.T. sergeant given the task of running a specialized tactical unit in this police drama inspired by the Aaron Spelling's 1970s series and 2003 film of the same name.

Genre(s):

Drama

,

Action & Adventure
Season 1 premiere date:

Nov 2, 2017

Episode Length:

60
Please enter your birth date to watch this video:
You are not allowed to view this material at this time.
With its characters at once thin and broad; its L.A. backdrop; and its mix of existential philosophizing, social commentary and corny representations of hot-button issues, "S.W.A.T." also recalls and has some of the appeal of Jack Webb's classic "Dragnet," but with a more progressive outlook and a sprinkling of sex scenes.

[Director Justin] Lin's aesthetic palette may be admirably fresh for broadcast, but when it comes to the nuts and bolts of characterization, S.W.A.T. can't help but feel as stale as the show it's ostensibly modernizing. [3 Nov 2017, p.56]

S.W.A.T. had a chance to do something different, maybe even provocative. So far, the same old-same old.

Give them credit for trying a different take on cop shows, but S.W.A.T. simply falls flat in every conceivable way.

Although it tries to carve out its own space, the series can't really make itself something more than a standard cop show. It's a lesser rehash of the 1970s TV series and 2003 film, despite an exceedingly appealing star.

S.W.A.T, on the other hand, is nothing but action figures, and when the characters do speak, they sound so moronic you may as well watch the show with the sound off.
This show is really awesome i really enjoyed each episods.
i look forward this season 2 !!!

I might sound like a TV troglodyte, but I must say that this one reminds me of good, fast pace, action movies from the past. After long

I might sound like a TV troglodyte, but I must say that this one reminds me of good, fast pace, action movies from the past. After long stressful day at work, all I need is to grab a beer and relax with something enjoyable and energetic, which does not make me ponder over the pity of existence.
Kind of energy drink for my soul. Thumbs up!

…

Expand

Ok so this show may not be high brow but when you just want simple entertainment then this is great , you can relax and just enjoy the ride ,

Ok so this show may not be high brow but when you just want simple entertainment then this is great , you can relax and just enjoy the ride , the cast have a fantastic rapport which makes this such an enjoyable watch , not everything you watch has to make you re- evaluate life sometimes you can just enjoy .

…

Expand

This show will be lucky if it gets another season. Shemar Moore is terrible and at times the show is just flat out cringey and hard to watch.

This review contains spoilers

, click expand to view

. Like the action, but this feels more like a social commentary show trying to disguise itself as a law and order show. I'm no cop, but the opening sequence seems wrong in so many ways. SWAT is supposed to be special weapons and TACTICS and the tactics used in the first gun fight were wrong. SWAT is supposed to be smart enough to seal off avenues of escape when they arrive at a scene. There should have been no gun battle in the streets and hence no shooting of an unarmed kid. Don't like the romance between Hondo and one of his bosses. Don't like the rivalry between SWAT teams. Don't like the irresponsible personality they are pushing on the Street character. Too formula in many places and too shallow overall.

This show needs better scripts and quickly. I'll likely watch it again for the action sequences, but if it doesn't get smarter soon it won't be worth my time.

Addendum: The second episode didn't do anything to improve my opinion of this show. Actually I have lowered my score. With so much behind the scenes noise, the show lost my attention until the big shootout at the end. This needs to become the action show it's supposed to be and less social and political garbage or that's where it'll end up - in the garbage.

Subsequent episodes have also lost my attention as well. CBS made a big mistake ordering more episodes of this turkey. Will try watching a few more, but if they are no better, this show will lose me permanently.

…

Expand

Another cringy, heroes on steroids, never taking any damage, always good positive nothing bad in the world happens good guys while stroking

Another cringy, heroes on steroids, never taking any damage, always good positive nothing bad in the world happens good guys while stroking Shemar Moore's ego and his dick probably. Its nothing more than soap opera drama with things most swat would never do to begin with. I get its not gonna be 100% realistic but they keep calling in swat for things most departments would NEVER call them in for cause its not their job/role/division. Sick of these **** cop shows, if I liked any it was Law and Order cause it showed even if they got the guy the justice system would 50% of the time let them go or something worse would happen. Its not always puppies and rainbows as it should be, its why I cannot stand CSI either. CSI is for criminal scene investigate meaning dead bodies.. they don't go guns blazing and they don't go interrogating people. They investigate and compile a scene for detectives/etc that is it.

…

Expand

Please if this series will ever be worth watching get a good police adviser! The cop who shot a kid wouldn't be fired the next day. Police

Please if this series will ever be worth watching get a good police adviser! The cop who shot a kid wouldn't be fired the next day. Police have unions and a right to a fair trial. The smart A## kid speeding to work would most likely be fired and would never be allowed on a disciplined unit like SWAT. The series does them a disservice!!!!! I will give it one more chance since I enjoy Shamar.

…

Expand