Network:

NBC

Series Premiere Date:

Feb 27, 2017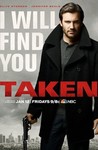 Summary:

The action series based on Luc Besson's franchise with Liam Neeson is a prequel that follows the young Green Beret named Bryan Mills (Clive Standen) as he learns those "very particular set of skills" he will utilize in the future.

Genre(s):

Drama

,

Action & Adventure
Season 1 premiere date:

Feb 27, 2017

Episode Length:

60
Please enter your birth date to watch this video:
You are not allowed to view this material at this time.
Rarely does a TV series surpass its source material but this new version of "Taken" does just that.

The action scenes are great and breathless. If only those pesky characters didn't get in the way from time to time. Standen, Beals and Brooklyn Sudano as Mills' sister's friend Asha, do a pretty good job making up for dopey dialogue.

While the target audience will probably dig the extensive action sequences and vivid violence, there's no reason anyone else should be "Taken" for a ride.

Procedurals subsist on personalities, and for now, Taken has none: Mills is a vacuum with fists and a dead sister to avenge, while the character of Hart amounts to "serious politics woman with occasional glasses." The rest of their team could be recast with different actors for every episode without anyone noticing.

This version of Taken is rather more showily cynical than the films, with CIA bosses sitting around listening as hidden microphones relay the approach of armed-to-the-fang drug hitmen who plan to torture and kill Mills. "Shouldn't we, like, warn him?" wonders one: "Don't we have a moral duty?" Retorts Jennifer Beals, the Flashdance babe now graduated to a role as hardboiled spook-in-chief: "Okay, now you're boring me." No duh.

The initial spike of recognition that comes from calling a show Taken rather than, say, Sister-Missing Tough Guy doesn't make up for the irritation that will come from viewers seeing how little of the big-screen Taken's DNA is actually in NBC's drama, and how little of substance has been added to take its place.

[Taken] is like a parody of a TV action drama. ... Except a parody wouldn't be so boring, so unintentionally illogical, so unmemorable, and so labored. Really, Taken is a mess of a network show.
Taken is an excellent action/adventure where the good guys generally win (not always, but generally). It''s nice to have a really interesting

Taken is an excellent action/adventure where the good guys generally win (not always, but generally). It''s nice to have a really interesting show that has some complexity involved !!

…

Expand

People its a fun show if you like spy/action type stuff get over that it isn't the movie, or its lazy because they used the title of the

People its a fun show if you like spy/action type stuff get over that it isn't the movie, or its lazy because they used the title of the movie. They flesh out Brian and the actor is fine. Its not supposed to be brilliant did you see the movies? Its fun and entertaining and theres nothing wrong with that sometimes. Not everything has to be Game of Thrones or Billions. Seen the movie or not its a good show if you like the genre. It has easter eggs, but they mean nothing to the plot and you wouldnt even notice if you'd never seen the movie.

…

Expand

"Taken" the series is smart and somewhat more complex than the average TV show. It is reminiscent of both "Blacklist" programs. However, while

"Taken" the series is smart and somewhat more complex than the average TV show. It is reminiscent of both "Blacklist" programs. However, while it is smart, it's sterile and bloodless. While the original film gained popularity because it was a visceral and fairly straight forward revenge tale, this series has none of that pushing the episodes beyond the pilot. I suppose that's because how many family members could the main character realistically have kidnapped? While this is a perfectly understandable, it does not change the fact that the series comes of as a bit boring and devoid of emotional content.

…

Expand

More in the sad trend of slapping a movie title on a tv show with little to no resemblance to the film. This time it's more of the same elite

More in the sad trend of slapping a movie title on a tv show with little to no resemblance to the film. This time it's more of the same elite services with this cookie cutter action series. Any potential to be more than yet another mediocre entry to the genre depends on not only telling the amazingly wooden and pouty Clive Standen that there are more than two facial expressions available but to add some smarter writing. Giving veteran Jennifer Beals a lead role is a good start but the plots need some real tweaking to make this show anything more than yet another forgettable TV action show.

…

Expand

Very bland. It's not even about anything in particular. Generic task force stops generic bad guy with the help of a new recruit who just

Very bland. It's not even about anything in particular. Generic task force stops generic bad guy with the help of a new recruit who just happens to be the guy from the Taken movies.

…

Expand

I was all excited about this TV series since I like the movies. I have to say, totally disappointed. The lead character is very

I was all excited about this TV series since I like the movies. I have to say, totally disappointed. The lead character is very unconvincing......his hair looks like a wig or badly died.....and there is no "menace" about him which you need for these kind of roles (think Daniel Craig, Jim Caviezel or even Liam Neeson himself). The plots are paper thin....its just bad TV. Sorry....I was hoping for better.....watched 5 episodes....cannot finish the series.

…

Expand

the story is so full of loopholes that you might lose a piece of brain if you don't stop watching it immediately,the show is badly written and

the story is so full of loopholes that you might lose a piece of brain if you don't stop watching it immediately,the show is badly written and the action is bad, if you have watched the movies and expecting something good than it isn't your cup of tea

…

Expand