Network:

TV LAND

Series Premiere Date:

Jan 13, 2016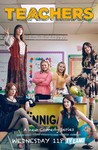 Starring:

Tim Bagley

,

Caitlin Barlow

,

Katy Colloton

Summary:

Based on a web series created by the Katydids, the comedy series follows the lives of six elementary school teachers (Caitlin Barlow, Katy Colloton, Cate Freedman, Kate Lambert, Katie O'Brien and Kathryn Renée Thomas).

Genre(s):

Comedy
Season 1 premiere date:

Jan 13, 2016

Episode Length:

30
Please enter your birth date to watch this video:
You are not allowed to view this material at this time.
We've all seen this world mined before in movies and TV programs alike. What makes Teachers stand out is the way in which all of these humorous Katies handle the trouble their offbeat and sometimes lewd and rude characters have made.

All six of the Katydids pop with strong comedic performances in Teachers, giving you faith that there will be no lag in this 10-episode first season. And the series also benefits greatly from casting kids who aren't annoying and also knowing how often to employ them in the jokes.

It feels a bit like early-era Community in a way: a rock-solid groundwork of a premise that doesn't do anything too zany or bizarre or risky, but does it with enough of a wink and strut that you can see the potential for something special in the near future.

Some will feel right at home here right away; and some will be in bed by then. For the rest, it's worth investing in a few episodes to get used to the milieu and the music; though the humor stays rough, the show feels sunnier as the company grows more familiar.

Teachers still feels like a webseries, just in a longer format. There's a lack of fleshed out narrative in the four episodes screened for critics.... [But] Their comedy lacks vanity, and their onscreen chemistry together is quite good, with each member of the troupe filling a different stereotype for Teachers.

The problem is that the writers--i.e., the cast--don't seem to have any idea about an overall story arc. Without that necessary ingredient, the show's potential is pretty much squandered after the first episode.
Very funny, bizarre show with a dark twist. The first episode is not a good representation of the show as it gets much better and grows as the

Very funny, bizarre show with a dark twist. The first episode is not a good representation of the show as it gets much better and grows as the series goes on. You'll suddenly find yourself addicted. Bravo to TV Land. Season 2 was awesome.

…

Expand

Ok, I am a teacher-is this reality? Most of it is not true, but the same holds true for lawyer and doctor shows. The cast is funny. My

Ok, I am a teacher-is this reality? Most of it is not true, but the same holds true for lawyer and doctor shows. The cast is funny. My favorite episode is Hall of Shame when Ms. Snap is doing the janitor. Ms. Snap and Ms. Watson are the strongest characters. Overall, a funny show. 10:30 at night? Too late!

…

Expand

I found it hilarious and a laugh a minute, which is what it is intended for. This was originally a web series and now this comedy group of

I found it hilarious and a laugh a minute, which is what it is intended for. This was originally a web series and now this comedy group of Katie's have turned it into a series. I really enjoyed it, but i think it just depends on your sense of humor. Read some of the critics reviews and maybe you will get what they are setting out to do. Make people laugh and make fun of the world that we live in. I love it!

…

Expand

A very low budget show that shouldn't work but surprisingly, had me coming back for more. The writing won't have you laughing out loud but the

A very low budget show that shouldn't work but surprisingly, had me coming back for more. The writing won't have you laughing out loud but the character portrayal of the actors keeps it moving along in a manner that has me looking forward to the next episode and in some ways, wishing that I had gone to a school with such quirky and weird teachers.

…

Expand

I didn't think I could dislike a comedy show more than 2 Broke Girls right now...and then along came Teachers. This show is so poorly acted

I didn't think I could dislike a comedy show more than 2 Broke Girls right now...and then along came Teachers. This show is so poorly acted and an extreme one note show. Horrible.

…

Expand