Network:

Showtime

Series Premiere Date:

Oct 12, 2014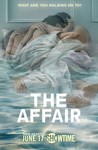 Summary:

Season three picks up three years later where Noah becomes involved with a new woman named Juliette Le Gall (Irene Jacob), Helen's unsure about her relationship with boyfriend Vik (Omar Metwally), while Alison is raising her daughter with the help of Cole and Luisa.

Genre(s):

Drama
Season 3 premiere date:

Nov 20, 2016
Dark and thrilling, The Affair returns with a huge wallop--and glorious French star Irène Jacob is in the house.

Maura Tierney's Helen continues to hold the emotional center, while Ruth Wilson's Alison is as haunting as ever. [18 Nov 2016, p.52]

The Affair continues to keep us intrigued, which is always an accomplishment worth noting; we'll definitely be watching as Season 3 proceeds. If only because the show has built up a rich tapestry beyond its most problematic character.

The Affair, co-created by Sarah Treem, who writes many of the episodes, and Hagai Levy (In Treatment), remains absorbing and maddening, illuminating and frustratingly opaque, all in equal measure. It is a very good drama that, at times, also makes me roll my eyes hard enough to propel myself backward in time.

Each individual hour of The Affair holds your attention, and perhaps it's best to just keep watching before deciding whether the overarching narrative is cohering in a satisfying way.

It's better to simply note that The Affair succeeds by becoming a tangled mess--but that mess has considerably less appeal this time. The only way through, of course, depends on Tierney's unerring performance as Helen.

Getting meta and representing a debate happening outside of the show within it is never a good idea, and it's one of the many scenes that makes The Affair's new season exceptionally stuffy at times.
So happy to see the season continue. I thought this was a show for women but I am really please it's for men too. I am hooked on this type of

So happy to see the season continue. I thought this was a show for women but I am really please it's for men too. I am hooked on this type of show. The acting and story-line is spot on, Hopefully the directors will keep this show going. Get your popcorn ready. 10/10 for me.

…

Expand

Just want to say to the cliche abhorring Olivier Piel abhorring Irene Jacob's 'fake' french accent: she happens to be a real, and famous,

Just want to say to the cliche abhorring Olivier Piel abhorring Irene Jacob's 'fake' french accent: she happens to be a real, and famous, french actress and that is her real accent. As for expecting a Camus quote, why not? The show has always been about writing and philosophy. And the show IS referencing Camus strongly in its story line.

…

Expand

Yeah, ok, you may recognize much of these trends. French women, college kids arguing over big ideas...etc. But if something os done with

Yeah, ok, you may recognize much of these trends. French women, college kids arguing over big ideas...etc. But if something os done with skill, the object cannot be the objections. In other words, one can make great art about anything, even something that has been done before. With all that being said, there is still something distinctive about this series--Noah as a character is still off beat, uncomfortablely so, the tone is still rich, searching. There is still real human drama--overall, it still seem like a show searching for and trying to say something, even if it is unclear what that is. Still one of the better television experience

…

Expand

White for the most part still fun to watch, it's amazing how many bad decisions they made for this season, that feels completely improvised

White for the most part still fun to watch, it's amazing how many bad decisions they made for this season, that feels completely improvised and messy. I'm not optimistic about the future and I'm glad that season 2 ended in a way that we fans can say it's the true ending and ignore what's to come.

…

Expand

Unable to recover from the ludicrous final episode of Season 2, The Affair flounders and fails to come up with a good answer to the question,

Unable to recover from the ludicrous final episode of Season 2, The Affair flounders and fails to come up with a good answer to the question, "Why am I still watching this?"

…

Expand

very disappointing first episode of the third season. But as season 2 was already a significant step down from a refreshing and naturalistic

very disappointing first episode of the third season. But as season 2 was already a significant step down from a refreshing and naturalistic portrayal of adultery towards soap opera, we shouldn't be surprised.
Lazy clichés galore: university campus teeming with liberal arts students pompously debating in front of candlelit dinner and jazz and a free-thinking French visiting professor faking an excruciating accent and peppering her discourse with French 101 class vocabulary (that is so 1960! I was just expecting some Camus quote at some point) to the stalking Chicago cubs prison guard (but I guess no one could foresee they would win the world series).
The acting of the main actors is really wasted on this lazy script. A shame

…

Expand

Fails to entertain. The first episode was 55 minutes of brooding, moping, and hallucinating. If that's your thing then this is your show. If

Fails to entertain. The first episode was 55 minutes of brooding, moping, and hallucinating. If that's your thing then this is your show. If you like a couple minutes of fun mixed in with your drama then you'll have to look elsewhere. Absolutely no one is having fun on this show. Even the sex scene stopped before the sex. What a waste of talent.

…

Expand