Network:

Showtime

Series Premiere Date:

Oct 12, 2014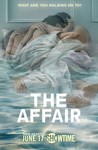 Summary:

Long past the secrets that brought them together and tore their lives apart, Noah, Alison, Helen and Cole are on separate journeys with the promise of new relationships and a fresh start. But, as the past continues to surface, they question what they're holding on to as their lives keep

Long past the secrets that brought them together and tore their lives apart, Noah, Alison, Helen and Cole are on separate journeys with the promise of new relationships and a fresh start. But, as the past continues to surface, they question what they're holding on to as their lives keep crashing back into one another. Starring Dominic West, Ruth Wilson, Maura Tierney, and Joshua Jackson.

…

Expand

Genre(s):

Drama
Season 4 premiere date:

Jun 17, 2018
The story lines are still on the histrionic side. ... But through six (of 10) episodes, the characters' behavior is, for the most part, recognizably human. You could see that as a loss of nerve, but at the same time it allows the show's other strengths--its excellent cast and its solid indie-movie-style production values--to come through.

Season 4 turns out to be an unexpected treat. The new episodes capably reignite the show's original allure, discarding some unnecessary bloat and focusing once more on The Affair's basic premise, which is that no two people will ever view the same occurrences and facts the same way.

New stories, new perspectives and new vistas might just do wonders for The Affair. At least they beat the alternative. Still entertaining, The Affair makes an attempt to get better by adding some diversity to the mix.
NYT and Washington Post give what has become now a tepid soap opera 80% !?!! This country is so f***ed. I only watch the Noah and Helen part

NYT and Washington Post give what has become now a tepid soap opera 80% !?!! This country is so f***ed. I only watch the Noah and Helen part because the acting is good. I zip past the utterly ridiculous Alison and bearded guy parts. 1 point for acting

…

Expand