Network:

Showtime

Series Premiere Date:

Oct 12, 2014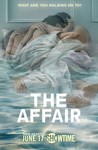 Summary:

The series focuses on Hamptons waitress Alison (Ruth Wilson) as she tries to recover from a personal tragedy while her husband Cole (Joshua Jackson) struggles to keep the family ranch and their marriage together. The ramifications of Allison's affair with Noah (Dominic West), a New York City

The series focuses on Hamptons waitress Alison (Ruth Wilson) as she tries to recover from a personal tragedy while her husband Cole (Joshua Jackson) struggles to keep the family ranch and their marriage together. The ramifications of Allison's affair with Noah (Dominic West), a New York City teacher married to his childhood sweetheart (Maura Tierney), is explored from each person's perspective.

…

Expand

Genre(s):

Drama
Season 1 premiere date:

Oct 12, 2014
The premiere episode is riveting--the best pilot I've seen this fall. (That admittedly is not saying much.)

As much as the script, Reiner's direction makes both stories seem oxymoronically unique and distinct at the same time. The performances are extraordinary, as they must be to complete the process of retelling a seemingly similar story.

The first episode, at least, is terrific, with a distinct, involving tone, and it does very right by its leads.

The pilot (the only episode made available to critics at press time) has some difficult scenes, including an act of marital rape (or something like it), yet the acting is strong and the story is compulsively intriguing. The first thing you want from The Affair is to see where it leads.

It's a lot to ask, and I worry that the show's structure will define the program more than the characters within it or the themes explored by it. Having said that, there's just as much reason for hope that this will be the next great cable drama. Most notably, the cast clicks.

The Affair looks to be a bit more cerebral than some of Showtime's other star shows. That makes it no less compelling.

It is hard to find a suitable middle ground, when neither protagonist wants to implicate him/herself. That--this puzzle of what really happened--might be the genius of the show, but it's also frequently its great frustration. If audiences aren't fully engaged while watching Noah's point of view, then having to rewatch everything a second time around from Alison's perspective will be painful.
Amazing series, I got here from Luthor, as Ruth Wilson is also in it, she deserved all the awards that were given from this series to her, the

Amazing series, I got here from Luthor, as Ruth Wilson is also in it, she deserved all the awards that were given from this series to her, the acting is great. For people who don't understand the variation between the two stories, this show is supposed to represent what each character wants to tell and wants to hide, using the two story lines to puzzle together what each character wants to hide from the detective, creating an interesting plot that has immersed me dearly, cannot wait for season 2 which should be out later this year (2015).

…

Expand

Great pilot. Great pace. Great cast. Lets see if Reiner can pull off this pace for the life of the show. If things fall into place Showtime

Great pilot. Great pace. Great cast. Lets see if Reiner can pull off this pace for the life of the show. If things fall into place Showtime has yet another crushing binge worthy series.

…

Expand

More that meets the eye.....

This show is made in a brilliant and very interested way and intriguing plot. In a glance you will be thinkingMore that meets the eye.....

This show is made in a brilliant and very interested way and intriguing plot. In a glance you will be thinking is all about sex, but the funny thing and what really takes you more deep than just the name of the show is the fact that how misleading it is as well (obviously there will be an affair in the long run).

But to the bear basics of the involvement in this two people that are having their own story behind their lives. It makes you wonder not when they will be having the affair, but the pure essence of why and what happen to them and in that vacation besides the affair that leads them to do apparently more than just that, in the way on how the plot ends (I wont spoil anything btw).

It takes you to the pure excitement being witness of their affair and how it grows, but it is way more than that, because you are seeing also and experience both points of view that sometimes makes you think what is the true and which is not.

P.s.I even wonder (btw this is just a crazy though) if this show will go much further than the vacation location, like maybe after the vacation ends and if the problem that is not yet known will continue hunting him or her or both after the vacation ends meaning beyond the affair and such. Because clearly I think this will be a show that maybe will be more than just the affair. I don't know it maybe just me.

And I am thinking this just by the answer Alison give at the end of the plot.... but anyways yeah great story development so far. and acting is very incredible so far I might add, will see.

…

Expand

I do like the show tho I have to say the first season was the best. I had to deduct 2 points because the actress' who play Helen and Allison

I do like the show tho I have to say the first season was the best. I had to deduct 2 points because the actress' who play Helen and Allison can be hard to watch because of all the lets call it repairs done to their faces. Allisons veneers and duck mouth is hard to look at but what even more hard to look at is Helens duck mouth. For goodness sake girls quit doin whatever it is u ae doin! Also the sex scenes are getting to be the same old same old positions where the girls are being hoisted up on the tables.

…

Expand

This review contains spoilers

, click expand to view

. I love the format of this show, not knowing what story to believe or what version of events really happened. But a good four or five episodes in, I'm starting to feel that they're dragging out how the affair started. When watching this, I have to ask myself, "What's at stake? What does it really matter that two people are having an affair?"

As it continues, there's enough hints that there's something else that happens, and without wanting to spoil anything, the show is taking its time letting us know what that's about in a way that just does not seem natural. Characters artificially leave out the names of the people they're talking about when you want to know what happened to whom.

Yet, there's something about the way the show is shot. Almost always they are very close shots, close to the actors. They do enough editing with filters to suggest the impermanence of memory which can also lead to the unreliability of the narration from either viewpoint.

But as someone who lives on Long Island, just on the other shore, I feel that the show makes the same mistake it accuses Noah of making. It romanticizes the town to make it seem like everyone rides around in bicycles with baskets, works at farmer's markets, and goes to town hall meetings. The Affair gets little things right. I noticed a jar of honey on a countertop that is only sold out here. And it's right to criticize Riverhead, understanding that it is the place you'd go to go "bowling."

However, I have a very hard time taking any show seriously when it is also inherently self referential. We are watching a show about an author who is having an affair, and that author in the show is writing a book about a guy who is having an affair.

The actors are very strong and the show at the least is attempting to do something I haven't seen before, but it needs work.

…

Expand

Started getting irritating when the different views (by the main characters) of the same events are totally different. Some differences dont

Started getting irritating when the different views (by the main characters) of the same events are totally different. Some differences dont even make sense man.

…

Expand

The characters can only be described as dense, horny morons who do nothing but sleep around with everyone except their spouse, and that's the

The characters can only be described as dense, horny morons who do nothing but sleep around with everyone except their spouse, and that's the whole premise of the show. Yeah. Pretty bad right?

…

Expand