Network:

TNT

Series Premiere Date:

Jan 22, 2018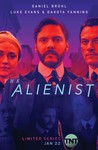 Summary:

Alienist (aka criminal psychologist) Dr. Laszlo Kreizler (Daniel Brühl), New York Times society illustrator John Moore (Luke Evans) and secretary Sara Howard (Dakota Fanning) are recruited to investigate in secret a series of murders of prostitutes in New York City by new police commissioner

Alienist (aka criminal psychologist) Dr. Laszlo Kreizler (Daniel Brühl), New York Times society illustrator John Moore (Luke Evans) and secretary Sara Howard (Dakota Fanning) are recruited to investigate in secret a series of murders of prostitutes in New York City by new police commissioner (and future president) Theodore Roosevelt (Brian Geraghty) in this adaptation of Caleb Carr's novel set in 1895.

…

Expand

Genre(s):

Drama

,

Suspense

,

Science Fiction
Season 1 premiere date:

Jan 22, 2018

Episode Length:

60
The production design and costumes often speak more eloquently than any of the characters, and work overtime to communicate subtext that feels a lot more fresh than most of the text. Despite the apparent dependence on CGI, which is true of nearly everything these days, the images are still overwhelmingly tactile. The direction by Jakob Verbruggen is consistently superb, with flourishes that can sincerely be called virtuoso. And the totality of the thing can't fail to impress.

There's no shortage of serial killer dramas, and if The Alienist feels familiar, it makes up for it by presenting its story in a striking package. And you won't want to look away.

The acting styles range from sullen underplaying to over-the-top melodrama, and that mix can be quite effective. But both can be carried too far, with the underplayed stuff tending toward somnambulism and the over-the-top extremes inducing a cringe or two.

Those who book full passage for Season One's 10 episodes may or may not get full closure. The Alienist, which closes out Episode 2 with Moore at the mercy of gangland forces and their young boy prostitutes, so far is trying terribly hard to be darkly spellbinding. Toward that end, it has yet to make its case.

Too much in the pilot gets short shrift at the expense of the show's love affair with mood. Snow covers streets and then disappears in a scene set moments later; foreboding dialogue comes off as too on the nose. ... Episode two shakes off the unsavory visuals and moves the story and character relationships forward with less emphasis on the heaviness that hangs over the first hour, but by then, some viewers will have moved on.

Grim and atmospheric to the point of dank, The Alienist proves so derivative as to blunt its appeal. Adapted from Caleb Carr's novel, this historical fiction is handsomely produced and smartly cast, but merely delivers the latest twist on a serial-killer yarn -- a particularly nasty one, true, but which at least initially fails to get under your skin.

All the good acting here, and all the lush Gilded Age costuming, can't distract us from the tedium of the storytelling.
My favorite shows have great characters who are watchable, likeable and interestng. I also appreciate good production values. This show, my

My favorite shows have great characters who are watchable, likeable and interestng. I also appreciate good production values. This show, my current favorite, has all of these qualities with some intrigue thrown in to boot.

…

Expand

"The alienist" has an engaging plot, interesting and likable characters and it just looks beautiful - production design and costumes are

"The alienist" has an engaging plot, interesting and likable characters and it just looks beautiful - production design and costumes are breathtaking. I read the book after I had watched the series and I am surprised how well those two mediums complement each other. The book will give you deeper insight into the investigation and the process of creating the psychological profile of the murderer. You will better understand the motives behind the crimes and the killer. But the series definitely adds a lot of suspense into the story, shows new perspectives of events, expands personal stories of the characters, adds some red herrings and changes few things - the outcome is the same, but paths leading to it vary in places from the original.
This show receives mostly moderate reviews and I understand why. It's an archaic, somewhat traditional story, so if you're into twists and turns, things happening fast and characters that are very expressive - you will probably feel disappointed.
The plot developes slowly but steadily, and after three episodes it really kicks of. The characters at the beginning seem a bit odd, but they develope with the story and after a while they create this investigating gang full of mixed feelings towards each other and relationships and back stories that are interesting to watch. I love all the characters (even minor characters like Teddy Roosevelt, Mary, Stevie or Cyrus). Yes all the bad guys (not the killer) are quite stereotypically portrayed, but it doesn't bother me. It's fun to cheer the good ones and hate the bad ones.
This is a crime story and it's a mixture of who, why and how to catch them. It's more like "the silence of the lambs" than Agatha Christie novels. We don't really have suspects. Our team tries to create one of the first psychological portraits of a serial killer based on the crimes he or she has committed.
The ending is a bit underwhelming, but the whole journey is worth watching. It is truly a beautiful experience and I hope there will be a second season with the same characters and new crime to solve.

…

Expand

I am not a fan of historical dramas generally. It is rarely the fault of the show but more my tastes . However, something about this show I

I am not a fan of historical dramas generally. It is rarely the fault of the show but more my tastes . However, something about this show I really really liked. The story is grizzly and gripping and manages to throw you. My only criticism would be that I'm really not sure whether to like the main characters or not. This would usually be a massive criticism but for some reason the characters in and around the main three, along with a good story make this more than watchable and I would go back for more.

…

Expand

The Alienist tem muitos elementos parecidos com muitas séries consagradas como,por exmeplo, a ambientação de Penny Dreadful ,a temática de

The Alienist tem muitos elementos parecidos com muitas séries consagradas como,por exmeplo, a ambientação de Penny Dreadful ,a temática de Midhunter e o teor misterioso e desconcertante de True Detective. Embora essas séries sejam excelentes,The Alienist ainda fica atrás das citadas,pois sua continuidade nos força a entender que os 5 últimos episódios foram mais importantes que os primeiros eps. As atuações são medianas, mas a ambientação e o mistério me fizeram continuar a terminar a primeira temporada.

…

Expand

In general terms I did enjoy it. The cast was solid but the story has several problems, especially when the narrative was very slow. The first

In general terms I did enjoy it. The cast was solid but the story has several problems, especially when the narrative was very slow. The first 4 episodes were too slow for their own good but it took a good rhythm in its final phase and although the resolution was not as I expected, it was good enough.

And how many times in the show was Luke Evans drugged and knocked down?

…

Expand

This first episode has the same grim humorlessness that turned me off of True Detective. It's very focused on atmosphere but not so focused on

This first episode has the same grim humorlessness that turned me off of True Detective. It's very focused on atmosphere but not so focused on character, at least to start. Even Teddy Roosevelt just comes across as part of a generic group of serious men being serious about a serious thing.

I'm also not big on serial killer stuff.

…

Expand