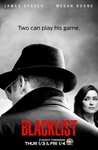 Starring:

Parminder Nagra

,

Harry J. Lennix

,

James Spader

Summary:

One of the FBI's most wanted criminals, Raymond "Red" Reddington (James Spader), offers to turns himself in to help catch a presumed-dead terrorist, but only if he is partnered with newly graduated profiler, Liz Keen (Megan Boone).

Genre(s):

Drama

,

Action & Adventure
Creator:

Jon Bokenkamp

Season 1 premiere date:

Sep 23, 2013

Episode Length:

60
Please enter your birth date to watch this video:
You are not allowed to view this material at this time.
You think you know this situation and how it will turn out, but there are surprise, yet entirely credible, twists throughout Monday's episode.

It's probably a mite too ridiculous for the dire tone it sometimes affects, but it's confident, verging on brazen, and one tends to respect that quality in entertainment.

Blacklist doesn't have the pulse, say, of a '24,' but it races in the right direction.

[A] pleasurable, cheeky new crime drama. [21 Oct 2013, p.47]

The Blacklist is never going to be anyone's idea of great art, but at least it has a pulpy kind of momentum that may well be worth watching for a while; I will stick around to see whether Spader's performance really is the only dish on the menu.

The pilot episode is stylish and swiftly paced, but that's all it is, and despite some intriguing plot twists, there's not a lot of motivation to keep coming back.
Absolutely the most fun new drama on TV! Look forward to Monday night TV again....James Spader is wicked good. Each and every week leaves you

Absolutely the most fun new drama on TV! Look forward to Monday night TV again....James Spader is wicked good. Each and every week leaves you saying WOW did that just happen and wanting to see the next episode immediately!

…

Expand

Spader holds his own and carries this show !!!! He is great from start to finish !! They are holding out to long on admitting lizzy is his

Spader holds his own and carries this show !!!! He is great from start to finish !! They are holding out to long on admitting lizzy is his daughter tho!!!

…

Expand

The Blacklist is an amazing, intense, well-acted, well-written, and well-directed. James Spader and the female lead (I forgot her name) are

The Blacklist is an amazing, intense, well-acted, well-written, and well-directed. James Spader and the female lead (I forgot her name) are amazing together. I highly recommend this show

…

Expand

The best new show this fall without a doubt and NBC is alive again. The show has hooked me from the start and it has proven to be an amazing

The best new show this fall without a doubt and NBC is alive again. The show has hooked me from the start and it has proven to be an amazing show. The series is darker than most broadcast shows as some of the cases are often disturbing and a lot more odd. James Spader does an amazing job as Red, the best new character of the fall. Even though he's an evil man, he's so damn funny and very cunning. He steals the show and he is so very interesting. Megan Boone does a fine job, even though viewers tends to over criticize here. Her character might not be as interesting as Spaders, but her character is important in the show. The rest of the cast does a good job with their characters. The show got at it's best when it went to the mythology just like poi. The Tom story line was awesome and it really put the show on another level. The ending was also great and it added even more mysteries to the show. The show is great at adding the right music at the right time. In every episode, there is at least one song. They also makes the best episode promos. Very interesting promos with the right amount of intrigue. The first season offered a lot of mysteries that still need to be addressed, but I think most of them will be revealed in season 2. I'm really excited for season 2.

…

Expand

I am an ENORMOUS fan of James Spader and try to watch this show as an 'entertainment' but the script is often so irrational, it becomes

I am an ENORMOUS fan of James Spader and try to watch this show as an 'entertainment' but the script is often so irrational, it becomes laughable. The cast is strong with the notable exception of Megan Boone whose performance is weak and wooden. She has one of those faces you just want to hit with a shovel (perhaps then it would be less bland and more animated).

…

Expand

I like the show. However, it is really hard to watch because half of each episode is filmed so the screen is so dark you can't see what's

I like the show. However, it is really hard to watch because half of each episode is filmed so the screen is so dark you can't see what's going on. It doesn't enhance the viewer experience, Every time the screen goes dark, I just think, whats going on now, because I can't see anything that is happening. I hate directors that think this enhances or experience as viewers, IT DOES NOT!!! Film it so we can actually see what is going on.

…

Expand

Blacklist goes politically correct this season with disparaging remarks from Reddington about the wall, Trump's wall, and other little liberal

Blacklist goes politically correct this season with disparaging remarks from Reddington about the wall, Trump's wall, and other little liberal digs against the President of the United States. This isn't what I've been watching this show for, not that I'll ever watch it again.

…

Expand