Network:

HBO

Series Premiere Date:

Mar 10, 2019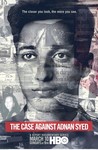 Summary:

The four-part documentary series directed by Amy Berg takes another look at the case that was central to the Serial podcast with new interviews with people connected to the case and possible new discoveries.

Genre(s):

Movie/Mini-Series

,

Documentary
Show Type:

Mini-Series

Season 1 premiere date:

Mar 10, 2019
It probably won't generate its own obsession, and the chapter in the case is, through its first three hours, less compulsively devourable, but Berg's series has an approach to the story that's distinctive and satisfying in its own right.

The HBO version's ambitious, complex and deeply detailed narrative delivers dimension to this story of doomed romance, clashing cultural, and dubious justice as only film can.

The Case proves especially adept at shifting moods, from the emotional excess of adolescence to the muted tension and fear that snakes through every appearance of courtroom footage. In doing so, director Amy Berg creates not only a portrait of Hae Min Lee but of the people, city, and cultural intersections that shaped both her life and afterlife. This docuseries has a sprawling cast of people, each providing further shading of the emotional and personal truths they carry due to the devastation of this case.

While Serial kept listeners on tenterhooks from week to week, The Case Against Adnan Syed is a more granular and less wholly absorbing experience. Berg's series is most riveting, and sad, when she puts the specifics of the case aside to focus on the people whose lives have been irrevocably damaged by Lee's murder and its aftermath.

The Case Against Adnan Syed may present more facts, but it has less to offer in the way of deeper, broader truth.

If this documentary added anything substantially new to the conversation that Serial began in 2014, its efforts might feel more worthwhile. Instead, in its determination to uncritically embrace the narrative Serial created, it accomplishes the opposite of its aim to show that Syed was wrongfully convicted.

A broadcast that breaks no ground, that succeeds in re-airing exculpatory information about Syed but falls short as a documentary and as television. The Case Against Adnan Syed is a misbegotten rehash of a person whose renown belies that his story can't sustain multiple retellings.