Network:

Showtime

Series Premiere Date:

Jan 17, 2016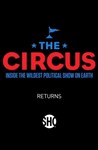 Summary:

The political documentary series featuring Bloomberg Politics managing editors Mark Halperin and John Heilemann and campaign strategist Mark McKinnon takes a look behind-the-scenes of the 2016 presidential race.

Genre(s):

News/Documentary

,

Documentary
Season 1 premiere date:

Jan 17, 2016

Episode Length:

60
This is one circus worth attending, a series bottomless in its capacity to fascinate.

The show is at its best when national politics is at its worst.

Cheerfully cynical yet with a sincere appetite for the game, The Circus is both a document and an example of the superficiality of today's elections. It may not be a three-dimensional picture, but it's a vivid one.

Halperin and Heilemann, authors of the best-sellers Game Change and Double Down, certainly know their stuff, even if they inject themselves a little too enthusiastically into the proceedings. And the grizzled McKinnon, a veteran of five presidential campaigns, lends a knowledgeable insider's perspective.

While The Circus might be sporadically colorful, at a time when the inside-baseball of politics has become daily grist for the hungry media and its own spectator sport, with all due respect, it's anything but a game-changer.
The Circus offers a unique inside view to the 2016 presidential campaign not found anywhere else. Wish this definitive documentary existed for

The Circus offers a unique inside view to the 2016 presidential campaign not found anywhere else. Wish this definitive documentary existed for past elections!

…

Expand