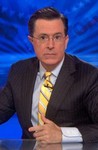 Starring:

Stephen Colbert

Summary:

This Daily Show spinoff elevates bear-phobic Stephen Colbert to the anchor seat, where he takes on cable news hosts such as Bill O'Reilly.

Genre(s):

Comedy

,

Talk & Interview

,

News
Season 1 premiere date:

Oct 17, 2005

Episode Length:

30
Not only does Colbert maintain his persona without skipping a beat throughout the entire show, but he's got great comic timing, the show's writers are brilliant, and the whole thing is pure foolish, bizarre, idiotic fun at Bill O'Reilly's expense.

Mr. Colbert's on-camera persona may not wear well over the long term, but for now at least "The Colbert Report" is a worthy spinoff, an icy-cold beer chaser to the shot of whiskey that is "The Daily Show."

The biggest question hanging over "The Colbert Report" is whether the show's sendup of the pomposity and fear-mongering of cable news blowhards will be as appealing in the long term as "The Daily Show's" satire of public figures and the news media as a whole.

By its very nature, the position Colbert occupies—the butt of his own show's joke—seems more difficult to sustain than Stewart's role as the eternal observer.

It's more an intellectual, in your head, "hey, that's clever," than a laugh-out-loud funny.

Colbert is very skillful at parodying people who are already parodies of themselves, and his show is a lot sharper than most of what passes for comedy on TV. At the end of the day, though--a day, say, on which a President says something foolish, or a Supreme Court nominee has to step aside, or a White House aide is indicted--the voice you'll most want to hear is still Jon Stewart's.

It's an astute parody, but it suffocates the show, sealing The Colbert Report under a hermetic layer of irony.
Stephen Colbert is awesome! I actually like him more than Jon Stewart. I love how he mocks the guys at Fox News indirectly, calling them

Stephen Colbert is awesome! I actually like him more than Jon Stewart. I love how he mocks the guys at Fox News indirectly, calling them allies, but continually making them look like fools.

…

Expand

Giving the Daily Show a run for it's money... and you know that's saying a lot.

Colbert is so funny!! ! He's a comic genuis and watching his is a pleasure. I laugh thoughout this magnificant show. I love it and I

Colbert is so funny!! ! He's a comic genuis and watching his is a pleasure. I laugh thoughout this magnificant show. I love it and I think that he's one of the funniest people on TV.

…

Expand

Colbert's satirical sense of humor as well as his off-the-wall style not only breaks through the usual style of political comedy show, but

Colbert's satirical sense of humor as well as his off-the-wall style not only breaks through the usual style of political comedy show, but becomes the ultimate part of his comedic genius.

…

Expand

The first few shows I watched had some off moments, but overall it makes me laugh out loud every episode I see and is more often funny and

The first few shows I watched had some off moments, but overall it makes me laugh out loud every episode I see and is more often funny and clever than not. The interviews have been mixed. Oh and the DaColbert Code segment will hopefully not be done again.

…

Expand

By far the worst show I have ever seen. I don't understand how people can think this crap is clever!! Anyone can act like an asshole,

By far the worst show I have ever seen. I don't understand how people can think this crap is clever!! Anyone can act like an asshole, that doesn't mean they're funny!!! Colbert is an overrated fad that any educated person will turn off.

…

Expand