Network:

TBS

Series Premiere Date:

Apr 11, 2016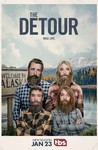 Summary:

The comedy created by Jason Jones and Samantha Bee follows Nate (Jason Jones), his wife Robin (Natalie Zea) and their two children as they take a road trip from upstate New York to Florida.

Genre(s):

Comedy
Season 1 premiere date:

Apr 11, 2016

Episode Length:

30
Please enter your birth date to watch this video:
You are not allowed to view this material at this time.
The Detour is sharply written--Jones and Bee co-wrote the pilot--and uses flashbacks to help progress storylines. It's dark at times, and, at other times completely and hilariously over the top.

The fun and challenge of The Detour is how it seems to be going for comedy in every direction, from delicate character comedy to sight gags to gross-out humor to full-fledged farce.

he Detour's welcomely serialized structure reveals a rhythmic predictability by episode 2, and not all of the lines land (particularly from the kids), but this is the kind of new-age, modern sitcom that feels fresh and exciting, even despite its obvious inspirations.

The Detour is pretty consistently funny but the humor tends to be filled with sexual innuendo that some viewers will find offensive. For others, it will be just fine.

I can't say I have completely made up my mind myself, though on balance I'm more yea than nay, and the series' intelligent dopiness is something of a going style in comedy. Certain things do strike me odd.

The Detour is obviously not traveling a high road, but those with a taste for cheerful vulgarity will likely find it very funny. [4-17 Apr 2016, p.21]

Since the setup feels more like a movie than a full-blown series, The Detour tries to create a more layered story by introducing an overarching plot about Nate (Jones) losing his job, stealing prototype material, and being part of a federal investigation. It's as wackadoodle as the rest of the story, and lands just about as unevenly.
The Detour is an extremely original half-hour comedy by those funny Daily Show alums Jason Jones and Samantha Bee (Full Frontal with Samantha

The Detour is an extremely original half-hour comedy by those funny Daily Show alums Jason Jones and Samantha Bee (Full Frontal with Samantha Bee), on TBS. It goes from slapstick to dark comedy and breaks the common taboos of network television: language, drinking, giving teenage son a drink, etc. It is rollickingl funny at times and very reminiscent of National Lampoon's Vacation. If you, like at least one viewer on Metacritic, become "offended" by "obscenity," then you won't like it. But I suggest you stick with it. It is so much better than the endless formula sitcoms on network tv, like Two Broke Girls and their ilk. Highly recommended for the adventurous.

…

Expand

great show.Shows liberals as the incompetent fools they are.lib talking points sprinkled throughout
The main characters are completely ineptgreat show.Shows liberals as the incompetent fools they are.lib talking points sprinkled throughout
The main characters are completely inept with absolutely no common sense.Like i said very true to life

…

Expand

Original, fun fast paced comedy. Great actors, seriously. Worth a watch, the story his great, the episodes are always very different one from

Original, fun fast paced comedy. Great actors, seriously. Worth a watch, the story his great, the episodes are always very different one from another, nothing not to like.

…

Expand

At first, I wasn't sure if I wanted the watch this show, considering there have been very few new shows I liked this season.
But what aAt first, I wasn't sure if I wanted the watch this show, considering there have been very few new shows I liked this season.
But what a surprise, it's actually a lot of fun!
If you want political correctness, this show might not be your cup of tea.
It covers topics like sex, drugs, alcohol, but not really in a familiar and family friendly way.
The way the parents talk with their two children about these issues is refreshing, original and very funny.
The parents giving their kids "the talk" about sex ("how do you get pregnant") is just hilarious! I totally cracked up.
The kids surprised me, because they contribute a lot of funny stuff.

So, if you haven't, give this show a try!

…

Expand

Original, thought proviking as "the Devils advocate" with its wit but done with some intellect within the story arc. I love the honesty within

Original, thought proviking as "the Devils advocate" with its wit but done with some intellect within the story arc. I love the honesty within each character no matter how flawed. And it's pretty humorous. ✌

…

Expand

The Detour is everything the Vacation movie reboot failed to accomplish. First of all, it's funny. Jason Jones and Natalie Zea (showing nice

The Detour is everything the Vacation movie reboot failed to accomplish. First of all, it's funny. Jason Jones and Natalie Zea (showing nice comedic chops following her turn from Justified) have good chemistry as the beleaguered married couple. Has the decision to take a road trip to create a bonding experience for the fam ever worked? Congrats to TBS for stepping up their comedy game with Angie Tribecca, Full Frontal and now, The Detour.

…

Expand

This review contains spoilers

, click expand to view

.

Why must all comedies nowadays be obscene? Seriously, is that a new rule? Within the first minute comes the first "joke" about genitalia, then more and more, and it involves children. Is it not possible to be funny without being filthy? It's saddening to see more and more shows like this. I can also tell you, almost all men will stop watching this show within 10 minutes because one of the "jokes" involve a little girl getting her first "time of the month" in a dirty public restroom. What were the writers thinking? .

…

Expand