Network:

NBC

Series Premiere Date:

Feb 25, 2019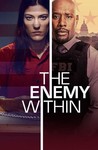 Summary:

Ex-CIA-spy-turned-traitor Erica Shepherd (Jennifer Carpenter) is serving a life term in a Supermax prison when FBI Agent Will Keaton (Morris Chestnut) is forced to turn to her to help him find a criminal in this Ken Woodruff drama.

Genre(s):

Drama

,

Action & Adventure
Season 1 premiere date:

Feb 25, 2019

Episode Length:

60
A near-perfect mixture of the chess-piece intricacy of The Good Shepherd and the loony bang-bang of the Mission: Impossible movies, Enemy is a classic infinity-of-mirrors counterintelligence drama—and in more ways than one.

If its characters continue to be dumb about someone in their midst (hey, see how that title comes into play), it could diminish them and the show. ... [Unlike ABC's Whiskey Cavalier,] this show goes beyond the standard cloak and dagger to ask some serious ethical questions about methods and how even the most seemingly benign operation can lead to civilian collateral damage. For treating us like grown-ups, you might be willing to make friends with "Enemy."

In the episodes given to critics for review, it remains escapist fare with a self-serious veneer of danger. Carpenter brings the emotional weight; let's hope the show lives up to her performance.

Carpenter and Chestnut solidly play their roles, but Enemy Within doesn't crackle the way The Blacklist did in early episodes. There's nothing particularly special going on here, and it's hard to muster the enthusiasm to say much more than that.

If the show can find more unique ways of harnessing its star's power going forward, it might find a more interesting groove. Until then, "The Enemy Within" will remain more of a shrug than a must watch.

The Enemy Within is a predictably thin and hyped-up network concoction. But connoisseurs of gothic silliness can appreciate it as a gender-switched homage to "The Silence of the Lambs."

It's not even pretending to be anything other than broadcast TV comfort food.
Amazing show!!! Jennifer Carpenter acting is incredible, can't wait for the next episode.

Love this show! Jennifer Carpenter is awesome. I just wish i could keep watching.

This review contains spoilers

, click expand to view

. Amazaing show need season 2!! Moris chestnut love the acting
Is this remake of blacklist

…

Expand

Lots of potential. Sometimes it takes itself too seriously and the plot is improbable, but they are trying, I find myself interested by most

Lots of potential. Sometimes it takes itself too seriously and the plot is improbable, but they are trying, I find myself interested by most storylines and like that the bad guy may not actually be bad. Jennifer Carpenter does as good of a job as possible for how they have written her character, which can be somewhat uneven. Not sure why some people have such strong feelings of anger and hatred about this show, yet Whiskey Cavelier gets a pass. I am enjoying it for what it is and look forward to further episodes.

…

Expand

Stunningly dumb. Unabashedly predictable. Watchable when Jennifer Carpenter is in the scene but that isn't enough to make the show work.

Unabashedly dumb, painfully predictable, extraordinarily bad acting, worst story line ever fathomed, who gave their OK for this show and who

Unabashedly dumb, painfully predictable, extraordinarily bad acting, worst story line ever fathomed, who gave their OK for this show and who is providing the budget? I'm amazed it's on TV.

…

Expand

I came because of Dexter. I liked her portrayal of the histrionic sister and for at least a few seasons that was a modern classic. I leave

I came because of Dexter. I liked her portrayal of the histrionic sister and for at least a few seasons that was a modern classic. I leave Enemy Within after 2 episodes as it clearly is nothing more than typical rote by-the-numbers network junk. Poorly written and conceived and I am embarrassed for the actors watching them try to pull it off. This show is a perfect example of why Netflix, Prime and the others are succeeding.

…

Expand