Network:

Syfy

Series Premiere Date:

Dec 14, 2015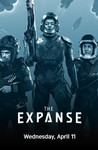 Summary:

The tension between Earth and Mars puts things on the precipice of an all-out war.

Genre(s):

Drama

,

Science Fiction
Season 2 premiere date:

Feb 1, 2017

Episode Length:

60
Please enter your birth date to watch this video:
You are not allowed to view this material at this time.
The heady sci-fi drama returns with a bit more muscle thanks to the debut of Martian Marine Bobbie Draper (Frankie Adams), a favorite from the books...Get on board now. [Feb 3/10 2017, p.101]

In a broad sense the show lives up to its name, but season 2 proves it can be as intricate, and intimate, as it can be expansive, and in those lovely details of its well-drawn characters embattled with deliciously complex moral choices, The Expanse soars.

The Expanse continues to match its most far-reaching concepts with deeply human stories rooted in a politically torn culture on the brink of war. It's some of the most compelling, intelligent and immersive genre fiction on television, and it's back in peak form.

On the whole, the series is one I'd mainly recommend with an "if you like this sort of thing" caveat (as opposed to BSG, whose appeal transcended space operatics). I happen to be someone who likes this sort of thing, but The Expanse season two is a much better version of that thing now that everyone knows what's up and can take action accordingly.

The two-hour premiere ends with a big question mark, which may lead me to tune in again but I just wish The Expanse was a little less murky. I'm prone to liking complex TV but The Expanse is borderline impenetrable at times.
The duel premier of season 2 was a reminder once again that this show is one of the best on TV. Well done by SyFy for continuing to produce

The duel premier of season 2 was a reminder once again that this show is one of the best on TV. Well done by SyFy for continuing to produce some of its best work. Truly is, as advertised, a Game of Thrones in space.

…

Expand

Probably the best TV show I have ever viewed in my entire life.

I found myself in the same position I was in before i began watching HBO'sProbably the best TV show I have ever viewed in my entire life.

I found myself in the same position I was in before i began watching HBO's 'Leftovers,' Ignorant to the shows existence, but wowed by each respective shows season 2 metacritic user ratings. After mustering up enough fortitude to begin viewing the 'lesser rated' season 1's, I had realized i had just found my two favorite shows.

The Expanse, in my opinion, has brought suspension and character development since the first scene in season one, and haven't stopped progressing up till now (S02E10). If you can table the forced space diversity and apparent 'strengthening' of regional accents 300 years in the future, then you are in for an inviting treat. And also get over yourselves and your "syfy" boycotts 'cuz omg they made sharknado.

This show perfectly balances macro geopolitical entities jockeying for position, individual character development of 10 main characters and introducing unpredictable sci fi elements while adhering to plausibly rationalized technology of the future.

…

Expand

Definitely better than Season 1, and Season 1 was really good. Shohreh Aghdashloo remains my favorite actor on the show, and she/her character

Definitely better than Season 1, and Season 1 was really good. Shohreh Aghdashloo remains my favorite actor on the show, and she/her character keeps getting more interesting. All-around great acting, and I'll add Wes Chatham (Amos) to the great acting/great character list this season. Can't wait for Season 3. Bloody good job guys!

…

Expand

My TIVO has 83 current series being recorded, The Expanse is ranked #1. It expands across so many genres; hard sci-fi plausible future with

My TIVO has 83 current series being recorded, The Expanse is ranked #1. It expands across so many genres; hard sci-fi plausible future with drama, suspense, political intrigue, action, mystery, heart wrenching moments, great characters with many layers, good special effects. All that and the show has so much left unexplored. Reminds me a lot of Babylon 5, but with potential to be better in some areas. Can't wait to see where the story goes.

…

Expand

Season 2 of The Expanse is where the show hits its stride, with some questions answered but many more waiting. Kudos to the writers for not

Season 2 of The Expanse is where the show hits its stride, with some questions answered but many more waiting. Kudos to the writers for not making every resolution a happy one; conflicts frequently result in no clear winners, both sides annoyed at having to compromise. Interesting new characters, a superb mid-season episode and new ramifications to the mysterious proto-molecule make this an excellent follow-up that takes advantage of all the groundwork that was so painstaking laid in Season 1. Who said sequels are bad?

…

Expand

Season 2 was just simply amazing. I was really impressed at the balance they found between hard science-fiction, space opera and

Season 2 was just simply amazing. I was really impressed at the balance they found between hard science-fiction, space opera and action/adventure. And on top of the great story, and fascinating intertwining story lines, it is just visually stunning.

…

Expand

It's pretty ok.

I know the source material is top notch, and this is one of the few ok SF shows out there at all, but the direction andIt's pretty ok.

I know the source material is top notch, and this is one of the few ok SF shows out there at all, but the direction and acting could use help.

Effectively, the presentation has much too much of meaningful stares, dramatically delivered lines (think I am not a X, I just play one on TV) and crew members explaining things to each other or finishing each others sentences when in a real world situation they either would have kept quiet because they already understand or the most knowledgeable character would have delivered a concise explanation without interruptions or switches.

Space ships and space combat are also handled a bit irrationally, with ships maneuvering in impossibly tight quarters for all the wrong reasons.

…

Expand