Network:

FOX

Series Premiere Date:

Jan 21, 2013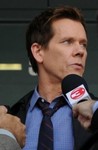 Starring:

Annie Parisse

,

Kevin Bacon

,

Natalie Zea

Summary:

Retired FBI agent Ryan Hardy (Kevin Bacon) is pulled back into service to find escaped serial killer Joe Carroll (James Purefoy).

Genre(s):

Drama

,

Action & Adventure

,

Suspense
Creator:

Kevin Williamson

Season 1 premiere date:

Jan 21, 2013

Episode Length:

60
Please enter your birth date to watch this video:
You are not allowed to view this material at this time.
Some plot twists seem implausible at best, others are overdone or gratuitous. But some implausibility comes with the horror/suspense genre, and there's no question Williamson has mastered it--just as there's no question that the match of wills between the wounded Bacon and malevolent Purefoy is exceedingly well played.

If you can make it through Monday's first episode of Fox's much-anticipated new suspense drama 'The Following,' you have some intense, but high-quality, television ahead.

[Purefoy's and Bacon's] performances--and scenes that focus on Carroll's killer minions that I won't talk about lest I spoil things for readers--are the strongest parts of the series and overshadow the weaknesses. Those include numerous plot holes and some sketchy logic, plus Williamson's annoying habit of beating us over the head with the Poe references.

Nothing in this pilot promises how fascinating the show will ultimately become, and unfortunately, the show is more efficient than truly good. ... The first four episodes contain no aesthetically pleasing shots or sequences, just tedious coverage of talk and action, and too many of its 'shocking' moments are dependent on visual/aural shortcuts. ... Nevertheless, The Following fascinates, thanks to soulful lead performances by Bacon and Justified's Natalie Zea (as Carroll's ex-wife) and the nervy way it develops and sustains its central flourish.

The Following is a bummer of significant proportions. Not that it's bad--it's not--but it's bleak, sordid, blood-spattered and creepy (though not necessarily always "creepy" in a good way, like "The Walking Dead").

Despite its dour atmospherics and some attempts at higher-caliber acting from Kevin Bacon and a large ensemble cast, The Following is a trite, gratuitously violent exercise in still more stylishly imagined American horror stories. It is filled with melodramatic sleuthing that you've seen over and over. Enough is enough, isn't it?
This show is very good. Interesting, suspenseful, and well written. Kevin Bacon does a great job as lead. Leaves you waiting for the next

This show is very good. Interesting, suspenseful, and well written. Kevin Bacon does a great job as lead. Leaves you waiting for the next episode each week.

…

Expand

You would think how far can a story line go with a serial killer and followers and not run out of story lines,(meaning stabbing, shooting,

You would think how far can a story line go with a serial killer and followers and not run out of story lines,(meaning stabbing, shooting, strangling etc..) but I am impressed every week how the show has grown and I love the acting it is phenomenal!

…

Expand

The first episode like "do no harm" was promising, sick, twisted but cool. however, it's starting to become dumb and frustrating to watch

The first episode like "do no harm" was promising, sick, twisted but cool. however, it's starting to become dumb and frustrating to watch mainly b/c kevin bacon's character is so woosy, always one step behind the killer, almost like a 1/2 pint no 1/4 pint Jack Bauer. I keep thinking that if Jack Bauer was involved, he would've kick this killer's arse in less than a day. like in few minutes by waterboarding him to confess etc. Kevin is just this clueless trying to do good but always little too late. I guess everyone can't be like Jack, but still kevin's slow response to most things makes it a turn off to watch.

…

Expand

I don't think that Kevin Bacon can carry this show... It seems hurried and banal. I can't swallow half of the situations that come up on very

I don't think that Kevin Bacon can carry this show... It seems hurried and banal. I can't swallow half of the situations that come up on very episode. I think this one is destined to be cancelled. Shock and awe are not working in this second rate attempt to a televised Silence of the Lambs.

…

Expand

Really tailing off now after a good start. Dream sequences are scraping the barrel, and a week before Easter, it's actually getting

Really tailing off now after a good start. Dream sequences are scraping the barrel, and a week before Easter, it's actually getting implausible to the point of meh, whatever...

…

Expand

I gave the show an honest chance but it's just too ridiculous. As others have mentioned the FBI agents in the show are ridiculously foolish,

I gave the show an honest chance but it's just too ridiculous. As others have mentioned the FBI agents in the show are ridiculously foolish, and as someone involved in law enforcement I can see all the procedural mistakes that really shouldn't be made. Basically for Carroll and his cult to succeed it requires everyone working for the FBI to be dumb. Plus I'm not seeing exactly what it is about Carroll that has caused so many people to join his cult of killers. Sure, James Purefoy is a charismatic actor and one I normally like, but there is nothing about his character that is so compelling that it seems realistic for all these people to suddenly go "Hey, I think I'll kill people now for him." It just feels like the writers of the show are so impressed with their villain that they've written everything to automatically work for him, instead of really thinking through their premise to make it plausible. In other words, the whole thing is filled with plot holes that are too noticeable for me to be able to enjoy the show, and a villain who wins simply because he's the villain and that's what the writers want.

…

Expand

ADHD TV. With the series "24" started it all. Series where each second / minute a new surprising twist occurs.

It is believed "X" as anADHD TV. With the series "24" started it all. Series where each second / minute a new surprising twist occurs.

It is believed "X" as an accomplice. But it is not. Not yet. Later maybe, but think about it then again different. At the end she turns he / she might still by, or is the / the smartest, the even pulling the strings.
Anything can happen. Every moment. Just horrible. Unbearable illogical.
Example: The poor kidnapped child would be totally stupid already, not to remember what happened. Alone dese fact is unreasonable for the spectator.

Kevon Bacon overtakes my opinion the same fate as Christopher Lambert. A good movie (Lambert: Highlander 1) in the filmography, the rest then scrap. Which was actually the only good movie with Kevin Bacon? It does not matter.

The Following is outstanding bad. Can be useful in the Film Academy, as a cautionary example of how not to do it.

…

Expand