Please enter your birth date to watch this video:

You are not allowed to view this material at this time.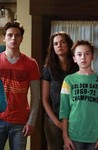 Episode Details & Credits
Summary:
Everyone is faced with their own challenges as Callie reflects on her and Jude's upcoming adoption, Mariana tries to help a friend, and Jesus plans to manage his ADHD. Stef and Mike uncover a shocking revelation, and Brandon makes another poor decision. Meanwhile, Jude gets asked on a date.
Seasons & Episodes
Season 5

Season 4

Season 3

Season 2

Season 1

Season 1 Overview

Air Date: June 3, 2013

S1:E21. Adoption Day

Air Date: March 24, 2014

S1:E20. Metropolis

Air Date: March 17, 2014

S1:E19. Don't Let Go

Air Date: March 10, 2014

S1:E18. Escapes and Reversals

Air Date: March 3, 2014

S1:E17. Kids in the Hall

Air Date: February 24, 2014

S1:E16. Us Against the World

Air Date: February 17, 2014

S1:E15. Padre

Air Date: February 10, 2014

S1:E14. Family Day

Air Date: February 3, 2014

S1:E13. Things Unsaid

Air Date: January 27, 2014

S1:E12. House and Home

Air Date: January 20, 2014

S1:E11. The Honeymoon

Air Date: January 13, 2014

S1:E10. I Do

Air Date: August 5, 2013

S1:E9. Vigil

Air Date: July 29, 2013

S1:E8. Clean

Air Date: July 22, 2013

S1:E7. The Fallout

Air Date: July 15, 2013

S1:E6. Saturday

Air Date: July 8, 2013

S1:E5. The Morning After

Air Date: July 1, 2013

S1:E4. Quinceanera

Air Date: June 24, 2013

S1:E3. Hostile Acts

Air Date: June 17, 2013

S1:E2. Consequently

Air Date: June 10, 2013

S1:E1. Pilot

Air Date: June 3, 2013