Please enter your birth date to watch this video:

You are not allowed to view this material at this time.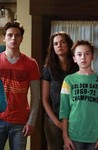 Episode Details & Credits
Summary:
Before the baby is born, the Moms go on vacation but Stef struggles to unwind. With Callie and Brandon in control, the kids decide to have a party and Callie makes a better effort to be more responsible but it all gets quickly out of control. Jude plays Spin the Bottle with a few friends.
Seasons & Episodes
Season 5

Season 4

Season 3

Season 2

Season 2 Overview

Air Date: June 16, 2014

S2:E21. The End of the Beginning

Air Date: March 23, 2015

S2:E20. Not That Kind of Girl

Air Date: March 16, 2015

S2:E19. Justify the Means

Air Date: March 9, 2015

S2:E18. Now Hear This

Air Date: March 2, 2015

S2:E17. The Silence She Keeps

Air Date: February 23, 2015

S2:E16. If You Only Knew

Air Date: February 16, 2015

S2:E15. Light of Day

Air Date: February 9, 2015

S2:E14. Mother Nature

Air Date: February 2, 2015

S2:E13. Stay

Air Date: January 26, 2015

S2:E12. Over/Under

Air Date: January 19, 2015

S2:E11. Christmas Past

Air Date: December 8, 2014

S2:E10. Someone's Little Sister

Air Date: August 18, 2014

S2:E9. Leaky Faucets

Air Date: August 11, 2014

S2:E8. Girls Reunited

Air Date: August 4, 2014

S2:E7. The Longest Day

Air Date: July 28, 2014

S2:E6. Mother

Air Date: July 21, 2014

S2:E5. Truth Be Told

Air Date: July 14, 2014

S2:E4. Say Something

Air Date: July 7, 2014

S2:E3. Play

Air Date: June 30, 2014

S2:E2. Take Me Out

Air Date: June 23, 2014

S2:E1. Things Unknown

Air Date: June 16, 2014

Season 1