Please enter your birth date to watch this video:

You are not allowed to view this material at this time.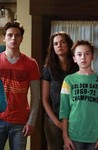 Episode Details & Credits
Summary:
Callie and her friends support Ximena in a big way at a conservative anti-immigration rally and get a lot of buzz for Ximena's plight. Meanwhile, an unlikely source offers a key piece of evidence that may help save Anchor Beach from going private and the family celebrates Stef's birthday.
Seasons & Episodes
Season 5

Season 5 Overview

Air Date: July 11, 2017

S5:E22. Where the Heart Is

Air Date: June 6, 2018

S5:E21. Turks & Caicos

Air Date: June 5, 2018

S5:E20. Meet the Fosters

Air Date: June 4, 2018

S5:E19. Many Roads

Air Date: March 13, 2018

S5:E18. Just Say Yes

Air Date: March 13, 2018

S5:E17. Makeover

Air Date: March 6, 2018

S5:E16. Giving Up the Ghost

Air Date: February 27, 2018

S5:E15. Mother's Day

Air Date: February 13, 2018

S5:E14. Scars

Air Date: February 6, 2018

S5:E13. Line in the Sand

Air Date: January 30, 2018

S5:E12. #IWasMadeInAmerica

Air Date: January 23, 2018

S5:E11. Invisible

Air Date: January 16, 2018

S5:E10. Sanctuary

Air Date: January 9, 2018

S5:E9. Prom

Air Date: September 5, 2017

S5:E8. Engaged

Air Date: August 29, 2017

S5:E7. Chasing Waterfalls

Air Date: August 22, 2017

S5:E6. Welcome to the Jungler

Air Date: August 15, 2017

S5:E5. Telling

Air Date: August 8, 2017

S5:E4. Too Fast, Too Furious

Air Date: August 1, 2017

S5:E3. Contact

Air Date: July 25, 2017

S5:E2. Exterminate Her

Air Date: July 18, 2017

S5:E1. Resist

Air Date: July 11, 2017

Season 4

Season 3

Season 2

Season 1