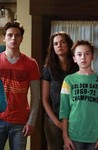 Starring:

Teri Polo

,

Sherri Saum

,

Danny Nucci

Summary:

Callie (Maia Mitchell) is taken in by lesbian couple Lena (Sherri Saum) and Stef (Teri Polo), who already have four adoptive and biological children together, in this drama executive-produced by Jennifer Lopez.

Genre(s):

Drama
Please enter your birth date to watch this video:
You are not allowed to view this material at this time.
If it sticks with the quiet, string cheese moments, it could end up being an understated--but provocative--must watch.

Intelligent enough for adults, accessible enough for younger viewers and entertaining enough for both, it's a great show for parents and kids to watch together, and will give them plenty to talk about.

The show cannily plays to teen hopes and dreams--the school, for example, is on the edge of a gorgeous beach (the kids at "90210" never had it this lush)--but there's story for the adults as well.

On the basis of the pilot, the show does a slightly better than average job of turning off-the-shelf ingredients into something diverting and occasionally moving.

At least one aspect of Stef's relationship with her ex (Danny Nucci) seems unlikely, and Lena works at the most beautifully sited school in America, which all the kids happen to attend. But there's heart here, and a message about not throwing away children that belongs on a network that puts "Family" in its title.

The pilot episode of The Fosters is pretty entertaining and well-plotted.

Polo and Saum are good actresses, but they appear pretty well hamstrung in their initial scenes together, as Stef and Lena banter about not taking in more stray kids, prompting Stef to quip, "We are not 'The Brady Bunch.'" Take away a few elements, though, and they sort of are.
The "0" ratings are clearly written by haters who have an agenda; some of these people admit that they have not watched the show, so they are

The "0" ratings are clearly written by haters who have an agenda; some of these people admit that they have not watched the show, so they are not qualified to comment on its merits.

At a time when there are so few dramas on TV of any sort, The Fosters is a happy surprise. I have found the scenes between the parents and the teen-aged kids well acted and realistic, and the couple's dialogue and reactions very believable. I'm not sure how we even found it since we don't really watch ABC Family, but we are now DVR'ing the series and watch it as soon as it shows up on our list. Give it try.

I'm giving it a 10 in part to counteract the bogus "reviews," but I would have given it a high 8s, low 9s anyway. We're really enjoying it.

…

Expand

The fosters has really changed me I wasn't the whole first season in one day I am in love With the cast show & Mostly jake t Austin of

The fosters has really changed me I wasn't the whole first season in one day I am in love With the cast show & Mostly jake t Austin of course He is so sweet caring & puts people before him mostly his sister This Is Beyond The best tv drama I have seen I'm 14 & I got addicted right away That's really an inspirational show it taught me you should be who you wanna be with out being judged like Jude & The moms Stef & her wife I First started watching the show because I knew jake was in there but it's an amazing show everyone should tune in & watch Anyone who rates it low is stupid

…

Expand

I love The Fosters cause even though the cast is fake and everything it is realistic show. It brings the events and problems to my eye. So I

I love The Fosters cause even though the cast is fake and everything it is realistic show. It brings the events and problems to my eye. So I think that they deserve a 10. T he Fosters ROCK!

…

Expand

This review contains spoilers

, click expand to view

.

Oh my, where to begin. This show is primarily geared towards the adolescent crowd. However, adults with open minds and open hearts can appreciate it as well. My college aged daughter turned her middle-aged parents on to the show. First and foremost, the theme song is lovely. There is lots of teenage angst and family drama. I read all of the reviews. Based on the lack of substance and objectivity in the negative reviews, those people haven't even bothered to watch the show. If you object to the show, don't watch it. Seriously though, its a must watch for teens and parents of teens. Some of us grandparents enjoy it too! Anyone who didn't get choked up at the scene in the hospital between Lena and the little girl is unfeeling and without depth or heart. There will always be detractors with an agenda, generally they show their ignorance with their lack of sensitivity and intelligence. It is a positive and inclusive show. What could be better!

…

Expand

I thoroughly enjoy 'The Fosters' While at times the over-production is blatantly obvious (unrealistic perfection and perhaps overly attractive

I thoroughly enjoy 'The Fosters' While at times the over-production is blatantly obvious (unrealistic perfection and perhaps overly attractive cast) the show has definite charm. It manages to put across powerfully positive messages without becoming saccharine or overly lecturing.

…

Expand

It is a shame that a show with so much potential to open discussions about family and the foster care system is so entirely uninteresting.

It is a shame that a show with so much potential to open discussions about family and the foster care system is so entirely uninteresting. What it does right: it portrays a family that despite many big "differences" is very much a normal family, with ordinary caring parents and typically difficult teenagers. What it does wrong: the "normal family" message drags the show into boring territory. It fails to give us any reason to care about these characters, precisely because it has made them overly-sanitized nice folks. I don't watch TV for nice.

…

Expand

This is the epitome of anti-evolution.

Those with zero potential to conceive ought NOT be lauded. An infertal man&woman couple, the onlyThis is the epitome of anti-evolution.

Those with zero potential to conceive ought NOT be lauded. An infertal man&woman couple, the only form of marriage, there is a potential to conceive. There is zero potential between two instances of the same gender self evidently. Marriage is to bring children into the world in love.

Lust ought not be conflated with love.

…

Expand