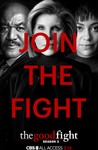 Starring:

Christine Baranski

,

Delroy Lindo

,

Rose Leslie

Summary:

The spinoff of The Good Wife picks up a year later after a financial scam forces Diane Lockhart and her goddaughter Maia Rindell (Rose Leslie) to leave Lockhart & Lee and join a law firm that includes Lucca Quinn (Cush Jumbo). [The first episode airs on CBS with subsequent episodes only

The spinoff of The Good Wife picks up a year later after a financial scam forces Diane Lockhart and her goddaughter Maia Rindell (Rose Leslie) to leave Lockhart & Lee and join a law firm that includes Lucca Quinn (Cush Jumbo). [The first episode airs on CBS with subsequent episodes only available on CBS All Access]

…

Expand

Genre(s):

Drama
Season 1 premiere date:

Feb 19, 2017

Episode Length:

60
Please enter your birth date to watch this video:
You are not allowed to view this material at this time.
The Good Fight is as sexy and profane as it wishes to be while retaining the crackling wit and smart sophistication of the original series. [27 Feb - 5 Mar 2017, p.17]

Once again, personal stories weave around and reflect upon weekly cases; and once again, the Kings use those cases to skillfully tackle social issues, with an added emphasis here on ageism, racism and privilege. And as always, they tell their cleverly structured stories with wit, lace them with ambiguity, and sprinkle them with twists that are all the more enjoyable for being believable.

The storytelling in The Good Fight lacks some of the scope and jaunty walk-and-talk drive of The Good Wife, a consequence, perhaps, of a smaller budget. But everything else--writing, acting, vision--is smart and strong, and each episode moves briskly and offers ample entertainment.

It is clear that The Good Fight is a very, very good show that's worthy of commitment. If CBS wants its broadcast audience to also become habitual users of All Access, this smart spinoff makes for a pretty enticing gateway drug.

The Good Fight has been assembled in such a way that you don't need to have seen so much as one episode of The Good Wife to follow what's going on. The new chapter in Diane's life is also a new chapter in the genre of first-rate lawyer shows.

Written and executive produced by "Good Wife" creators Michelle King and Robert King, The Good Fight marks a pretty seamless transition from "The Good Wife" that feels similar enough for viewer comfort, but also different enough to avoid being a total rehash.

The series is agreeable enough, in that it captures some of the spirit of the earlier show, but it's hard not to hope Julianna Margulies will walk through the door to bring the moral conflicts that made "The Good Wife" so good.
THE GOOD FIGHT - A Spin-off done brilliantly. Since when has network television felt so good. From the writing to the characters, everything

THE GOOD FIGHT - A Spin-off done brilliantly. Since when has network television felt so good. From the writing to the characters, everything is so crisp that it almost feels like its on par with its predecessor. Viewers looking for 'must-see' television, this one is definitely on the list.

…

Expand

I love The Good Wife, so I wanted to like this, but was scared it would lean to hard on it's predecessor only to fail at being the same, but I

I love The Good Wife, so I wanted to like this, but was scared it would lean to hard on it's predecessor only to fail at being the same, but I was pleasantly surprised.

THIS SHOW IS AWESOME! Acting, casting, writing, cinematography and sound track are all totally on point. The use of Good Wife history and characters were blended perfectly; enough that the show was familiar to fans and our former likes and dislikes of characters were re-kindled, but for new watchers, it wouldn't be confusing because the writing is so careful to be accessible to most.

The new main character is a LESBIAN!!! and she's like... a normal lesbian, not anything invented solely for sensationalism. I LOVE OUR NEW MAIN!!! She's amazing, her relationship with her girlfriend is perfect! I'm so so glad Marissa is back, she is the perfect way to make this a new character to explore for old and new viewers since this is a new side of her for everyone. Something about this series that is different then The Good Wife, is that we are now mostly based in a primarily black law firm; that's how they market themselves in our current society as tribalism escalates. We explore more relevant politics (Trump, Hillary), male sexual violence towards women, the legalities of police brutality and some of the ways in which systemic racism is very much alive and well in America.

There's very little I could say to criticize this show, like The Good Wife, every part of this show is thought through so thoroughly, that it takes the viewer exactly where they writers want them. This legal drama is now among my Top 2, along with The Good Wife. I would recommend this to anyone who likes strong women characters, very cunning and slightly mischievous characters, shows with a lot of African American representation, and fast paced dramas.

…

Expand

Best spinoff I think I've ever seen. The opening credits, alone are terrific! It's nice seeing several of the old faces and watching my

Best spinoff I think I've ever seen. The opening credits, alone are terrific! It's nice seeing several of the old faces and watching my favorite second and third "bananas" get a chence to take more center stage in the drama Christing Baranski as Diane Lockhart, Cush Jumbo as Lucca, and Sarah Steele as Marissa Gold. Quick note, one of the reviews marked as "red" is actually a very positive one. In my opinion, this show deserves a user score higher than a 6.

…

Expand

The writing is what stands out with this show, just as the 'The Good Wife', had many absorbing storylines behind it. The acting is pretty good

The writing is what stands out with this show, just as the 'The Good Wife', had many absorbing storylines behind it. The acting is pretty good all round, except for the over acting by Cush Jumbo, who really ruins scenes, puts cracks into the suspension of disbelieve. The Kings really do good work.

…

Expand

Very good Show. Way better so far than last half of Good Wife. Super enjoy the real language (swearing), like most people talk nowadays. Great

Very good Show. Way better so far than last half of Good Wife. Super enjoy the real language (swearing), like most people talk nowadays. Great stories and humour.

…

Expand

Love the show, HATE the animation they added to every episode in season 3. Feels like I'm watching schoolhouse rock in the middle of a drama.

Low Budget Version of "The Good Wife"
Awkward, stuttering, and lame. Except for Christine Baransky the acting is uniformly bad. The acting isLow Budget Version of "The Good Wife"
Awkward, stuttering, and lame. Except for Christine Baransky the acting is uniformly bad. The acting is bad because the direction is bad. The direction is bad because the writing is bad. The set design is hampered by the lack of budget; it's bleak and colorless, in stark contrast to the expansive richness of "Wife". The difference to the movie-quality production values of "Wife" couldn't sharper. The smoothly confident yet grippingly compelling scene construction that characterized "Wife" is utterly missing. The whole production, from top to bottom, has a slap-dash, phoned-in quality. As if to make up for the all of the gaping deficits, what were once details of background characters, such as alternative and interracial lifestyles, are now shoved prominently into the foreground. Strain is evident in every scene. All of the new leads are hopeless miscast. The show won't get a second season.

…

Expand