Network:

CBS

Series Premiere Date:

Sep 22, 2009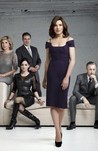 Please enter your birth date to watch this video:
You are not allowed to view this material at this time.
Alicia's cases are intriguing, and the background drama would be melodramatic if it weren't such a common story these days.

The Good Wife will settle into a case-of-the-week lawyer show. I'd also bet it'll have a rotating bunch of colorful judges with whom Alicia can debate. And you know what? Given the caliber of the acting and writing, that suits me --and, I'll wager, millions of viewers--just fine.

The Good Wife is confident and polished, and a much better showcase for Margulies than her last legal drama.

With all four [actors] bringing their "A" games to the pilot, it looks as if CBS could have another winning 10 o'clock drama.

A smartly conceived and well executed legal drama with a strong star (Julianna Margulies) at its core and, even better, a terrifically timely hook.

With the drama so thin, it must be the richness of Alicia's situation that makes 13 million people a week want to enjoy her company.
I am definitely hooked. Julianna plays her character very well. Any drama show, that has you chuckling, is a good show.

Best show on TV. THE BEST!!!!! Great writing. Great acting!!!! I watch this every week. So much different than other crime/legal series. I

Best show on TV. THE BEST!!!!! Great writing. Great acting!!!! I watch this every week. So much different than other crime/legal series. I hope it stays

…

Expand

Considering the wealth of retried formulas and overwrought reality TV, this show is a breath of fresh air. Actors are given a good script and

Considering the wealth of retried formulas and overwrought reality TV, this show is a breath of fresh air. Actors are given a good script and a chance to act. Bravo to Julianna on an outstanding week to week performance, kudos to the rest of the cast as well.

…

Expand

Excellent writing and acting. Great character development. I typically tend to hate procedural show,s but the characters are so compelling,

Excellent writing and acting. Great character development. I typically tend to hate procedural show,s but the characters are so compelling, and depicted so realistically that it is addicting. And to think, I would have never watched this series had I not been sick...I guess in this case my stomach flu was a blessing? I guess we'll find out in the future seasons.....

…

Expand

Off to a good start. This show has the potential to go beyond its ripped from the headlines premise to become a really satisfying show.

Off to a good start. This show has the potential to go beyond its ripped from the headlines premise to become a really satisfying show. Julianna Margulies is perfect in the role.

…

Expand

The legal plots are all "Been there, seen that" and therefore are rather boring. It's a shame that interesting characters are not given

The legal plots are all "Been there, seen that" and therefore are rather boring. It's a shame that interesting characters are not given much interesting material. Scenes here and there are outstanding, but if this series is just going to be "case of the week" on a regular basis, what a terrible shame.

…

Expand