Network:

CBS

Series Premiere Date:

Sep 22, 2009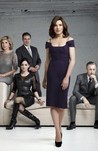 Season 6 premiere date:

Sep 21, 2014

Episode Length:

60
Please enter your birth date to watch this video:
You are not allowed to view this material at this time.
The best drama on broadcast TV hasn't missed a beat since its universally praised fifth season.

The Good Wife, a delectable, invigorating series of unprecedented depth and cynicism, is the best drama on TV.

Fans of sophisticated drama may feel there's a dearth of smart new shows on the broadcast networks but The Good Wife continues to be broadcast's best answer to the scripted dramas on cable.

There's a looser feel after so much anger and grief; jazzy instrumental music underscores the twisting and turning action. It's top notch TV by directors at the height of their game.

The CBS drama continues to provide evidence that quality isn't necessarily defined by blood, guts or exposed flesh. All it really takes is brains--and in this case, you don't even have to eat them.

The Good Wife has endured, despite borderline ratings, because it handles the fundamentals so well. It needs to keep doing that.
"The Good Wife" is unbelievably fantastic. It's sharp, smart and most importantly, it has stayed stable for most of its run. While ratings

"The Good Wife" is unbelievably fantastic. It's sharp, smart and most importantly, it has stayed stable for most of its run. While ratings have been borderline acceptable (by CBS' standards), this Emmy Award winning series is bound to continue on for at least 1-2 more years (7th or 8th season) thanks to its wit and charm. Highly recommended and addicting.

…

Expand

You know that feeling we get when we watch an awesome show right ?..this new season of good wife was able to do that plus the music in this

You know that feeling we get when we watch an awesome show right ?..this new season of good wife was able to do that plus the music in this season is too good.

…

Expand

The Good Wife is easily one of the best shows on TV. I do not know how they'll top the 5th season but odds are they'll do a great job with the

The Good Wife is easily one of the best shows on TV. I do not know how they'll top the 5th season but odds are they'll do a great job with the 6th. The first episode of the 6th season did not disappoint. I am looking forward to more from this show!

…

Expand

I didn't want to like this show (the characters are just a bit cool and smug for my tastes) but the show is well written and impeccably

I didn't want to like this show (the characters are just a bit cool and smug for my tastes) but the show is well written and impeccably directed (it looks like a 40 minute film every week). It's undeniably good. Hard to believe it's on network television.

…

Expand

Already loved the show after binge watching the first 4 seasons. I thought portions of Season 5 rambled a bit but they hit the ground running

Already loved the show after binge watching the first 4 seasons. I thought portions of Season 5 rambled a bit but they hit the ground running (and other clichés for a fast paced start) in Season 6 and haven't slowed down at all.

I would say "more people need to watch this show" but they pull 10 million viewers a week - they're just the wrong viewers. The show skews older which means advertisers don't care if it lives or dies.

This is going to be the show you binge-watch in a couple of years and wonder why you didn't watch it when it was on.

…

Expand

This show just keeps entertaining in an amazing way. Just when you think what's about to happen they throw you off. It does that with a lot of

This show just keeps entertaining in an amazing way. Just when you think what's about to happen they throw you off. It does that with a lot of smart humor, and just keeps for wanting more. If season 6 is going to be all as strong as the first two episodes we're in for a very cool ride.

…

Expand

It is an addictive show, there is no doubt about that, but I gotta say that the writing and acting lacks of quality, (with exception of Josh

It is an addictive show, there is no doubt about that, but I gotta say that the writing and acting lacks of quality, (with exception of Josh Charles(Will) ,Matt Czuchry(Cary) and Mr.Big( Peter)).
I can see how Julianna Margulies(Alicia) struggles to show any emotion due her plastics surgeries or excessive make up(performance wise is like another kristen stewart). Archie Panjabi(Kalinda) portrays an awful but miraculous character that saves everyone, every single time, like a female version of James Bond minus the fx of a movie(literally like another character from another universe). I get why people like the show but this show will never reach superior standards and will be forgotten once it is over.
And btw, I dont really know how they called the show "the good wife". Perhaps just as a mocking terminology??? because it displays completely the opposite of that. In what universe Alicia would be a good wife? It should not have a metacritic that high... I cant understand why this show has better score that breaking bad in some seasons.

…

Expand