Network:

TBS

Series Premiere Date:

Aug 3, 2017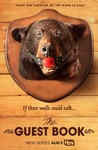 Summary:

Guests staying at a mountain vacation home is at the center of this anthology comedy series from Greg Garcia.

Genre(s):

Comedy
Season 1 premiere date:

Aug 3, 2017

Episode Length:

30
Please enter your birth date to watch this video:
You are not allowed to view this material at this time.
The frenetic plots can be tiring, and the humor leans too hard on the hyper-quirky tone that comes to define the post-Parks and rec Sitcom landscape. If there's a reason to stay, it;s the permanent cast of townsfolk, who start to shine once the episodic tales intertwine. [4 Aug 2017, p.55]

The channel has been betting big on sitcoms for a while now, and this one is in the same pleasantly, somewhat raunchily mindless vein as "The Detour." And, like those shows, it grows on you, because it sharpens as it goes along.

Is the show funny? Sort of. It's certainly charming, in a frequently vulgar sort of way, and well performed by the cast and guest stars.

Some split-screen episode bookends and some inventive camera placements keep the cottage from getting too familiar. But those occasional touches can't replace the fact that the show lives and dies on the strength of its episode-to-episode stories.

This series is so disposable it would barely fill up a tall kitchen trash bag. Yet there's still pleasure in watching a seasoned comedienne like Stockard Channing and an old pro like Holmes Osborne try to spin gold out of a creaky tale about devout religious parents attempting to convert their son's atheist girlfriend (Mary Lynn Rajskub).

Despite boasting an impressive guest star roster that includes Stockard Channing, Danny Pudi, Lauren Lapkus, Mary Lynn Rajskub, Michaela Watkins and many other extraordinary comedy talents, the humor and characters don't feel altogether hospitable.

In the two-episode premiere, a host of flat, screechy, and stereotypical characters take part in stories about an angry new mom and small-minded Christians. Neither establish an entertaining vibe nor a reason to check back in.
I've been super impressed with TBS' shows the last year. The trailers for Guest Book are incredibly charming with each week being a different

I've been super impressed with TBS' shows the last year. The trailers for Guest Book are incredibly charming with each week being a different story. That's so clever! Although this may not be for everyone, Mr. Garcia's tone and tastes have pulled through yet again with a winning show! I later read that he wrote all of them. Not an easy thing to do. I'm excited to watch the rest of the season and learn more about the townspeople and how they get into trouble with the guests. Love seeing Eddie back on tv too!

…

Expand

The first season of The Guest Book was one of the best TV series I have ever seen. The content, the addictive characters, Honeyhoney's music

The first season of The Guest Book was one of the best TV series I have ever seen. The content, the addictive characters, Honeyhoney's music snippets, the hysterical fat hooker at the bar --all these components combined to produce stories that were snappy, fast-paced, and took no prisoners. I awaited each episode very eagerly. The final episode with Orson Bean was a total kick. While based on a simple concept, the content and stories were excellent. This series made me laugh out loud repeatedly and I am watching closely for the second season. Congratulations to the writers.

…

Expand

Crazy and funny. Love the anthology feel with the interlaced story too. And don't forget the musical interludes at the end of each episode by

Crazy and funny. Love the anthology feel with the interlaced story too. And don't forget the musical interludes at the end of each episode by HoneyHoney. So good.

…

Expand

This review contains spoilers

, click expand to view

.

I love that anthology shows are making a comeback. This one is hilarious. Who doesn't love a deliciously served case of blackmail right out of the gate in episode one? When that stripper's foot came slapping down on the dude's face in the VIP room, I did a spit take. There were a lot of genuine laughs in this show and it's filled with some delightfully wacky characters. I'll be checking back in to the Froggy Cottage cabin next week and hopefully see some more weird stuff go down.

…

Expand

This show is a lot of fun, it's from the creator of My Name Is Earl, and you can see some similarities. It's adult comedy turned up to 11

This show is a lot of fun, it's from the creator of My Name Is Earl, and you can see some similarities. It's adult comedy turned up to 11 1/2. Glad I found it.

…

Expand

ok where do I begin here this show is sweet charming and humorous the character were loveable and the story kept your attention and makes you

ok where do I begin here this show is sweet charming and humorous the character were loveable and the story kept your attention and makes you want more from it next story however I didn't like the portion of story two where the lady gives up on GOD because he helped someone she didn't like I really didn't like the woman at all but that did it for me and I may not continue watching if she continues to be a part of the stories but I did laugh out loud and have a nice time otherwise and I do want to continue watching

…

Expand

This was going to be a 100 10-10 but the last few episodes killed it ! I can't beleave the things that are on tv today but Teen sex , watching

This was going to be a 100 10-10 but the last few episodes killed it ! I can't beleave the things that are on tv today but Teen sex , watching people in the restroom , arrow though the breast , Blow job ? yes just look - https://www.facebook.com/guestbooktbs/videos/1487132158074575/ - BlowJob at 0:26 little boy killing everything he see's with a crossbow , mother lets little boy watch The Sausage Party movie ( why plug this ? ) and this is on tv ! Plus a band that plays after every show (plug) they are OK but after ever show ? IF and ONLY IF they clean it up it would be GREAT but it's now TRASH !

…

Expand