Network:

Hulu

Series Premiere Date:

Apr 26, 2017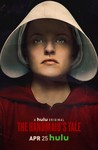 Starring:

Alexis Bledel

,

Elisabeth Moss

,

O.T. Fagbenle

Summary:

In the totalitarian society of Gilead, a handmaiden enslaved to produce a child for Commander Waterford (Joseph Fiennes) and his wife Serena Joy (Yvonne Strahovski) named Offred (Elisabeth Moss) seeks the daughter taken from her in this drama series based on Margaret Atwood's best-selling novel.

Genre(s):

Drama

,

Science Fiction
Season 1 premiere date:

Apr 26, 2017

Episode Length:

60
Please enter your birth date to watch this video:
You are not allowed to view this material at this time.
Painfully timely. It's also absolutely enraging, and completely riveting. ... The Handmaid's Tale isn't just the best original show Hulu has ever done. It's one of the most impressive series of the year.

At least in the first three episodes, which were screened for critics, everything comes together for A Handmaid's Tale--Miller's script, direction by Reed Morano (who's best known as a cinematographer) and the performances. Moss' performance is arresting.

[It] sounds pretty dark, and it is, but the wonder of both Atwood's novel and the series is that it actually manages to be playful and witty at times.

Beautiful, immersive and joyless, Tale can be tough to watch, but "rewarding" trumps "tough."

It is ambitious, rich, complex, beautifully made television. It may take a couple episodes to really show you what it has to offer, but then you won't be able to turn away.

The Handmaid's Tale is something unique, with an adult take on the dystopian genre and a somber and relevant story about the lives and fears of women. The show serves as a wake-up call, and you won't easily fall back asleep after viewing.

The problem with Hulu's Handmaid is that nothing is dreadful enough. ... Ms. Moss's Offred comments regularly on her condition with outraged, silent vulgarities, and seems appalled by rituals and outrages that had become routine in the book. ... But the original Offred was almost too terrorized to imagine defiance, much less exercise it. And such calibrated portraiture helped make the novel click.
incrível, única, realista, fora do padrão, uma serie que vai além do esperado, num ritmo que te prende, num ritmo que te faz refleti, ate onde

incrível, única, realista, fora do padrão, uma serie que vai além do esperado, num ritmo que te prende, num ritmo que te faz refleti, ate onde iria a humanidade com a infertilidade, choca, e incrível.

…

Expand

This show is one of the most striking shows that I have ever seen.
No point to comparing to the seminal shows like The Wire, Sopranos, BBThis show is one of the most striking shows that I have ever seen.
No point to comparing to the seminal shows like The Wire, Sopranos, BB because it is so different.
The bleakness is abnormally haunting, the acting especially by the leads is terrific and the overall atmosphere is incredibly scary.
I love it but look forward to the end as I wake up with this show still in my bones.
Extraordinary.

…

Expand

Don't believe the low user ratings. Excellent distopian drama. Leave politics aside while you watch--it has been an incredibly well done

Don't believe the low user ratings. Excellent distopian drama. Leave politics aside while you watch--it has been an incredibly well done series so far after three episodes.

…

Expand

The first season of The Handmaid's Tale sets up a world in which birthrates have dropped to dangerously low numbers, so all of the fertile

The first season of The Handmaid's Tale sets up a world in which birthrates have dropped to dangerously low numbers, so all of the fertile women are gathered up and forced to serve powerful men in the new society. Their sole purpose is to get pregnant. It's a scary, but rather realistic, portrayal of what life would be like if an extremist group seized control of the United States. Every episode is jam packed with revelations and critical story points, and it never drags. I did find it interesting that it really is hard to care for any of the characters in this show. They are all frustrating at times, but that doesn't take away from the quality of the show at all. It's well worth the watch.

…

Expand

it's ok, easy to follow the story, you will get into it,but you need to look at it with a grain of salt, because the story is told from the

it's ok, easy to follow the story, you will get into it,but you need to look at it with a grain of salt, because the story is told from the perspective of a neo marxist feminazi, wanna be feminist person. almost every bad person on the show is a white man. it's totally ok to tell a story where every bad person is white, but we have inforrmation that the person who tells the story is a sexist lady. so it feels weird to watch it. but, to take the story for what it is, and the way it is told, there are focus points on offred that takes away from the other characters, the overall quality is sadly just above medium. i would recommend to check it out if you have nothing else, you will enjoy it, it's just a little akward with the forced narative, wich i think could hold the show back from exploring angles.

…

Expand

The show is set in Gilead, a male-dominated dystopian society clearly intended as a reflection of the patriarchy/misogyny/homophobia present

The show is set in Gilead, a male-dominated dystopian society clearly intended as a reflection of the patriarchy/misogyny/homophobia present in far-right Christian politics in the US. However, the portrayal is so hyperbolic that any useful social commentary gets lost. For example, this is how the show deals with misogyny: all male characters in the show are two-dimensional, most are wholly evil, and all policy they seek to implement in Gilead is motivated solely by their desire to dominate women sexually. Religion is used by them to justify all their bad behavior and is portrayed with the same lack of complexity. Ultimately, the show leaves itself open to reasonable accusations of misandry, bigotry toward Christians, and that it relies on mostly straw-man arguments to make its point, which is, ironically, that misogyny and bigotry are bad.

…

Expand

I have not read the book so I will only comment on this TV show, from what I have seen this is a poor propaganda at best, that pushes the

I have not read the book so I will only comment on this TV show, from what I have seen this is a poor propaganda at best, that pushes the narrative extremist men will enslave all women for the purposes of procreation, i'm not really buying the acting, the main character is a perpetual victim that is hugely sexist, all the men are one dimensional evil sexual deviant, even in the most barbaric of countries this type of treatment has not become mainstream, so suspension of disbelief is particularly hard.

TLDR; acting really poor, propaganda piece that soviet Russia would have found reasonable.

…

Expand