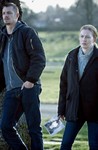 Starring:

Michelle Forbes

,

Bill Campbell

,

Brent Sexton

Summary:

Based on the Danish series, The Killing follows the investigation of the murder of a young girl named Rosie Larsen day by day.

Genre(s):

Drama

,

Suspense
Season 1 premiere date:

Apr 3, 2011

Episode Length:

60
Please enter your birth date to watch this video:
You are not allowed to view this material at this time.
What sets The Killing apart are its steady sense of dread, its dense atmospherics--that feeling that rain may at any moment pour from our sets--and its beautifully drawn characters.

The disparate detectives of The Killing may have their own means and methods of getting to the bottom of this. But the overall air of believability is palpable from the start. All the better for taking a deep breath and diving right in.

Even on the rare occasions when those shows [like CSI or Law & Order] tell stories involving the death of a child, they're almost never as raw, palpable and grim as The Killing, an engrossing, well-made drama series that viewers should embrace despite its tough subject matter.

There's considerable strength in the performances (Forbes and Sexton are especially good), while delivering a reminder how TV can tease out such a narrative in a way almost no other medium can.

In the suspenseful early hours of The Killing, Rosie's family goes about its bereavement in muted tones, and a subplot about a mayoral candidate drawn into the crime's eccentric orbit flashes with potential, and, primarily, our expectations for cop shows are teased, gratified, and artfully upended.

If the premise is standard--an excellent cop is dragged back in, just when she's headed out, in this case, from the Northwest's renowned rain to California's sunshine--the details are insistently odd and creepy.

So the atmosphere and central performances feel worthy of telling one story over 13 hours. My concern is whether the story can say the same.
While the show starts off as a Twin Peaks knock off with a lot of Mireille Enos staring off into space, it quickly begins to carve out a niche

While the show starts off as a Twin Peaks knock off with a lot of Mireille Enos staring off into space, it quickly begins to carve out a niche of its own. In a world where TV Crime Dramas are dominated by brash and wise cracking cops, The Killing is a breath of fresh air. It's not a show about solving a murder, but rather and show about how one girl's murder impacts a city. It won't appeal to everyone (or even most people), but for those that it does work for it is fantastic.

…

Expand

I watched the entire series and could not wait for each upcoming episode. And the season finale was just the best icing on any cake. Way to

I watched the entire series and could not wait for each upcoming episode. And the season finale was just the best icing on any cake. Way to finish it. I can't wait for it's return. Yes there is a lot of raining. Yes it's very dark. Yes it's not C.S.I. and it's paced very slowly. It's more like Mystic River in it's plotting. It's extremely depressing at moments. But it's emotionally thorough. It's smart too. The police work seems to me what an exhausting mysterious case would be for a dedicated detective. And I felt compassion for her trying to be a parent and be a dedicated detective. I can understand where people are not interested. It's not just quick resolutions every Night. It's an emotional roller coaster and at times gut-wrenching and challenging. It's everything I would choose over Hawaii-50, C.S.I. or any standard television. I'll be back for sure.

…

Expand

The critics have it right this time: "The Killing" is compelling television. Subtle and intricate without ever seeming slow, the series

The critics have it right this time: "The Killing" is compelling television. Subtle and intricate without ever seeming slow, the series manages something rarely seen outside of Shakespeare: the sense of a single death having tainted an entire city, from the corridors of power to the hallways of the local high school, even the weather. Normally, I'm annoyed when the media depict Seattle as a place of hard rain, as its precipitation falls mostly as drizzle, but the torrents have a role to play in the series, not as pathetic fallacy, but as something apocalyptic, nature out of control and dangerous. As for more conventional role-playing, I can't cheer loudly enough about the casting, especially the two lead detectives. Mireille Enos and Joel Kinnaman give unusually raw, intelligent performances, demonstrating by contrast how used to bad acting we've become here in the US. Enos's senior detective, divided between longing for a gentler life and intimacy with violent death, serves as a master class in restraint, hinting at depths of understanding and compassion while maintaining the hard surface the job requires. Kinnaman's young gun is more brash, a badge-wearing bad boy emboldened by success working undercover narcotics and willing to cross ethical lines to solve cases. She's a little bit frumpy, and he's a little bit sleazy, which is brave and absolutely perfect. I'll admit, I don't see much of "Twin Peaks" here, outside the fact that the plot revolves around the body of a murdered girl in water. But "The Killing" lacks TP's quirky characters and fascination with the surreal, and its metaphysics are more "King Lear" than "The Lotus Sutra." The two series do have in common a respect for viewers' intelligence and for the artistic achievement possible in television when those involved are willing to take some real risks. Thank you, thank you, thank you.

…

Expand

After Breaking Bad and The Walking Dead, The Killing is a new adventure and gripping series from The TV cable AMC. So the series its is a

After Breaking Bad and The Walking Dead, The Killing is a new adventure and gripping series from The TV cable AMC. So the series its is a mixture of Twin Peaks and Newer True Detective and also sort of David Fincher's Seven. The Plot is about the A teenage Girl Rosie Larson that killed by an anonymous person that connected to The Mayor Campaign. The Detectives (Holden and Sarah) try to find the killer but the murder is more much about the easy killing. so the pilot it was the best pilot is ever created. Great Direction, well-known handwriting, Dark atmosphere (like twin peaks)

…

Expand

I haven't watched Twin Peaks, so my review is disregarding any plagiarism, as pointed by others. It is a pretty good show. Characters are

I haven't watched Twin Peaks, so my review is disregarding any plagiarism, as pointed by others. It is a pretty good show. Characters are interesting. The plot is very well written and well developed. I am not giving a 10 because I was not pleased with the "change to the ending" in order to accommodate season 2.

…

Expand

This is well polished television. As is expected from AMC by now, the show is beautifully produced. The cinematography is gorgeous. The

This is well polished television. As is expected from AMC by now, the show is beautifully produced. The cinematography is gorgeous. The soundtrack broods and creates a terrificly foreboding atmosphere.The acting is superb, for the most part. It is edited, almost, to perfection. The script is, generally, enthralling. For the most part, almost and generally are telling signs of television show that could have been so much more. The actors have not established a workable chemistry yet. I count on this for a new TV series. However, when you bring together characters that don't integrate with each other well, with scenes that linger for far to long and dialog that is pretty much just absurd, then you get a television series that tests the nerves.

…

Expand

I gave this show 0 (zero) cos it's plagiarism of Twin Peaks.

Ok my taste is bad, but so as this show is. I'm not offended by those who sayI gave this show 0 (zero) cos it's plagiarism of Twin Peaks.

Ok my taste is bad, but so as this show is. I'm not offended by those who say it's great show and that i have no taste since this i don't like, cos they have no arguments, just empty words :You are a looser, Troll or whatever. Plus this Laura Palmer is ugly. I don't know why here is so many posts defending this show, i guess they are paid by producers or company AMC that show this series. This already exist in China and their name is "50 cents commentators". Clearly this is plagiarism and it's not debatable, it's fact that any one that sees TP know what this is, so you who defend this TV show you need to defend for couple months more cos it has only one season. Till sponsors and ADs need mass viewers and show us their products that we "desperately" need to buy. Well i wouldn't buy anything that advertise on this show.

This show is lame, without excitement, good music or any acting. It will be ended soon, don't worry. It's too stupid even for America's TV. I watched 3 episodes and i'm not amused not for a second. I have do admit, second season of TP is lame and pointless too. But 1st season is what will last forever, and of course OST.

Long live Angelo Badalamenti and David Lynch

…

Expand