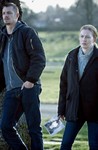 Starring:

Mireille Enos

,

Hugh Dillon

,

Elias Koteas

Summary:

A year later, while working on a runaway girl case, Detective Stephen Holder (Joel Kinnaman) uncovers a series of murders connected to an old murder investigated by his former partner, Sarah Linden (Mireille Enos).

Genre(s):

Drama

,

Suspense
Season 3 premiere date:

Jun 2, 2013

Episode Length:

60
Please enter your birth date to watch this video:
You are not allowed to view this material at this time.
The first episode took a little while to seem real, but, as Holder would say, I was feeling it before long. Like Linden, I was drawn back in.

The new Killing appears to have taken a sharp turn from the kind of emotional life that enriched the last season, with its drama of a disappeared daughter. In its portrait of family grief, beautifully nuanced to the end, the series landed a dramatic punch more potent than that of the key question, "Who killed Rosie?" Itself a mystery of considerable power, and one that the latest chapter of The Killing will have to go some way to equal.

A year after the Rosie Larsen case ended, this new chapter is compelling enough to earn some fan forgiveness.

I'm reluctant to lose my heart again, much less encourage anyone to follow me down what could be a dead end. And yet I'm intrigued.

Beyond the central duo's initially sparsely connected threads and the splendid addition of Peter Sarsgaard as Ray Seward, a hollow-eyed Death Row inmate, much of the narrative meanders--so slow, bleak and dreary, it's difficult to muster much interest as to when (inevitably) it's all going to begin to intersect.
Even though it moves slow, it is still very engaging. We all know that the last episode or two will bring it all together, so getting in the

Even though it moves slow, it is still very engaging. We all know that the last episode or two will bring it all together, so getting in the mood during the build up is well done here. There are a few threads here, and some say the story of the kids is disjointed. However I see that as a good thing as their lives are disjointed. Nothing moves smoothly in the killing, it frustrates you because it is only an hour long and ya gotta watt for a week or just save it all up for a binge viewing. I binged the first two years it was amazing. The cast is stellar.

…

Expand

The first two hours were more compelling the all of last year show. I like the fact that there talking about the blight of homeless children,

The first two hours were more compelling the all of last year show. I like the fact that there talking about the blight of homeless children, making the viewer think and care about something beyond the murder mystery. the scenes in the prison are riveting. It looks like the writers are going to give more depth to the characters. The Killing assumes that the people watch have a brain. A rare find on television. I can not wait to see what comes next. I am hooked

…

Expand

Excellent premiere that is heading in a far better direction as compared to season 2! Mood remains paramount; it is a very blue show,

Excellent premiere that is heading in a far better direction as compared to season 2! Mood remains paramount; it is a very blue show, temperamentally and visually. The Seattle we see here is a kind of parallel Seattle, darker, rainier, more mountainous, less American than the actual city. (Because it is Vancouver, to begin with.) For all the establishing-shot flyovers of the city, whenever we are on the street, we are somewhere else, a fundamentally poetic place whose soggy decrepitude has a vaguely post-apocalyptic feel.

…

Expand

The best season for sure. It has a more interesting premise since it deals with a serial killer. Secondary characters are way better and more

The best season for sure. It has a more interesting premise since it deals with a serial killer. Secondary characters are way better and more interesting. Sub [plots are better too and it was great.

…

Expand

This new season of The Killing has me full of mixed emotions. On one hand, I'm totally excited that the series is back. Its the only show I

This new season of The Killing has me full of mixed emotions. On one hand, I'm totally excited that the series is back. Its the only show I obsess over, and I was devastated when it was cancelled. However, the first two episodes didn't capture my 100 percent attention as the first two seasons did. This is most likely because it is now a brand new case, and all the characters I loved, besides Sarah and Holder, are now gone. Most critics criticized the Larsen and Mayoral storylines, but I loved them. I found myself missing the Larsens in these episodes, and even Richmond and Gwen to an extent. The first episode seemed very choppy, and didn't flow very well from the previous season finale. It acts almost as a pilot episode. Also, I'm not completely sold on the prison storyline, but Ray Seward is a fine character I must say. There is most certainly more depth to him than meets the eye. Sarah's storyline for most of the first two episodes is a wash. I wanted her to reunite with Holder the entire time I was watching her. However, I absolutely loved the homeless kids storyline. Bullet and Kallie are my favorite new additions to the show, and the show does a great job of making us like them and care about them, something the show didn't do very well with Rosie Larsen. The second episode is a much better episode, as it show the seeds of Sarah's return to the police force. The faster, the better honestly. Several critics, have said The Killing seems to have become more conventional this season, and this is somewhat true. Ray is a total "Hannibal" knockoff, but a very tasteful "Hannibal" knockoff, the serial killer storyline has been done to death, but The Killing seems to be doing a very good job in its new role. Hopefully, if it rise above, and become something bigger and greater as it aspires to be. It remains to be seen if this season will have the magnetic pull on me as the first two seasons did, and so far, I'm not totally convinced it will be. But it is still one of the best shows out there, and I'm sure The Killing will not fail this time around.

The Jungle: B-
That What You Fear Most: A-

…

Expand

The Killing season season 1 & 2 is likely my favorite series of all time, just brilliant, 10/10, and the best finale I've ever seen. Season 3

The Killing season season 1 & 2 is likely my favorite series of all time, just brilliant, 10/10, and the best finale I've ever seen. Season 3 isn't that, but it's still very enjoyable Holder & Linden are fantastic, but I just think that the victims family in 1 & 2 was so brilliantly cast as well as the politicians. The drama was so believable and heart ripping, and eventhough these wayward kids are doing a good job in season 3 it's just not the same drama show to show, However it's still a well done show and more special than 90% of what's on TV.

…

Expand

Hardly any suspense, street kids subplot is disjointed, characters not so compelling even though their respective situations are hard up and

Hardly any suspense, street kids subplot is disjointed, characters not so compelling even though their respective situations are hard up and sad. Death row subplot is mostly just there for the gore effect. Not the tension between Holder and Linden, and between Linden's head and heart that were present last season are just missing here.

I'll probably stick with it for next couple episodes to see if it gets more interesting. But, here's my verdict on episode 3: I got up midway thru and finished the dishes in the kitchen. Yawn.

…

Expand