Network:

Syfy

Series Premiere Date:

Dec 16, 2015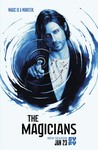 Summary:

High school senior Quentin Coldwater (Jason Ralph) secretly loves the fantasy novels about the adventures of five children in a magical land called Fillory. He soon is accepted into an exclusive, secret magicians school called the Brakebills University in upstate New York in this adaptation

High school senior Quentin Coldwater (Jason Ralph) secretly loves the fantasy novels about the adventures of five children in a magical land called Fillory. He soon is accepted into an exclusive, secret magicians school called the Brakebills University in upstate New York in this adaptation of Lev Grossman's trilogy of books.

…

Expand

Genre(s):

Drama

,

Fantasy

,

Horror
Season 1 premiere date:

Jan 25, 2016

Episode Length:

60
Please enter your birth date to watch this video:
You are not allowed to view this material at this time.
It's a mere two episodes, but The Magicians provided enough evidence that it has enough talent and ambition to keep the surprises coming.

The pilot is an effective introductory chapter to a story that speaks to a moment cluttered with both escapist fantasy and neo-gothic gloominess. It's Harry Potter, distressed with a Heavy Metal acid bath.... The world and perspective of The Magicians is more immediately interesting than the characters.

The Magicians may not have perfected every incantation in its spellbook, but it's worth a look for viewers intrigued by the idea of a Harry Potter-esque weekly fantasy series.

The Magicians tries to create three different worlds simultaneously--Quentin's New York City, Fillory, and Brakebills, complete with different casts of characters and different sets of rules. It's not as sloppy as it could be, but it's hard to not feel rushed through the pilot.

The show is at its worst when straining to be provocative and, in so doing, incorporating various Hollywood clichés (Hogwarts meets Gossip Girl, one review blared). But in terms of establishing a world and getting the plot going, the show's first episodes are actually pretty promising.

At first, Ralph seems a little old for the part of Quentin, but he skillfully personifies a postgraduate man-child. The show's special effects are deftly executed and the script is nicely crafted with twists, turns and surprises to hold our attention

There's little that's magical about the cold, poorly paced Magicians pilot. It takes 16 minutes until Quentin arrives at Brakebills and feels longer. The pilot is rife with drab colors and while the story has potential, it made me want to go find the book rather than watch more of the TV series.
New favorite show! It's kind of like X-men. Each student at the university has different powers, and everyone is trying to understand how to use them.

One of the best shows every created merging comedy, action, fantasy and 4th wall breaking. This show thinks exactly like you! Plot twists,

One of the best shows every created merging comedy, action, fantasy and 4th wall breaking. This show thinks exactly like you! Plot twists, occasional musical numbers and each character with different deep moral conflicts within themselves every season have made me an emotional wreck, and I'm loving it. Can't wait for season 4!

…

Expand

While the books were good,the changes they are making to the story really bring an interesting perspective. The effects are really good for

While the books were good,the changes they are making to the story really bring an interesting perspective. The effects are really good for TV, while the directing and cinematography are well thought out and not over the top.

…

Expand

OK don't get me wrong here I love the show I find it fun action and suspence packed even humorous at moments but however I am NOT a big fan of

OK don't get me wrong here I love the show I find it fun action and suspence packed even humorous at moments but however I am NOT a big fan of the sexual content it's just too graphic and too often for my personal taste but as I mentioned before it is a well acted and decent show just really needs to tone down the sexual content

…

Expand

The pilot episode for "The Magicians" felt more like a really long trailer what could have been at least half of an entire season. So many

The pilot episode for "The Magicians" felt more like a really long trailer what could have been at least half of an entire season. So many scenes felt disjointed and left massive gaps in the development of the story. Magic, which was supposed to be an incredibly difficult skill to learn, is mastered by the time we get halfway through the first episode, and the dramatic final scene of the pilot could easily have taken place several episodes into the season.

Story-wise, this show already feels like it's lurching in an uncomfortable way. The characters, however, are where "The Magicians" begins to redeem itself. True to Grossman's original story, the characters are clearly brimming with personal issues, and their interactions feel deeply human.

Due to the show's complex character interactions, Syfy has the potential to break new ground in its tackling of societal issues like depression and, as the story continues, existentialism. However, if the pacing of the show doesn't smooth itself out, the story may be too convoluted and patchy to be followed except by only the most dedicated of fans who most certainly have read Grossman's trilogy and who will constantly be outraged by important omissions.

…

Expand

Well I loved this show when it first started. But the last few episodes have left me thinking i may have to pass on watching it further. It

Well I loved this show when it first started. But the last few episodes have left me thinking i may have to pass on watching it further. It started out so good too, but the last few episodes have been complete and utter crap. The acting was never great, but it was acceptable. But it seems that it is just getting worse as the season goes on. In fairness not all the actors are bad...but if a script is poorly written, not even the best actor can save it. I had high hopes for this show when it first started. But now i will be extremely surprised if it gets a second season. Sad, because they could have done so much better.

…

Expand

I have finished season 1, before I decide to write a review. This show I don't see going any farther than 2 season. The Main character that

I have finished season 1, before I decide to write a review. This show I don't see going any farther than 2 season. The Main character that I feel drags the story down even slows it where its became annoying. Writers giving portrayed him as a Self destructive personality where his ignorant and lack judgment that pretty much give out selfishness. That doesn't work as a Story on a heroes journey. The main character lacks progress where from rest of the supporting characters pull more weight to cover Quentin's mistakes and self pity that leads to boring predictable story that viewers like my self gets bored knowing what to expect.
Yes! I know its not harry potter I didn't compare to him but if your were thinking that! Harry potter is a epitome of a dark horse where he knew what was wrong and build from it. Where Quentin just oblivious where his so called friends gets more damaged than he does but shows lack of gratitude. I am disappointed.

…

Expand