Network:

CBS

Series Premiere Date:

Oct 30, 2014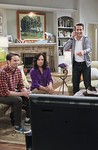 Starring:

Joey McIntyre

,

Laurie Metcalf

,

Jack McGee

Summary:

Sports-challenged Ronny (Tyler Ritter) only wants to leave Boston [much to his mother's (Laurie Metcalf) distress] and find a partner when his father (Jack McGee) selects him to be his assistant high school basketball coach over his older sports fanatic siblings; Jackie (Kelen Coleman),

Sports-challenged Ronny (Tyler Ritter) only wants to leave Boston [much to his mother's (Laurie Metcalf) distress] and find a partner when his father (Jack McGee) selects him to be his assistant high school basketball coach over his older sports fanatic siblings; Jackie (Kelen Coleman), Gerard (Joey McIntyre), and Sean (Jimmy Dunn).

…

Expand

Genre(s):

Comedy
Creator:

Brian Gallivan

Season 1 premiere date:

Oct 30, 2014

Episode Length:

30
Please enter your birth date to watch this video:
You are not allowed to view this material at this time.
CBS's new comedy The McCarthys is well written and terrifically cast. Star Tyler Ritter is effortless in his delivery and grounds the comedy that can take family bonding to extremes.

The characters are more affectionate than antagonistic. They are dim, but mostly not dumb, countering what we have come to expect from portrayals of the middle- or working-class people of Boston.

The McCarthys--good-natured, old-fashioned, unchallenging--isn't a bad sitcom, just an obvious one.

The show is moderately entertaining, but the cast in general bumps things up a notch, and Metcalfe bumps them up several more.

The family's affectionately teasing acceptance of Ronny's sexual orientation almost makes up for the fact that everyone seems to take too much to heart brother Gerard's philosophy of how to get things done: "Volume and repetition."

When the show is focused on Mr. Ritter and Ms. Metcalf, The McCarthys rises above the usual sitcom slop that it feels like whenever the other characters get screen time.

At the end of the day, The McCarthys feels like an incredibly dated concept done incorrectly. If it's not the worst new comedy of the fall, it's certainly giving the others a run for their money.
This pilot was not only funny, but shows a lot of promise; something that most pilots combine. I was laughing non-stop, and the family has a

This pilot was not only funny, but shows a lot of promise; something that most pilots combine. I was laughing non-stop, and the family has a great chemistry that is not easy to produce! Two thumbs up!

…

Expand

I've only watched the first episode but I have to say right on! This one knocks it clear out of the park. It's well written and funny and

I've only watched the first episode but I have to say right on! This one knocks it clear out of the park. It's well written and funny and witty and both Ritter and Metcalf are terrific. And so Boston! Love it! This show will stick.

…

Expand

This show is turning out to be quite good. The first couple of episodes were on less than solid ground, quality-wise.

But the show hasThis show is turning out to be quite good. The first couple of episodes were on less than solid ground, quality-wise.

But the show has been rallying to excellence with the past two or three episodes. I'm happy to have hung in there....

I was turned off by the summertime pre-season promotions about a ~Boston sports-oriented family~.

The show is not about that at all.

It *is* about the intra-relations of a family, and the love among those family members. Yah, sports is a secondary theme.

The writing is up to the task, and the cast seems to have that spark that makes for a successful comedy ensemble. They truly seem to have fun working together.

I like this show.

…

Expand