Please enter your birth date to watch this video:

You are not allowed to view this material at this time.

The Mccarthys: Do Me A Favor?

Now Playing: The Mccarthys: Do Me A Favor?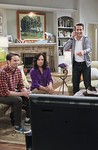 CBS |
Season Premiere Date:
October 30, 2014
Summary:
Sports-challenged Ronny (Tyler Ritter) only wants to leave Boston [much to his mother's (Laurie Metcalf) distress] and find a partner when his father (Jack McGee) selects him to be his assistant high school basketball coach over his older sports fanatic siblings; Jackie (Kelen Coleman), Gerard (Joey McIntyre), and Sean (Jimmy Dunn).
Seasons & Episodes
Season 1

Season 1 Overview

Air Date: October 30, 2014

S1:E13. End Games

Air Date: February 5, 2015

S1:E13. Cutting the Cord

Air Date: July 4, 2015

S1:E12. Family Therapy

Air Date: February 12, 2015

S1:E12. Gerard's Engagement Party

Air Date: July 4, 2015

S1:E11. The Ref

Air Date: January 22, 2015

S1:E10. Hall of Fame

Air Date: January 15, 2015

S1:E9. Sister Act

Air Date: January 8, 2015

S1:E7. Arthur and Marjorie's Night Apart

Air Date: December 11, 2014

S1:E6. Red Sox Swap

Air Date: December 18, 2014

S1:E5. Thanks a Lot, Ronny

Air Date: November 27, 2014

S1:E4. Why Guys Shouldn't Date Their Sister's Ex

Air Date: November 20, 2014

S1:E4. Supporting Jackie

Air Date: November 20, 2014

S1:E3. The Good Coach

Air Date: November 13, 2014

S1:E2. Love McCarthys Style

Air Date: November 6, 2014

S1:E1. Pilot

Air Date: October 30, 2014