Network:

CBS

Series Premiere Date:

Sep 23, 2008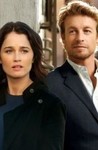 Creator:

Bruno Heller

Season 1 premiere date:

Sep 23, 2008

Episode Length:

60
Please enter your birth date to watch this video:
You are not allowed to view this material at this time.
This role is tailor-made for Baker, who has a flair for playing irreverent characters who are crucial to the success of the system even as they tweak its authority figures.

Psychological sleight of hand can't fill an hour every week. For that you need complicated, interesting crimes and complicated, interesting characters solving them. The Mentalist seems prepared to deliver just that.

The formula--must find murderer of beautiful woman before last commercial break--predates the dinosaurs, but also incorporates some satisfying twists.

Baker and his wily line readings and intimidatingly sly stares can snap the show out of occasional stupors.

The results are satisfying, and suspenseful, yes, but also a little bit stupid and predictable, too.

Baker does possess a certain roguish charm, and writer Bruno Heller ("Rome") and pilot-directing guru David Nutter mine that--as well as the central character's slightly menacing backstory--to try and invest the series with a bit of depth, mostly to little avail.

The smirky cynicism, savage mockery of New Age verities and prickly atheism of its lead character could have made The Mentalist fascinating (if not altogether pleasant) viewing. Instead, it turns down the same formulaic path as CBS' other police procedurals, a sort of CSI-with-a-fake-crystal-ball.
I love the show. Something Different

This honestly has been one of the best TV shows I have ever watched. This season (season One) has been such an amazing ride. In the midst of

This honestly has been one of the best TV shows I have ever watched. This season (season One) has been such an amazing ride. In the midst of deus-ex machina filled shows, and convenient story lines told by lazy writers, this show has shown me that there really is hope for TV. The acting is perfect, even in guest actors with even the smallest roles. The main actors are intriguing and the side-humor is absolutely compelling. This, I can say, is one of the best crime shows I have ever watched, no exaggeration.

…

Expand

Brilliant. Bruno Heller really thinks out the plot of the next episode and eventually makes it great. Simon Baker makes a good, sometimes

Brilliant. Bruno Heller really thinks out the plot of the next episode and eventually makes it great. Simon Baker makes a good, sometimes cocky, smart, and observant Patrick Jane. Greatest show i've ever seen.

…

Expand

Simon Baker's performances in this show make it stand out from all the other similar shows aired in recent times. Predictable yet amusing, at

Simon Baker's performances in this show make it stand out from all the other similar shows aired in recent times. Predictable yet amusing, at times frustrating because of the main plots lack of exposure in many of episodes. Yet I find my glued to the tv for each new instalment of Baker's bag o'tricks.

…

Expand

First season was good.Second season was ok.This season so far has been really uninteresting.

Its ok, but the big things that really bother me would be Robin Tunney's God awful acting and the fact that is really isn't that exciting and

Its ok, but the big things that really bother me would be Robin Tunney's God awful acting and the fact that is really isn't that exciting and not a lot happens.

…

Expand

Definitely a HUGE rip off of Psych HUGE HUGE HUGE rip off!!!!! just not as funny or as good. Get original